The Power of Praising God
Through her parents' divorce, her struggle with bulimia, and her miscarriage, Australian worship leader Darlene Zschech found a secret weapon for survival: worship.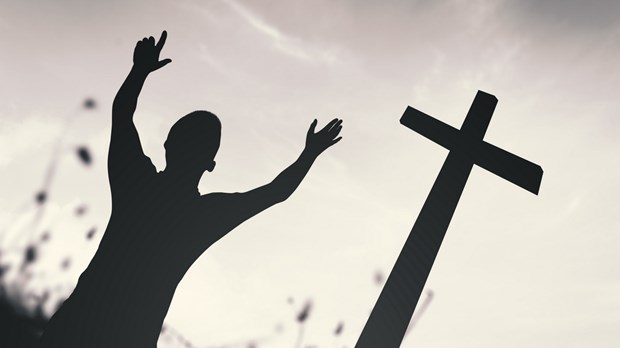 Australian worship leader Darlene Zschech (pronounced "check") didn't set out to write a globally popular praise song when she penned "Shout to the Lord" in 1993. "I wrote it when I was feeling discouraged," explains the 35-year-old Queensland native with the lilting Aussie accent. "I felt I could either scream and pull my hair out—or praise God."
At the time, Darlene and her husband, Mark, now 37, had two babies, and with a struggling motorcycle-parts business, money was tight. It was during one particularly stressful day that Darlene snuck into the toy room where they kept their piano and put into song the spiritual truths to which she desperately clung: "Mountains bow down and the seas will roar at the sound of your name," and "Nothing compares to the promise I have in you."
That song, "Shout to the Lord," was released by Hillsong Music Australia, the praise and worship label of the 10,000-member church in Sydney where Darlene now serves as worship pastor. In 1996, it became the title cut of a gold-certified worship album released in the U.S. by Hosanna! Music. Since then, the song's been sung by congregations worldwide, and performed for the Pope at the Vatican and for the President of the United States. There's even a book releasing in July, Shout to the Lord: Testimonies of His Promise, His Love, His Song (Albury), filled with stories of how it's given hope to the hopeless from Antarctica to Asia.
Considered one of this generation's premiere worship leaders, Darlene has penned dozens of praise songs and performed on numerous worship albums released
across the world (on the Integrity Music label in the U.S.), including the most recent, Shout to the Lord the Platinum Collection (Integrity Music/Hillsong Music Australia). Mark and Darlene are also the associate directors of Hillsong Conference, an annual international worship workshop in Sydney attended by thousands of church leaders. And this spring, they are launching Mercy Ministries Australia, the first international branch of Mercy Ministries of America, a nonprofit organization that provides free housing and Christ-centered hope to teen girls struggling with pregnancy, drugs, abuse, and eating disorders.
Unfortunately, Darlene's no stranger to troubled teen years. Outwardly her childhood seemed glamorous—she was singing and dancing on a weekly children's television show in Australia, Happy Go 'Round, at the age of 10. But when she was 13, her parents divorced. The pressures of television, combined with the emotional turmoil of her parents' divorce and the custody battle that ensued, took their toll. By age 14, bulimia reared its ugly head.
But in 1980, God intervened: Darlene's father rededicated his life to Christ and started taking Darlene to church, where she asked Jesus into her life at 15. While there she also met Mark, her husband of 16 years, with whom she shared faith in Christ. Darlene and Mark dated for a year and a half and married one week after she turned 19.
The newlyweds moved to Sydney to create their own family, complete with two daughters, Amy, now 12, and Chloe, 8. While Darlene and Mark reveled in their happy family, they also felt stuck in their financial hardships. Darlene sang jingles for companies such as McDonald's, KFC, and Diet Coke, and tried in vain with Mark to keep their business afloat.
That's when Darlene made the life-changing decision to praise God anyway. "I learned we'll never find hope looking at our circumstances," she says. "It's found only by fixing our eyes on Jesus, who doesn't change and who's always faithful."
Soon after Darlene wrote "Shout to the Lord," doors opened for Mark to get involved in Christian media, a dream he'd had for years, in the hopes of impacting a nation where less than 3 percent of the population are Christ-followers. And Darlene went on staff with Hillsong Church to lead the growing congregation in praising God.
In this exclusive TCW interview, Darlene talks about recovering from her parents' divorce and her eating disorder, launching a ministry for girls as troubled as she once was, grieving her miscarriage last year, anticipating her baby who's due any day now, and discovering the power of praising God—even when you don't feel like it.
Did you have any idea "Shout to the Lord" would be so popular?
Not at all. I was actually embarrassed the first time I played it for the worship pastor at Hillsong Church; I made him stand with his back to me on the other side of the room! I'd play four bars and say, "I don't know if this is any good. Change whatever you need to."
But he liked it, and the first time we sang it at church, people were on their feet singing along before we'd even gotten the words on the screen. It took off from there.
I can't take any credit for its impact. God decided to put his blessing on this song.
Why do you think people respond so strongly?
They seem to like its simple melody and bold lyrics. The line "nothing compares to the promise I have in you" was something I clung to when our circumstances seemed so bleak. I think that rings true with anyone going through tough times.
It seems as though you've had your share of tough times.
Yes, though God is so faithful. My mum and dad split up when I was 13. Though my parents didn't get along with each other, they never lost their devotion to us kids. While that was great, it also led to a messy battle. During custody proceedings, the judge even said to my parents, "I wish you two could work it out because I've never seen two people so committed to their kids." My siblings and I grew up apart from each other (I lived with my father).
Where was your family spiritually at the time of the divorce?
We'd attended church for years, but stopped going about this time. My parents' divorce was the first one in our church, and no one knew how to respond. People took sides, and some said very hurtful things. Looking back, I know they weren't bad people, they just didn't know how to handle divorce. None of us did.
But my mum didn't return to church for a long time because of those hurtful comments.
And your dad?
He actually rededicated his life to Christ a couple years after the divorce. He took my brother and me to a kids' program at the church, and that's where I learned how to have a personal relationship with Jesus Christ.
What impact did becoming a Christian have on your life?
I'd already been through quite a bit, so learning about God's unconditional love immediately took my breath away. It was the first time I fully realized I didn't need to perform or please others to earn acceptance!
I remember being in church one Sunday not long after I'd asked Christ into my life, singing with the congregation "When I Hear the Sound of the Army of the Lord." I looked around at this bunch of people singing together who had nothing in common except Jesus, and I began to catch a glimpse of the power of corporate worship.
Soon after, I wrote my first worship song. And I started singing with a Christian band. That's where I met Mark; he was the drummer.
But I still struggled with a lot of issues in my life. I wrestled with anger at my parents over having to choose between them during the custody hearings. And by the time I stopped doing the television show, I'd pretty much been starving myself for five years. I started gobbling up formerly forbidden foods, but soon learned I couldn't eat that amount of food and still stay slim. So I began taking laxatives and popping pills to get rid of the extra weight. I'd really make myself sick. It was so dangerous.
How long did you battle bulimia?
About four years. It wasn't until Mark and I married that I started changing those negative habits. Actually, Mark was instrumental in my recovery. As my faith deepened, I worked on getting rid of this stronghold in my life. But I only let God come in so far. My eating disorder was so huge for me, I couldn't quite surrender it all to him.
And Mark wouldn't let me shut him out. When he discovered laxatives in my bag on our honeymoon, he threw them out and said, "No more."
What first drew you to Mark?
I was attracted to his faith in Christ and to his inner strength. He's always had a good sense of who he is, and he stays true to that no matter what. I was drawn to him because I didn't have that kind of strength—and I wanted it. He's one of the most uncompromising people I know.
And he thought I was beautiful! Although it took years for me to accept that Mark—and God—thought I was beautiful just as I was, with continued support from Mark and prayer for strength, I overcame the faulty thinking and unhealthy habits.
How did you and Mark go about changing the patterns of your childhood?
When we got married, we made the conscious choice to change these negative patterns for the generations to come by not even allowing divorce to be an option. We made up our minds that we would stay married no matter what. Many times over the years—especially on those inevitable bad days—I've said to Mark, "You're stuck with me." Even when we're in a bad season or feeling vulnerable, it's easier to steer away from poor choices because we know our core values. And staying married's definitely one of them!
Of course, that's not to say we haven't made some mistakes along the way.
Such as?
I actually left home a few times in the first year of our marriage. I just didn't know how else to respond. I didn't know how to resolve conflicts. So I'd say, "I'm leaving." And Mark would say, "All right. Whatever. See you soon," because he knew I had nowhere to go. We had a lot to learn about truly trusting each other and believing that someone else can love you over the long haul.
I've also had to learn to let go of secret grudges. I had to work through unresolved anger from my childhood.
How did you do that?
Becoming a wife, and eventually a mum, gave me a different perspective. It prompted some great talks with my mum, and I started to understand better what she and my father went through. I realize now that both my parents have awesome hearts, they just lost their way for a while. They did the best they could do with the wisdom they had.
Did your own experiences as a teen prompt you to get involved with Mercy Ministries?
Definitely. I would have benefitted from a ministry like this when I was growing up. It's only by God's grace that I didn't become a statistic.
When Mark and I read A Call to Mercy, Mercy Ministries founder Nancy Alcorn's book, and then met her several years later, we knew this ministry was a great match for us.
Nearly a year after we met Nancy, God provided a house here with 10 bedrooms, a couple kitchens, and even a swimming pool. It's a miracle, really, that we got the place. The first girls arrive any time now. We're thrilled and overwhelmed by God's goodness!
What will your role be with Mercy Ministries Australia?
Mark and I are the executive directors. We have a great staff hired to run the place, including a girl from Australia who graduated from a Mercy home in the States. We'll spearhead the ministry in Australia and be involved hands on as much as we can.
How do girls get referred to this ministry?
We have family counseling and medical centers associated with Hillsong Church. And we have a network of churches around the nation. Girls will get sent to us through those. We already have a waiting list.
This must be an especially meaningful ministry to you as a mom.
I adore our girls. They're so creative. Amy, who's 12, is into painting and dancing. Chloe, who's 8, is our inventor. Everywhere you go in our house you step on one of her "inventions"!
We're thrilled to be expecting again. Mark and I waited a long time to have a third child since our lives were so busy. So when I had a miscarriage last year, it was devastating.
How far along were you?
Twelve weeks. We'd just announced my pregnancy to the church. Everyone was so excited with us. And then they grieved right along with us when we lost the baby.
The timing was difficult. It was right before I was leaving for a worship tour. I was grieving the loss of someone I knew and loved even though I'd never seen or held my baby. As every expectant mum would know, we had hopes and dreams for this child, and those died, too.
What happened on the tour?
I know the power of bringing to God what Hebrews 13:15 calls a "sacrifice of praise," because there were nights when I really didn't feel like getting up on that stage and praising him. But I didn't want to see the enemy win.
So I said, "God, no matter what I'm feeling, I'm going to worship you now. You'll have to carry me. Because of Jeremiah 31:13, I know you'll replace my sadness with joy, turn my mourning into gladness." Sometimes I needed him to carry me night by night, sometimes minute by minute.
How did making the decision to praise God anyway impact you?
Whenever I've worshiped in times of distress, I've seen God move in amazing ways. I think it's because praising God requires more faith even than prayer. You're not just saying, "Dear God, I'm really hurting. Help me out here. I need this and this." Don't get me wrong, that's completely valid.
But worship requires obedience … it requires an act of your will. It's thanking God for things even though they're not there yet. It's appreciating Jesus not for what he can do for you, but for being your Savior. And there's power in that—power to change hearts and power to move mountains.
Where do you find time for your family and your ministries?
I try to focus on my priorities. God's first. My family comes second—supporting my husband and raising kids who are radical for God. And then I look at the things I was born to do, those things for which God's gifted me. For me, that's leading others in praising God, and mentoring the next generation of worshipers—people who are extravagant in offering their lives to God.
How did you discover your purpose?
I sought it out because I was intrigued by the verse in Psalm 139 that says God "knit me together in my mother's womb." I thought surely he made me for a reason, and I wanted to know what it was. So I started looking at what I'm good at, what I love to do, and whether that lined up with God's Word. God doesn't make it difficult for us to figure out our unique purpose—we do.
How so?
A lot of women are caught up in preconceived ideas of what a godly woman should be. So we spend all this time trying to fit into a specific mold—serving on all the right church committees, being a Martha Stewart at home—when that might not even be close to what we're created for. When women fail at the things they're not good at, they feel guilty. So they distract themselves by getting even busier so they don't feel that guilt. It's a vicious cycle.
What can women do to break that cycle?
Take the time to be with God, to love and adore him. Allow his Word to permeate the core of who you are. Let him whisper in your ear who he created you to be. Write down your heart's dreams and desires, and ask God how he can use them to further his kingdom. It's important to remember, we each bring something unique to the table.
There's something that radiates from a woman who is confident in who she is in God. It's attractive. Her husband finds it sexy, her kids think it's cool. But so many Christian women shy away from that kind of confidence because they confuse it with arrogance, or they're scared to find their true identity in Christ. There are so many treasures locked away in these women.
How do you stay true to whom God created you to be?
I constantly have to take time out with God to reestablish my priorities. I've been one of the world's greatest people-pleasers. But I've discovered when my focus is on pleasing others, I wear out. And when my focus is on pleasing God, I experience joy.
God wants our worship. He wants our time. But more than anything else, God wants our heart—in good times and bad. I've learned the power of that truth firsthand.
For more information about Darlene and her music, check out www.IntegrityMusic.com. Learn more about Mercy Ministries of America at www.MercyMinistries.com.
Read more articles that highlight writing by Christian women at ChristianityToday.com/Women
The Power of Praising God
Read These Next