Where's God in My Loneliness?
What I learned about being alone with Jesus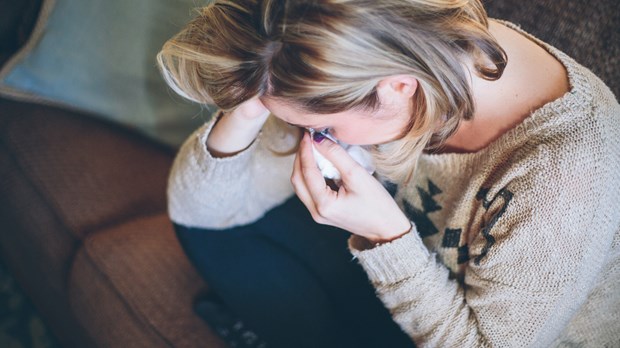 Image: MATTEA PHOTOGRAPHY / LIGHTSTOCK
I t was one month to the day after my six-month-old daughter, Hope, had died of a rare metabolic disorder. Heading out alone on a business trip, I thought getting away and being busy might actually alleviate my grief. But instead, sadness traveled with me. That night in my hotel room, I desperately wanted someone to remember Hope with me.
I did what most people do when they feel lonely—I reached out to find someone to help make my loneliness go away. I punched my way through the numbers programmed on my cell phone, but no one answered. I didn't know how to connect with God in a way that would soothe my loneliness, so I finally cried myself to sleep.
Throughout the Old Testament, God promises Abraham, Jacob, Moses, and the Israelites he will be with them. He told Joshua, "I will never leave you nor forsake you" (Joshua 1:5). While I've believed these promises are for me too, sometimes when I've read them, I've thought, Well, I was hoping for something better than that. God's presence seemed more like the consolation prize than the reward.
But when my friend Angela lost her husband, she told me, "It took me two years after Wes died before I was willing to say to Jesus, in the loneliness of my bed, 'I need you to make your presence known to me, to satisfy me.'" She admitted it was awkward to wait in silence for him, but it's been worth overcoming the awkwardness for her to experience God's friendship.
The trouble is, I'm rarely quiet or patient enough to wait for God to meet me. Perhaps what's more deeply true is that I really didn't fully believe being alone with Jesus—even when I'm lonely—would satisfy me.
Obviously I've much to learn from the Old Testament patriarch Moses. After the children of Israel rebelled against God in the desert, God had it with his "stiff-necked" people and told Moses he would send an angel to lead them into Canaan instead. The very thought of living in the land of milk and honey without God's presence among them brought Moses to his knees: "If your Presence does not go with us, do not send us up from here" (Exodus 33: 15).
To Moses, experiencing the felt presence of God was more important than anything. Seeing his example, I've started looking for ways to live like I really value God's presence. So I occasionally turn off the radio in my car and think about him or I turn off the television in my house to cut down on the world's noise. When I'm willing to wait for him to make himself known to me, I offer more than just lip service to what's truly important.
What I wanted in the hotel room that lonely night was to hear the voice of someone who really knew my sad circumstances. But who could know more about me than God? If I want to hear his voice, I have to open up his Word in a spirit of quiet humility and expectation, and wait for him to speak to me. Now I set aside time to meet with him rather than rush through it. I persevere in listening, chew on words and ideas, and open myself up to his words, rather than listen for only what I want to hear. Sometimes he speaks comfort, assuring me of his sovereign care in my life. And other times he speaks conviction, pointing out patterns in my life that need to change.
But when I'm lonely, I also want to pour out my heart to someone who'll come alongside me and be touched by my concerns. What a relief it is to know that I can talk to God about what matters most to me; I can share my victories and defeats, questions and concerns, joys and sorrows. That's our privilege in prayer—we can have this ongoing conversation with a cherished friend. It's this kind of deep, ongoing sharing that helps me feel and know the friendship of God.
Sometimes I'm lonely because I'm waiting for someone else to make the first move. But when it comes to God, he's already made the first move. God doesn't want to love me from a distance; he invites me to draw near. James 4:8 says, "Draw close to God and God will draw close to you" (NLT). But there's only one reason we can draw close to God himself in the midst of our loneliness—because Jesus willingly experienced the ultimate loneliness in our place.
As Jesus prepared to face the cross, his frightened friends abandoned him. As he readied himself to drink the cup of God's wrath in our place, he anticipated what lay ahead—when God would withdraw from him. This desperate loneliness caused Jesus to cry out, "My God, my God, why have you forsaken me?" (Matthew 27:46).
So when I've felt desperately alone, I find comfort in the truth that Jesus understands. He experienced the ultimate abandonment and loneliness of the cross so my sin—and yours—would never be a barrier between God and us. His sacrifice cleared the way so we can go to God and experience his felt presence in the lonely times of our lives.
Since that night in the hotel room when I couldn't seem to find God, I've been learning how to bring my loneliness to God with the expectation he'll meet me. Recently, I lay awake one night rehearsing all the wrongs done against me, practicing my best "I'll put you in your place" speech to let people know how much they'd hurt me. Caught up in my loneliness and pain, I suddenly remembered what I'd studied in the Bible the week before, that Jesus promised the Holy Spirit would "convict the world of guilt in regard to sin and righteousness" (John 16:8).
And that's exactly what God did. As I brought my loneliness and pain to him, God spoke to me that night, suggesting all that I'd labeled as "baggage" was nothing more than the sin of unforgiveness in my life. I heard God calling me to repent. His presence was with me in the room—and his voice of conviction was clear.
Now when I struggle with loneliness, I'm able to tell God, "I feel lonely." This begins a conversation that makes his presence real. I've discovered that as I draw close to him, he draws close to me, and I don't feel so alone.
Nancy Guthrie is the author of numerous books including Holding On to Hope and Hoping for Something Better: Refusing to Settle for Life as Usual, a study of the book of Hebrews (all Tyndale).
Read more articles that highlight writing by Christian women at ChristianityToday.com/Women
Where's God in My Loneliness?
Read These Next
A Single Advantage

How Christian women can view singleness as an opportunity, not an obstacle