Made for Community
Finding and building community takes time, effort, and work.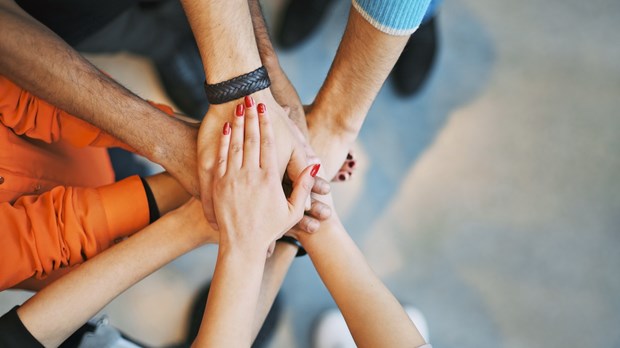 In my first pregnancy almost nine years ago, I found myself worrying about this new stage of life. My consuming thought? That I didn't have a friend with whom to share my experience.
None of my friends were having children. I was leaving my job. And the thought of going it alone was disconcerting. Perhaps more than ever, I realized that God made us all for community. Solomon exhorts us in Ecclesiastes that "two are better than one." Jesus healed, preached, and lived in the context of community. Peter says, "Love the brotherhood of believers," and the writer of Hebrews reminds us, "Do not give up meeting together."
Although I knew these things to be true, I wasn't sure where to start. The last thing I wanted was some programmed relationship like the "Splenda" communities Ashley Moore writes about. Since that pregnancy worry, when I realized how important community truly was, I've learned some things about friendship. So as you consider the spiritual discipline of community, here are four practical ways to make this month's ideas personal.
Action Step #1: Pray specifically.
During that pregnancy, I began to pray that God would bring me friends. I sometimes laughed while praying because it sounded like I was a third grader. But God asks us to have a childlike faith! In my prayers, I reminded God that he made us for community, and I asked him repeatedly to provide me with fellowship and relationships for this stage.
Maybe you've moved, are in a new stage of life, or just haven't found that circle of friends who feeds your soul. Begin with prayer, specifically asking God to bring friendships into your life that would ultimately bear great fruit for the kingdom.
Action Step #2: Be the friend you want to have.
A few weeks after I began to pray, my husband and I joined our first childbirth class. As the weeks progressed, we warmed to the easygoing way of one couple, and when their baby came three weeks early, we took a leap of faith and offered to visit and take them a meal. Although it wasn't totally comfortable to "impose" upon their new life, I needed to be the friend I wanted before I reaped those benefits myself.
How can you take the initiative in a relationship this month? Consider one of the steps from the "community challenge" in the article, "Strength in Numbers." Or cultivate an existing friendship and do something out of the ordinary for a friend: handwrite a note, plan a night out with something she loves to do, show up with a meal, or give her the afternoon off by taking her kids for a play-date.
Action Step #3: Be willing to be uncomfortable.
There are moments (or hours) of programmed "events" that will feel forced. In our childbirth class, we had plenty. And when the women from the group started a playgroup, those moments continued. My husband would come home from work to find me moping at the kitchen table. "Playgroup!" I would proclaim. "These kids can't even hold up their heads! And all we do is talk about poop!" But because I was still looking for those friends, I continued to attend. Eventually, the conversations grew deeper. And rather than just spending that hour with eight women, I found that our spontaneous meetings at the food court or out for a walk became rich times of fellowship together.
What experiences with (or outside) the church have you written off as "fake"? What could you do to host or lead an event that's the kind of thing you need to experience? Check your heart. Are you willing to humble yourself and experience "programmed" community as a catalyst to real friendship?
Action Step #4: Expect conflict.
In her interview, Julie Pierce says that "community doesn't just happen. You have to work at it." One of our catch phrases in student ministry is that "it takes six months for the shine to wear off." The shine is the newness of the relationship where all parties show their prettiest sides. Eventually the shine wears off, toes get trod, and the uglier parts of our personalities come forward. And this is the place where true community begins. Community is messy, but we have to be willing to be honest with others.
Does conflict make you shy away from getting real in friendships? Decide to share a more vulnerable side of yourself. You might find that people actually like the "real" you more than the "shiny" one.
Finding and building community takes time, effort, and work. But because it's in God's design, it's worth it. That couple from the class? I consider them my answered prayer—we've laughed, cried, encouraged, fought, vacationed, and raised our kids together—and the fellowship is real, raw, and wonderful.
Read more articles that highlight writing by Christian women at ChristianityToday.com/Women
Made for Community
Read These Next