The Goodness of God
Why author Nancy Guthrie believes submission is really about trust.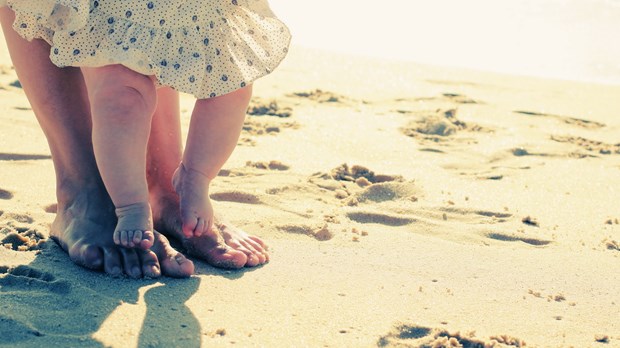 It hasn't always been easy for Nancy Guthrie to submit wholeheartedly to God.
Two of Nancy's children—Hope and Gabe lived only six months. Bothdied from Zellweger Syndrome, a rare metabolic disorder. National media called Nancy a modern-day Job.
But when God met Nancy in her pain, she responded by submitting her dreams, anger, and grief to him. She shared her story in talks and books, most recently, Hearing Jesus Speak Into Your Sorrow. She and her husband now host weekend-long Respite Retreats for couples who have faced a child's death.
We asked Nancy to explain submission (or as she likes to define it, "giving ourselves over to the goodness of God").
What does true submission look like?
Submission involves obedience to the Lord, but it's more than that. It's also an attitude of glad-hearted openness to God—as if we're putting our yes on the table—before we even know what he has planned or will ask of us.
How can we do that daily?
By trusting God with (not necessarily loving) our circumstances. In the Old Testament, was a great example of submission. In the midst of his difficulties in Egypt, he trusted God with his suffering, betrayal, and injustice. We see this in the names he chose for his children. Manasseh means "God has made me forget all my troubles" and Ephraim means "God made me fruitful in the land of my suffering".
Why do you think Joseph was able to do that?
He believed in God's goodness, which is what we all must do. And we must realize that God's goodness might include some things that we may not necessarily label as "good." Yet God's very nature is the essence of goodness. And when we belong to him, we can trust that whatever he allows he will use for good. That's what makes it possible for us to submit to the hard, dark things he sometimes allows us to experience. Whatever God allows to happen, we can give ourselves over to his goodness, knowing that he can and will use it for good.
Has it been hard for you to trust that goodness?
Years ago my pastor said that every once in a while, we all have dark thoughts about God. I remember thinking, I do not! But when I thought about it, any hesitancy we have to submit to God is because whatever he's asking us to do feels suspicious. We think, I need to keep my options open, because God may ask something that I don't want to give or require something that will make me miserable. This proves we do have those dark thoughts about God, because we assume that he doesn't really love us—at least not in the way we think we should be loved.
How did you face those dark thoughts?
I searched Scripture to discover how God desires to be known—as the perfect Father, who flawlessly protects and cares for his children. And as the Good Shepherd, who brings his sheep into the fold to care for and guide them.
Knowing God in these ways gives us a deep sense that he loves us and wants what's best for us. He is trustworthy, and therefore I can submit to him.
Explain the Holy Spirit's role in our ability to submit.
God doesn't hand us a to-do list with submission at the top—that's too hard for us to accomplish on our own. Yet through the empowering presence of the Holy Spirit, we're capable of doing more than what comes naturally. We learn to find our pleasure in the Lord, and so he gives us the desires of our hearts, even as he's at work in us, reshaping and changing our desires. The real evidence that the Holy Spirit is at work in us is not only when he changes what we think and do, but when he changes what we want. As the Spirit works in me, I begin to want what God wants for me. That's what makes submission possible. Our minds are renewed and we know more about who he is. We discover we can trust him.
What about submitting to unreasonable earthly authority?
Just like submission bears good fruit, rebellion bears bad fruit. When I think about experiences, for example, when I failed to submit to a challenging boss, it bore the fruit of criticism, gossip, hard feelings, and even shame. I learned that the need to submit to authority isn't because someone is smarter, more capable, or knows best. We need to do it because Scripture tells us that all authority is put in place by God. And our submission to earthly authority flows out of our submission to God. The only way we can submit gladly to unfair or inept authority is out of our desire to submit to God and please him.
Even if the situation seems bleak?
If a woman is in a difficult family, friend, or work relationship, submission doesn't mean that you never speak up. But it does mean you resist speaking against a person, and you treat him or her with respect. You interact with the person in a way that's blameless. We resist disrespecting the other person, because it's the right thing to do, and we'll never regret it. And we trust God to bear good fruit in the situation and in us.
How have you seen submission bear fruit in your life?
Positive relationship, mutual respect, and fruitfulness in ministry. Often the other person was open to hear from me instead of being defensive. God's used tough situations to teach me that often when I feel rubbed the wrong way by another person, I come up with all kinds of criticism to justify why I shouldn't be expected to submit to that person. Over time, however, God has taught me that my refusal to submit to a difficult person is ultimately hardness toward God. It's as if I'm saying, God, you haven't done right by me to put me in this situation.
So what's the bottom line?
No matter what's true about someone else, my response often is determined by whether I'm willing to submit to the Lord in the situation and trust him with the results. It all comes back to giving myself over to the goodness of God.
Subscribe to TCW's free e-newsletter at this link for weekly updates and opportunities to win free books and music.
Read more articles that highlight writing by Christian women at ChristianityToday.com/Women
The Goodness of God
Read These Next