Small Is the Call
The really good news about the adventure of Christian service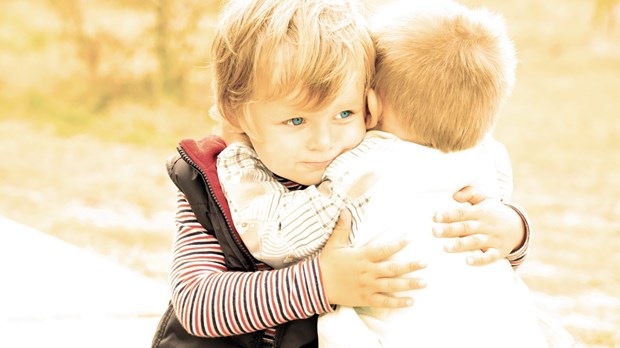 Sandra and her husband don't frequent local thrift stores for clothing bargains or gently-used shoes. Occasionally on date nights, though, they'll pop into one in search of … single mothers.
Thankfully, they're not human traffickers. Rather, they're Christians who are itching to partner with a God who is actively engaged in the world today. Sharing God's heart for these women and their children, Sandra and her husband pay for the women's purchases and then take them to a supermarket to buy them the groceries they need.
Though these Friday night adventures are counterintuitive to the kinds of messages we're fed in our culture about living to please ourselves, as they've offered themselves in kingdom service, Sandra and her husband have tasted a kind of life that really is life.
Of course God's invitation to adventure necessarily looks different in each circumstance.
• One woman offered her family's extra winter coats to a shivering family at a local school bus stop—even though she felt really awkward doing it.
• Another woman, a registered nurse, slipped into the home of a single friend recovering from knee surgery to vacuum, sweep, and dust—even though the job was way below her skill set.
• One woman stopped beside a local highway to share juice and crackers with a young family traveling cross country whose car had broken down—even though she'd miss the church committee meeting she'd left home for in the first place.
Strangely, surprise, smallness, sacrifice, and spontaneity are the unexpected marks of the adventure of kingdom-following. In this upside-down economy Jesus ushered in, those who pattern their lives after him—embracing awkward, inconvenient, humbling, and unlikely service—are those, like Sandra, who discover the kind of adventure for which they were made.
The Danger of "Big" Service
What too often keeps us from the ones God loves is our temptation to make serving others into a really big thing. With the best of intentions, we can inflate "service" into an unwieldy beast when we decide that it is what happens on the annual church mission trip to Mexico, or when we accompany the youth group to build Habitat homes in New Orleans, or respond to God's call to mission work in Africa. It's actually a convenient story for many of us because—if we live in an American cul de sac, or if we work in an office park cubicle, or if we can't travel overseas because we're pregnant—then … we're off the hook.
Though I'm as lazy as the next gal, I'm also convinced that Jesus invites his followers into something so much better than being off the hook. Specifically, he hooks us into adventure by opening our eyes to opportunities to serve in our neighborhoods, workplaces, campuses, and communities. Through the gentle nudge of the Holy Spirit, our eyes are opened to the teen at church who doesn't have any help at home as he applies to colleges. When our postal carrier delivers the wrong mail, we're reminded of the neighbor who's been living in a nursing home for the last six months. Or we hear from coworkers about a colleague who'll be out of work caring for a sick husband. The Spirit opens our eyes to the folks Jesus is longing to meet, love, and serve—through us. Jesus invites us to embrace a life of adventurous kingdom service that is marked by surprise, smallness, sacrifice, and spontaneity.
Who Are We to Serve?
I confess that when I think of service, too often my mind beelines to my worst nightmare: Martha-Stewart-style hospitality. Ick! Yuck! Blech!
When Jesus invites us to serve, though, he's not necessarily thinking of hosting folks like our pastors or wealthy neighbor or the head of the church missions committee who—if we're really lucky and play our cards right—can return the favor. In fact, the ones he describes and moves toward are most often lacking in any sort of social capital whatsoever.
In a story Jesus tells about who we're to be serving, he describes folks who are hungry, thirsty, sick, naked, imprisoned and often unknown to us—aka "strangers" (Matthew 25:35-45). Jesus says that when we serve those who are living on the world's margins, we're actually serving him: "The King will say, 'I tell you the truth, when you did it to one of the least of these my brothers and sisters, you were doing it to me!'" (Matthew 25:40). As we begin to recognize the face of Jesus in those we serve, the "stranger" is transformed into "friend" as he opens our eyes to see those folks we'd likely otherwise miss.
Nudged by the Spirit, we may notice, for the first time, the thirsty gardener who tends to the lawn on the campus of our workplace. Or when we go Christmas caroling at a local nursing home we might see, as if for the first time, those who are captive to debilitating circumstance. Or the Spirit opens our eyes to the young woman with an intellectual disability who bags our groceries every week, now waiting in the rain for a bus. The surprise of kingdom service is that God opens our eyes so that we notice folks in the daily rhythm of our lives that we've just never seen before.
What Does Kingdom Service Look Like?
Although Jesus' act of self-giving love on the cross—admittedly a big thing—is the pattern into which each of us is called, the way the pattern is fleshed out in our everyday lives is meant to be small. Again and again in the Gospels Jesus invites his followers to embrace small acts of love. Really wanting his friends to understand this, he made it plain.
One night at the end of his life, when Jesus' friends saw him take off his robe and wrap a towel around his waist, they were floored. After all, the nasty job of washing guests' stinky, dusty feet was a servant's job. It was low. And he was the Master, after all! Having washed their feet, putting his teacher clothes back on, Jesus explained, "Since I, your Lord and Teacher, have washed your feet, you ought to wash each other's feet" (John 13:14).
Knowing they—and we!—would be tempted toward big, showy, impressive acts of bravado, Jesus let them know that authentic service isn't showy or flashy at all. In fact, it's more often small and humble, such as feet washing. And meal serving. And thirst quenching. And clothes providing. And lonely visiting. The truth that kingdom service is marked by smallness rather than grandeur is great news for those of us with full, busy lives. It's what puts us back on the hook to care for neighbors and coworkers, friends and strangers.
The Way to Serve
McDonald's' ads insist that we deserve a break today. Sprite suggests we should obey our thirst. Clothing manufacturers convince us that, even if we're suitably well-clothed, we ought to keep up with fashions that change every three or four months. All around us, retailers condition us to believe that we are made (and deserve) to be pleased.
But the topsy-turvy message of Jesus, which is entirely countercultural, describes a different kind of reality. "The greatest among you," he says, "must be a servant. But those who exalt themselves will be humbled, and those who humble themselves will be exalted" (Matthew 23:11-12). He also says, "If you cling to your life, you will lose it, and if you let your life go, you will save it" (Luke 17:33). Clearly, no one's buying banner ads on Facebook promoting Christian self-sacrifice! And yet, the unlikely way of Jesus is one in which death to self gives way to real life.
The young woman who spends the night with her church's ministry to folks transitioning out of homelessness discovers she's blessed and vivified by sacrificing a good night of shut eye. The one who rushes out of work at three o'clock to tutor children who live in her neighborhood is enlivened by service. The woman who spends Sunday afternoons with a neighbor living with dementia, to give the woman's family some free time together, finds life in her sacrificial gift. The secret of death giving way to life is one that Jesus knew and into which he invites his followers. Dallas Willard and Richard Foster call disciplines like these the "secret of the easy yoke."
When to Serve
Janice was rushing from her car into the bank before it closed for the evening. Lingering outside was a woman she'd seen before at a nearby intersection, where she held a crude cardboard sign asking for money. The woman's hair was matted, her skin browned by the sun, and she had a faint odor about her. When Janice came out of the bank, cash in pocket, the woman asked her if she could spare some change. Uncomfortable but compelled by God's great love for the woman, Janice prayerfully considered stepping into new territory. The fact that her typically full schedule was strangely clear that evening only seemed to seal the deal.
"I don't give out money, but if you'd like to join me for dinner, we could grab a bite next door at McDonald's."
After thinking it over for a moment, the woman agreed.
Service isn't always something extra we schedule into our day planners, carving out three hours on a Saturday morning to swing a hammer or that "service week" in Haiti. In fact, the witness of the Gospels is one of Jesus and others encountering and responding to those in need in the natural course of their days. Sometimes, that meant sharing a meal. One time it was a donkey ride to an inn (Luke 10:25-37). Other times, hearts and bodies were healed. As you determine to join the kingdom adventure of service, allow the Spirit to move you in new unexpected ways.
The Secret of the Easy Yoke
If you've imagined "Christian service" as an obligatory duty that must simply be endured, you've been missing out on the joyful adventure into which you've been called. Jesus has something so much better for you! You were made to move with Jesus toward the sometimes unlikely ones he loves. And though it often does seem inconvenient or awkward or unlikely, as you step toward the ones Jesus loves, aware of his presence with you, you participate in establishing the new kingdom he ushered in. Author Shane Claiborne confirms, "God is preparing each of us for something really, really small … and it's small things done with great love that move the world."
Margot Starbuck is the author of Small Things with Great Love: Adventures in Loving Your Neighbor. www.margotstarbuck.com
Subscribe to TCW's free email newsletter at this link for weekly updates and chances to win free books and music downloads.
Read more articles that highlight writing by Christian women at ChristianityToday.com/Women
Small Is the Call
Read These Next