From Stripping to Spreading the Gospel
Why Harmony Dust, an exotic dancer from Southern California, left the clubs behind to share her faith with women struggling in the sex industry
For exotic dancer Harmony Dust it was never a question of if she would kill herself, but when. At 19, her life was out of control. She was on the brink of bankruptcy, living with an abusive boyfriend, and had $35,000 in credit card debt. By day she was a college student working part-time as an assistant preschool teacher. At night she morphed into "Monique," a stripper who would pole dance naked, inches from men's leering faces.
A typical day started at 7 a.m. with a full class load followed by work at the preschool. By 7 p.m. she was at a strip club near the Los Angeles International Airport, dancing until midnight in six-inch stilettos that left her feet blistered and bloody.
When she got home she turned over her money to her boyfriend, Derrick, who spent his days watching TV, playing video games, and shooting hoops. She was paying for their apartment, but Derrick had impregnated another woman and moved her in. They slept in the bedroom, while Harmony slept on the living room sofa. In her fractured mental and emotional state, she tolerated the exploitation.
"I was suicidal and barely hanging on by a thread," she recalls. "I was in such pain with a deep sense of denial, and was severely disconnected from my own life. I was just a bystander watching my life on a movie screen."
Emotionally and sexually abused and exploited
Even before she started stripping in 1996, Harmony had already emotionally disassociated to cope. Her earliest memories were of watching porn at the age of three with her father. By age five she had been sexually abused by both men and women. At 14, her first boyfriend raped her in a school stairwell, then continued to rape her for months.
Her home in Venice Beach, California was chaotic. Drug dealers and social misfits moved in and out of the ramshackle cottage she called home. Her hippie mother (who gave her the name Harmony Star) was a cocaine addict. Her dad was a dealer. After her parents divorced, her mother brought in a string of boyfriends who sexually approached Harmony. At one point, Harmony's mother left for Canada with one of them for several months. Harmony, then 13, was left to care for her eight-year old brother with only 20 dollars and a book of food stamps. She started stealing to survive.
She soon got involved with Derrick. He was a controller, but she interpreted that as care and concern.
"He came from a pimp neighborhood and he already had it in his mind to pimp me. Pimps will groom a girl—take her to get her hair and nails done. All he had to do was buy me Burger King and keep the other boys away from me," Harmony says.
One night Derrick manipulated her into wagering her body in a card game: if she lost they would have sex.
She lost.
That started an abusive seven-year relationship during which Harmony supported Derrick through stealing, odd jobs, and ultimately stripping. He slept with other women, but Harmony clung to the relationship because he was the only man who had never left her or raped her.
Although her debt was crushing, Harmony was reluctant to become a stripper. She sought the counsel of a college professor, secretly hoping he would dissuade her.
"I thought he would say I was better than that. Instead he said, 'Well, it's not like you have to put it on your resume,'" Harmony says.
Months later she was shocked when she looked up and saw the professor watching her dance nude. She recalled that he had nonchalantly asked her to which club she was applying. In that moment she felt his betrayal.
Two years into stripping, Harmony was suicidal and violently angry. When customers violated the "No Touch" rule, she would beat them with her stilettos, getting her in trouble with the club manager. One time a customer licked her, and she became so enraged she pummeled him until the bouncers intervened.
Ballet, Bible study, and 'Purple Rain'
Then in 1998 she met Tanya, a Christian, at a ballet class. Tanya befriended her and kept inviting her to church. Finally, Harmony agreed. After months of hearing powerful testimonies of God's salvation in the lives of broken people like herself, Harmony gave her heart to Christ. However, she continued stripping because of her finances. She would attend a mid-week Bible study and then drive to the club for her shift.
"Leaving the industry was a process for me. I was going to church, but I wasn't trying to lead a double life. God was slowly doing a work in my heart that was showing me I was valued and loved."
One night she was getting ready for her shift when Prince's "Purple Rain" started playing. It was the song she had auditioned with when she told herself she would only strip for a couple of months. She froze, realizing three years had passed and she was still stripping. "It hit me that I was created for a purpose and this couldn't be it," she says.
She knew in that moment God would provide. She quit on the spot, sold her stage clothes to the other strippers, and walked out. She also dumped Derrick and broke free of his control.
Love in action
Harmony finished her bachelor's degree in psychology and started her healing journey. Around the same time she met hip hop artist "Pigeon John" Dunkin. They married in 2002 and created a new last name, "Dust," to reflect God's creation of Adam and the creation of their new life together. She later earned her master's degree in social work from UCLA and began working for the Los Angeles Department of Children and Family Services. She and John had a daughter. Harmony was living the life she had always dreamed of. But she could not forget the women in the clubs.
One night she was picking up John from the airport when she drove by her old strip club. Her thoughts turned to the women there. "I felt like I was standing outside a prison," she says. "I had postcards from a church retreat with the verse, 'Her value is above rubies,' and I desperately wanted those girls to know that."
She quickly scribbled on the back of the cards that she was a former stripper who wanted to tell them they were loved, valued, and purposed. She placed the cards on the strippers' cars.
With help from church volunteers, Harmony started leaving notes at other clubs and then visiting the dressing rooms with gifts of perfume and makeup donated by cosmetic companies. She also made friends with the bouncers and managers who quickly realized she wasn't trying to get the strippers to quit. She set up a website and incorporated Treasures in 2003 as a non-profit outreach to women in the sex industry.
Ministering from the pornography capital of the world
Harmony was working full time as a social worker and ministering to strippers on nights and weekends when Treasures caught the attention of a national publication. After her story was published in Glamour Magazine in June 2007, the website crashed and the phones rang non-stop. "We didn't have the capacity to handle that kind of response. At that time almost nobody was doing anything like this, and women from all over the country were reaching out to us for help," she shares.
She started taking personal days and vacation time to meet the demand, but it soon became apparent that she was at a crossroads. The only way she could respond to the women was to devote herself full time to the ministry. So with only her laptop and checking account, she took a leap of faith and quit her well-paying government job.
"It was a real challenge and a huge stretch, but I knew God was leading me to do it," she says.
Harmony began the ministry in her home, but today Treasures has an office in the heart of Los Angeles' San Fernando Valley, dubbed the porn capital of the world: 90 percent of all legal pornography worldwide is made or shipped from there.
To date, Treasures has ministered to over 5,000 women through the website and visits to strip clubs and adult entertainment conventions in Los Angeles, Las Vegas, and Orange County. Nearly 45 volunteers leave gift bags at 170 clubs annually. On a typical Friday night about a dozen volunteers pile into a van, pink gift bags in hand. Some will go into the dressing rooms while others stay in the van and pray. They aren't there to tell the women to quit, but to be a friend, and to "let the Holy Spirit do the work of conviction."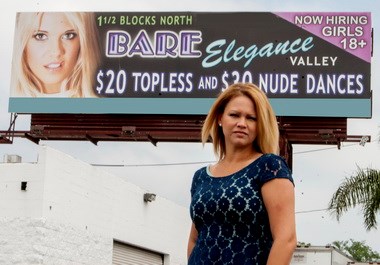 Image: Sophia Noelle Photography
Testimonies of transformation
Dee, 47, is one of those women. She ran away from home at 17, was raped twice in one week, and started doing meth. She worked in the sex industry for 22 years as a stripper, prostitute, and dominatrix. She came to faith at a God Chicks conference put on by Harmony's church, Oasis Christian Center. She started attending a Treasures support group. Not only did Treasures play a key role in her healing, but they also provided practical help. As a dominatrix she would make as much as $1,000 in two hours, but now she was struggling to make ends meet in minimum wage jobs.
"A huge part of what Treasures did for me was help me get integrated into church and support me with food cards or gas cards," Dee says.
Treasures' signature feature is that it replicates itself through a comprehensive training model that has been implemented in over 60 cities nationwide. Church leaders are taught the logistics of establishing outreaches to sex workers and how to appropriately care for them. Statistics show that women in the U. S. leaving the sex industry suffer Post Traumatic Stress Disorder at the same level as combat veterans—69 percent.
Because Harmony is a sex industry survivor and a social worker, she had a unique advantage in building her ministry model.
"My ministry is very much informed by experience and education. There are certain philosophies in social work that we adopt at Treasures, such as starting where the client is and empowering her to set goals. Healing is a holistic journey that involves addressing physical, psychological, and emotional health. That is a social work model that is compatible with this ministry," she says.
Treasures' annual budget of just under $250,000 comes from donations, an annual gala, and Harmony's speaking fees. She doesn't take any federal money because she wants the freedom to share the Gospel.
The devastation of divorce
In 2009, Treasures was flourishing, but Harmony's personal world was about to implode. After seven years of marriage, she and John were separating.
"John did not choose our marriage," she shares.
She announced their separation on her blog by simply stating her marriage was ending primarily because "my husband has decided he wants to pursue other relationships." Their divorce was final in 2012.
In light of her past and with the devastation of divorce, no one would have blamed her if she had quit. Surprisingly through the pain, she sensed God's presence and guidance for herself personally and for Treasures. In the midst of the divorce, she felt "God 'moving through this ministry like never before.'"
During that time Harmony was supported by her church, closest friends, and professional counselors. That support has enabled her to keep Treasures thriving, even starting new ventures like "X Girls," a video series featuring former sex workers answering questions about the impact of the industry, and life after sex work. This month the series is being released as a DVD and workbook for outreach leaders.
Moving forward
As Treasures nears its 10 year anniversary, Harmony has some ambitious goals: to open a coffee shop or other business to generate funds and provide job training and employment for clients, and to establish a residential house for women transitioning out of the sex industry.
She is quick to acknowledge, though, that being a single mom balancing an emotionally draining ministry invites worry, stress, and difficulty. When asked how she stays motivated, she shares honestly.
"There are days when I think of moving to Cancun and opening a jetski business. This is a lot to do for a long period of time, and you can get hurt along the way," Harmony says. "But we have a saying at Treasures: 'It never gets bigger than the one.'" She pauses, tears welling up in her eyes.
"I am thinking about 'the one' right now, a particular girl we have been working with. What would happen if we didn't reach her? I can't imagine that. So I keep going."
To learn more about Harmony Dust's Treasures ministry, visit their website, http://iamatreasure.com/. For more information on how to join the fight against sex trafficking, read TCW article "How You Can Combat Sex Trafficking," and download tips in TCW resource "Combat Sex Trafficking: It's Everyone's Cause."
Maria Cowell is a writer living in Los Angeles. Follow her on Twitter @HipMamaMedia, Facebook, and visit her website, www.hipmamamedia.com.
Photo credits Sophia Noelle Photography.
Subscribe to TCW's free email newsletter at this link for weekly updates and chances to win free books and music downloads.
Read more articles that highlight writing by Christian women at ChristianityToday.com/Women
From Stripping to Spreading the Gospel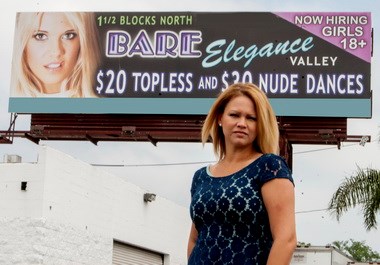 This slideshow is only available for subscribers.
Please log in or subscribe to view the slideshow.
Read These Next