The Single Girl's Guide to Family Holidays
Joy Eggerichs on the joys and struggles of family life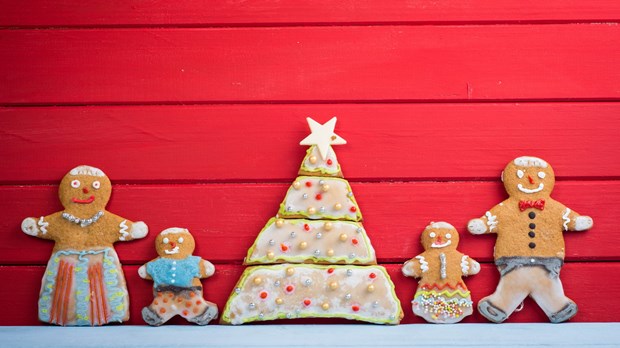 Joy Eggerichs knows a thing or two about answering questions. In her "Ask Joy" video segments and blog posts (at LoveAndRespectNow.com), she dishes about dating, friendship, breakups, marriage, faith, and the single life. She's also been working with her dad, best-selling author Emerson Eggerichs, on The Illumination Project—a DVD curriculum for Millennials dialoguing about marriage and singleness across generational boundaries. We connected with Joy to ask her about family relationships, the holidays, and how singles can build real connection with married family members and friends.
What issues do you most often get asked about at Love and Respect (Now)? Why?
My peers who write in and ask me questions are men, women, single, dating, and married. Many of the questions are ones like: Is there only one person for me? Can guys and girls be friends? How do I communicate to my spouse if . . . ? I'm feeling like time is running out; will I be single forever?
Ultimately, I pray I point people toward seeking wisdom.
I work for my parents, Emerson and Sarah Eggerichs, who have a marriage ministry called Love and Respect. Over the past five years of making videos and writing posts in an effort to help my generation with relationships, I've found most people are just longing to "get it right."
I also get the sense from many of the Christians that write to me that an underlying question is wondering if God is trying to trick them. I feel my heart wanting to shout from the rooftops, "He loves you and is not trying to trick you!" I try to give non-formulaic answers based on either things I've learned from my parents and their message of Love and Respect or biblical insights or, hopefully, just some common sense. Ultimately, I pray I point people toward seeking wisdom.
Our sister publication, Christianity Today, dubbed you "The Relationship Maven." What do you think of that title? What draws you toward sharing relationship insights with others?
I was greatly honored to be included in that list of 33 under 33. Relationships and getting my parents' message of Love and Respect out to my generation has been a huge passion of mine. When I used to direct my parents' speaking events, I would always hear people say, "Why didn't anyone teach us this 20 years ago?!" or, "If only I knew then what I know now." (Hence why my division of the ministry is called Love and Respect Now.)
Although this has been something I've been shouting from the rooftops for years, I always get a little nervous when people use words like "maven" or "expert" to describe me. Mostly, I just get a mental picture of the guys I've dated sitting at their kitchen table rolling their eyes and involuntarily choking on their soup.
Holidays like Thanksgiving and Christmas can be great times filled with family and fun. What do you most love about your own family holiday gatherings?
Because I live in Oregon and my family is in Michigan, I can't remember the last Thanksgiving I spent with my family. I usually just crash some other family's Thanksgiving. (If you've ever tasted my grandmother's recipe for Cranberry Fluff, you would open the door for me too.)
I love Christmas time! My mother makes everything so cozy and Christmas-y. Every Christmas Eve we go to church and then come home and have meat fondue. On no other night of the year do we voluntarily choose to gather together around scalding hot, bubbling oil, but on this particular night we all become daredevils. It's dangerous and delicious.
When you long to have a family of your own, sometimes being surrounded by extended family can feel like salt in the wound.
We've also been impacted by something my church started called Advent Conspiracy. Each year I try to come up with an artistic activity (usually really weird like drawing names and painting that family member's portrait) that causes us to have a shared experience in place of an extra obligatory gift. None of us are really artists, so the outcome is horrendously hilarious.
Have you ever felt lonely as a single woman during family gatherings? Explain.
Oh yes! When you long to have a family of your own, sometimes being surrounded by extended family can feel like salt in the wound. Having my nephew, Jackson, around and seeing his childlike wonder, starting new traditions, telling him about baby Jesus, and watching his eyes light up on Christmas morning, it's impossible for me not to wonder if that will ever be something I get to experience with my own children.
And over Thanksgiving and every other day of the year that I drop in on my peers who have growing families, it's so hard to not feel behind. It can be a magnifying glass to the increasing whisper in the back of my head that says, I wonder if this is going to happen for you, Joy?
So then I have a choice—will I let that fear turn into denial of what I want or pushing down any hope I wanted to cling to? Or do I dive in and remember family often looks different than what we expected? I mean, my brother and sister never assumed adoption would be the route they took, yet my nephew Jackson has literally transformed our family, and the depth of love I have for him is indescribable.
Mourning must also be mixed with praise. Scripture says giving thanks in the midst of all things is what God wants from us.
I remember when my friend Lisa had her son, Bear. She was living in Portland without her family around, so I said, "I will be your family and help you and your husband, Chase, raise your son." I spent many nights watching Bear, and my love for him grew so deeply that when they moved back to California I mourned the loss of that two-year-old unlike any friend I've ever had move away. My capacity to give love as a mother is there, it may just not end up looking like I imagined, and when holidays get hard, I want to acknowledge that and give love as opposed to retreating to my place of fear and frustration that it's not "happening as planned."
What encouragement would you have for single women who feel lonely and discouraged when they're with family—when they feel a bit "left out" because it seems like everyone else is married or has kids?
I think it's important not to stuff down those feelings. If we need to step into the bathroom for a bit and cry, or pull in a trusted family member to ask for a hug or prayer, and just mourn the sorrow of what might not be, that's actually healthy.
But mourning must also be mixed with praise. Scripture says giving thanks in the midst of all things is what God wants from us, and I think he wants it because it symbolizes our faith and our trust in him. "Family" may look different than what we expected, but I think it's important to remember that oftentimes we see more clearly what we don't have than what we do. I believe our prayers hold power, even when we don't want to pray them.
What about dealing with inevitable questions extended family members might ask about if you're dating, when you're going to get married, and so on? That can be really frustrating—so what's the best way to prepare or respond?
I think it's important for me to remember people are asking questions because they care. Their questions can feel like a slap in the face or an insult—and they may be lacking in tactfulness or sensitivity—but that doesn't mean they are malicious. So I try to smile and practice showing grace and interpret their words as code for what they're really trying to say: "I think you are amazing!"
What are some keys to having a good time and building solid relationships with family members (who might be married with kids)? What choices or strategies can help someone engage positively with married siblings?
Be inquisitive. Ask to hear fun stories of your family members. Laugh, smile, and be friendly.
If I find myself consistently not having a good time over the holidays, chances are I am thinking about myself way too much. Looking around and remembering these people are family and won't always be around or alive helps me recalibrate. Getting outside of my own head and asking people how they are doing, suggesting a fun outing, or looking for ways to serve them will create memories and most likely lead to having a richer time together.
However, "serving" or trying to be intentional with the same people you used to get in screaming fights with can be difficult. One time I told my therapist how I hated my tendency to resort to acting like a kid when I was around my family. She said, "When you go home for Christmas, set your driver's license out in your room. When you walk by it, remember you are an adult. Now act like one."
Another important thing for single people to remember is they can ask their married family members how their marriage is going. Lack of experience doesn't necessarily mean we lack insight or we can't serve our family members by being a listening ear. Ultimately, doing so will help us prepare for and be aware of how we want to interact if someday we get married.
Read more articles that highlight writing by Christian women at ChristianityToday.com/Women
The Single Girl's Guide to Family Holidays
Read These Next
Mission Impossible

Stolen jewels, the Russian mafia, and a kidnapping. Would my husband choose to accept my elaborate date adventure?