Stitched Together
How Hand & Cloth helps women find dignified work in Bangladesh
When Sarah Aulie traveled to India on a whim in 2006, she had no thought of starting a non-profit organization. She was taking three weeks off from her social work position in Chicago to travel, and, though she didn't know why, she felt she should go to Kolkata.
In Kolkata, Sarah volunteered at a home for girls who were at risk for various reasons—some girls had grown up in the red-light district, while others were orphans. "I met Pushpa*, one of the girls living at the home, and her story showed me what many in her situation face. She was a typical young woman; she was bright and smart. But I knew that her future was bleak because she didn't have an education, she didn't have work, and at 18, she would be on her own," Sarah says.
As she was getting to know Pushpa, Sarah was drawn to kantha, the textile tradition that she saw around the city. "Kantha is basically their native quilting stitch and the blankets were beautiful," she says.
The need for meaningful work for the girls and the loveliness of the kantha blankets gave Sarah an idea. "I started an experiment to see if Pushpa would organize the girls to make blankets. I purchased the materials they would need—old saris—and brought them to the home. A Bengali social worker said that she would ship them to me when the girls had finished making them."
The start of Hand & Cloth
After three weeks, Sarah traveled home, not knowing if she would ever see the blankets from Kolkata. But, sure enough, several weeks later, a box of kantha blankets showed up on her doorstep in Chicago. Sarah was amazed at their beauty, and shortly after, Hand & Cloth was born. From the beginning of the non-profit's inception, its mission has been to curate and sell textiles while offering dignified work to women.
Sarah was changed. "After that trip—and those blankets—Kolkata was burned on my heart and mind. I felt the calling to get back there." But she did not go straight back to the city she'd fallen in love with, but through a connection with her high school alma mater, Sarah went to live and work alongside a woman who ran a program for widows in Bangladesh, just east of Kolkata.
The Bangladeshi program that Sarah joined was offering help and protection to women and children who were at risk. "The widows in this Bangladeshi program were making kantha, so this became my opportunity to learn about helping at-risk women through being part of an existing program. I went and lived in Bangladesh for six months; it was my training ground for Hand & Cloth."
Choosing Bangladesh
After her time in Bangladesh, Sarah returned to Kolkata to intern with International Justice Mission (IJM) for another six months. This internship helped her to see more clearly the reality of trafficking in South Asia, where, according to Free the Slaves, the majority of the world's slaves exist.
"So many of the women who are trafficked into Kolkata are trafficked in from Bangladesh," Sarah says. That reality, combined with the time she spent in Bangladesh working with widows, gave Sarah eyes to see Bangladesh in new ways. "I saw that if women are offered dignified work in Bangladesh in the first place, then when a trafficker tells them he 'has a job in the big city [of Kolkata],' they won't go with him because they already have a job." If at-risk women in Bangladesh can be given meaningful work through local social enterprises, Sarah believes that this can help stop trafficking at its source.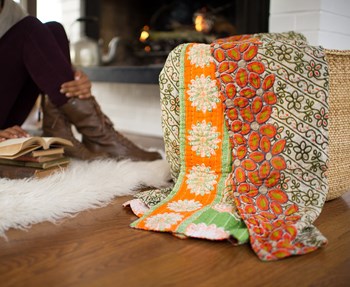 After her internship with IJM and completing a graduate degree in social service administration, opportunities started to arise for Hand & Cloth in Bangladesh, and since then, Hand & Cloth has become a US-based organization that partners with artisan groups and social enterprises in Bangladesh. "Traffickers look for women who are more vulnerable," she says. "There, in those [vulnerable] places, we can partner with local groups who offer dignified work to women who otherwise might be trafficked or exploited. We see our work—partnering with social enterprises in Bangladesh—as preventative."
In 2011, Hand & Cloth was given the opportunity to partner with Basha, a social enterprise founded by Robin Seyfert to give dignified work to women at risk in Bangladesh. "I see now that God was working on behalf of Hand & Cloth, building a case for us to partner with artisan groups in Bangladesh," she says.
Work and Word
Through product sales, Hand & Cloth offers safe, dignified work to women—mostly single moms—in one of the more difficult places in the world to be a woman. In 2013, through partnerships with organizations in Bangladesh, Hand & Cloth grew to supporting nearly 40 women who sew vibrantly-hued blankets made of old saris in the traditional kantha stitch. Each blanket takes four days to make and is a distinctive work of art. The work itself is important, but the work is not the sole reason that Hand & Cloth exists. "We partner with organizations who believe that women need work, but who also believe that women need more than work.
"Our vision is to partner with organizations where dignified work is coupled with the Word of God," Sarah says. "It's work and Word together." Although the Hand & Cloth organization is seven years old, Sarah and her team knows they still need God's wisdom to know how to offer the Word of God to these artisans through their partnership model.
'. . . like the bleeding woman, it is women who encounter Jesus that are healed.'
Stitched together
Ultimately, Sarah sees Hand & Cloth as the result of the work of God and the work of the church. "It's not me. So many people have come together; every meeting we've had for the last seven years has involved so many people who have invested in this organization and are working together. And something beautiful has come out of that."
She believes that Hand & Cloth will only truly fulfill its mission if dignified work is provided to women alongside of the gospel. That truth is subtly woven into the name of the organization. "As we prayed [over the start of Hand & Cloth], I saw this image of the bleeding woman—her hand touching the edge of Jesus' cloth, the cloth of his robe—and then she was healed. The women making products for Hand & Cloth are in need of healing. Rapha—Healer—one of the names for God in Hebrew, literally means to stitch together. The kantha blankets Hand & Cloth sells are created when women stitch together old sari cloth, oftentimes mending the saris as they go. Even as they are doing this, our prayer is that God is healing their lives, and stitching them back together. Because, like the bleeding woman, it is women who encounter Jesus that are healed."
*Name changed to protect identity
Ann Swindell teaches college classes and writes about life, ministry, and marriage on her blog at www.AnnSwindell.com. Follow her on Twitter @annswindell.
Read more articles that highlight writing by Christian women at ChristianityToday.com/Women
Stitched Together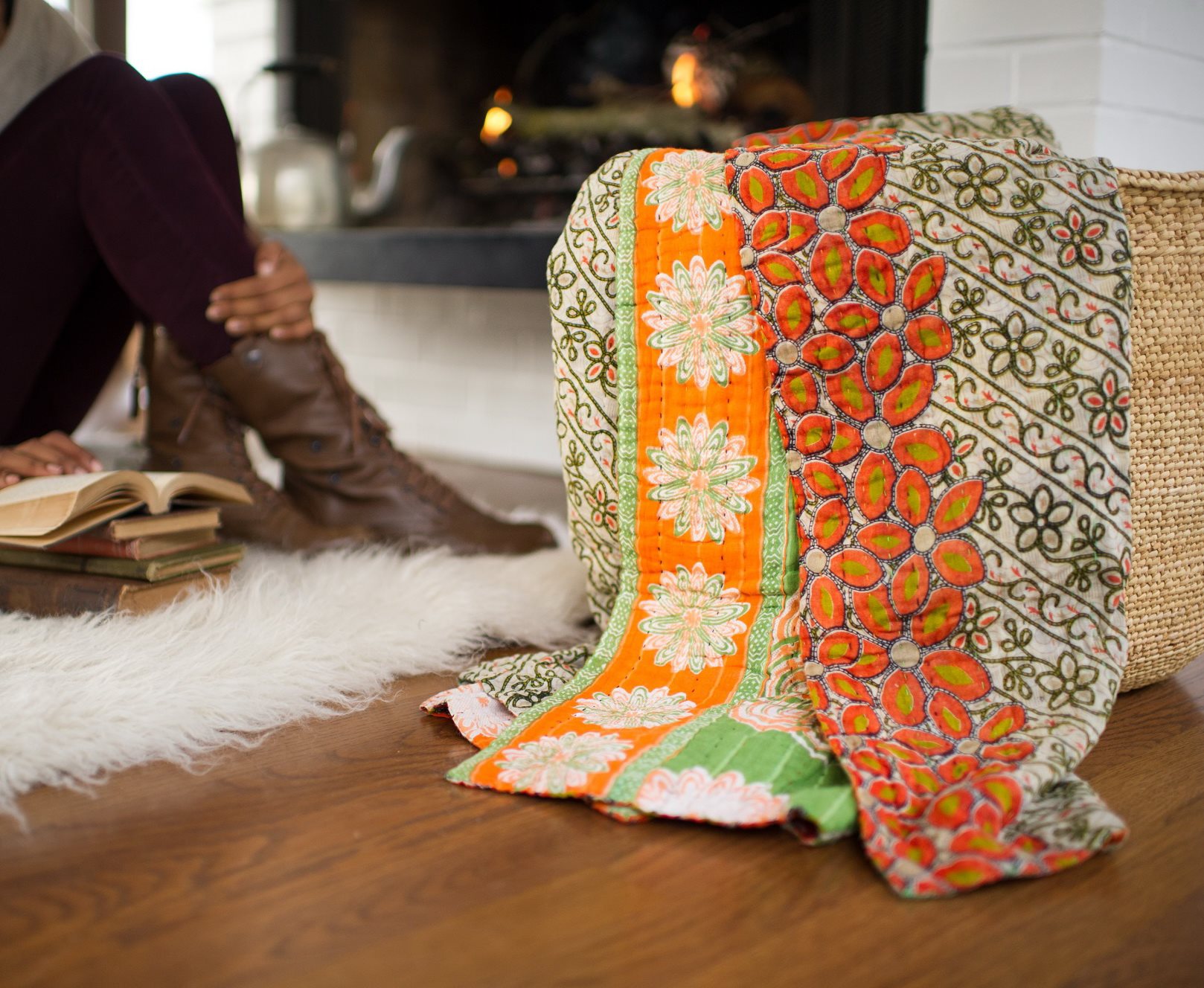 This slideshow is only available for subscribers.
Please log in or subscribe to view the slideshow.
Read These Next
Sexual Healing

Many women suffer from pain during intercourse. Here's one woman's story of suffering and restored intimacy.