Ministering through Food
Jesus did it first; Nikki Heckman is following the example.
When it comes to food and faith, Chef Nikki Heckman has a lot to say. As the owner and manager of Pittsburgh's Bistro To Go, Nikki has been on a journey to create a place where the gospel can be shared and lived out through the daily activities of preparing and consuming food. She was first featured in TCW's October issue on calling. This time we met with her to hear how God has used food in her life and ministry.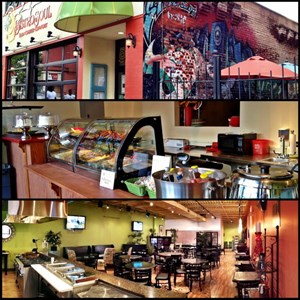 Being at the table
Growing up under the care of her Italian grandmother, Nikki had always been surrounded by good cooking. Big meals with family and friends were the center around which her home life revolved. "We were always having these big, long tables down in the basement," she says, "and everybody was coming to eat. Those tables represented to me family, community, and love. Food for me has always been the base of love, and it has always been a communicator of love."
Nikki was magnetized to that sense of fellowship, so when she ended up in Allegheny Center Alliance Church, she was keenly aware that a similar environment was within those walls. Even though she did not share their faith at the time, the sense of fellowship was enough to prompt her to volunteer with their kitchen staff. "I was so enamored with the environment," Nikki says. "It represented exactly what I used to get at that table. There was community, there were lots of people cooking, and the smells were fragrant and so were the conversations. Before long, I came to know Christ."
"Food for me has always been the base of love, and it has always been a communicator of love."
Nikki spent several years at that church being a part of its community development ministry, but she felt God tugging at her to pursue a different way of ministering through food. So in 2007, she opened Bistro To Go, a café in Pittsburgh's North Side neighborhood. Since at that point in time Nikki had a good deal of both life and culinary experience under her belt, Bistro To Go was a culmination of those experiences. God had given her a vision of a restaurant not only where real community could happen, but also a place that would always be reaching outward to serve the community just outside the doorstep.
Meeting basic needs
At the most basic level, food satisfies our need for nutrients. At Bistro To Go, Nikki is very conscious of providing healthy options for her customers. She considers nutrition an important part of fulfilling the command to, as she says, "keep your temple holy" (1 Corinthians 6:19–20). Nothing in the restaurant is ever fried, and much of their produce in the warmer months actually comes from Nikki's own garden, which she cultivates with her husband at their home outside of Pittsburgh. Though this type of cooking is trendy now, fresh food has always been Nikki's style: "I was cooking from scratch, probably doing organic and farm-to-table before they were even thought of because that's just what you did in big Italian families."
But Bistro To Go is interested in more than filling stomachs. As a business, Nikki finds opportunities to support the community by doing what businesses do: equipping people with job skills. Bistro To Go has a government-sponsored mentorship program that brings 12 middle-school-aged kids from the local Martin Luther King school district each season to spend several hours a week learning cooking skills. In addition to that, Nikki has a heart for helping people in life transitions by hiring them and teaching them a vocation. Whether that is cooking or simply working the register, that professional training is often just what they need to help them toward their next step.
God had given her a vision of a restaurant not only where real community could happen, but also a place that would always be reaching outward to serve the community just outside the doorstep.
Being in the midst
Nikki creates a community of love around food by making Bistro To Go an extension of her faith. The management structure at Bistro looks a lot like a church. In fact, she has five pastors on staff. Some of them are also in culinary positions, but Pastor Nate focuses solely on pastoring—heading up the spiritual and ministerial direction for the restaurant. "A lot of local people think of us as the church, even though we're out here in the community as a café," says Nikki.
However, she knows that being a business allows her to share the gospel in ways that a church may not be able. "We go into environments that we wouldn't go into as a church—organizations with different lifestyles, places the board would have a pretty tough time with—and I can bring Christ right in the door with me," Nikki says. Bistro's catering services bring them into large corporations and organizations like the Pittsburgh Cultural Trust for their opening night events.
Nikki also sees food as the gateway to reach people of other faiths. The Bistro is often hired for bat mitzvahs at Rodef Shalom, a nearby Jewish temple. "We do their food; we're in the midst." says Nikki. "We're able to bring food into places where Jesus would have brought food, and we're able to be light and salt. Even if Jesus may not be on our lips, he's in our hearts. The food that we create with love is on that table, and our prayer is just ringing out to heaven for the folks who are with us."
Her ministry is not entirely outward; it's inward too. Though Bistro To Go is very open about its Christian roots, Nikki does not insist on hiring only Christians. "We lead people to the Lord in the midst of what we do," Nikki says. "Right on the stove as we're putting out the chicken, we are having conversations about Christ." They also make prayer a part of their routine, gathering employees daily to pray. Nikki quoted Isaiah 55:11: "It is the same with my word. I send it out, and it always produces fruit. It will accomplish all I want it to, and it will prosper everywhere I send it."
To her, this was the perfect example of how in the world, food—like money—easily becomes a representation of power.
A communicator of love
Though Nikki has loved food her whole life, her idea of food deepened when she became a Christian and began to dive into Scripture. She was intrigued by how often food was mentioned and the importance it was given. She found it interesting that even in the early church, deacons had to be appointed to be in charge of distributing food so that widows were not neglected (Acts 6). To her, this was the perfect example of how in the world, food—like money—easily becomes a representation of power. This was especially true in Jesus' day, but she finds it still true today. "We have homeless people all over the streets here," Nikki says, "so I have to be careful that food doesn't represent power when they come in and need something."
Food in the Gospels has miraculous power—just think of the loaves and fishes (Matthew 14:13–21)—but at the same time, it symbolized fellowship. If it was power, it was always a power that was shared, recognizing that nothing we have is our own. "Every place in the Bible where Jesus was spreading the gospel, there was food," Nikki says. "They were grabbing the next fish out of the boat so they could sit along the shore after he was resurrected, just to eat a little fish dinner. Every single place represented the power of God."
This is really the heart of Nikki's mission. She is feeding God's people, meeting basic needs—for those who know God and those who have yet to know him—because she knows that in God's economy, all power is his. He meets our every need. Food does not have to be a symbol of having to lord over the have-nots. It is a currency to exchange love, to communicate love, and it can serve as a constant reminder of our all-powerful, all-loving God, the Bread of Life.
Subscribe to TCW at this link, and sign up for our free e-newsletter to become part of a community of women striving to love God and live fearlessly in the grit of everyday life.
Amber Stenberg is a freelance writer, a recent Wheaton College graduate, and former editorial intern at Today's Christian Woman. Follow her on Twitter @stenberg_a.
Read more articles that highlight writing by Christian women at ChristianityToday.com/Women
Ministering through Food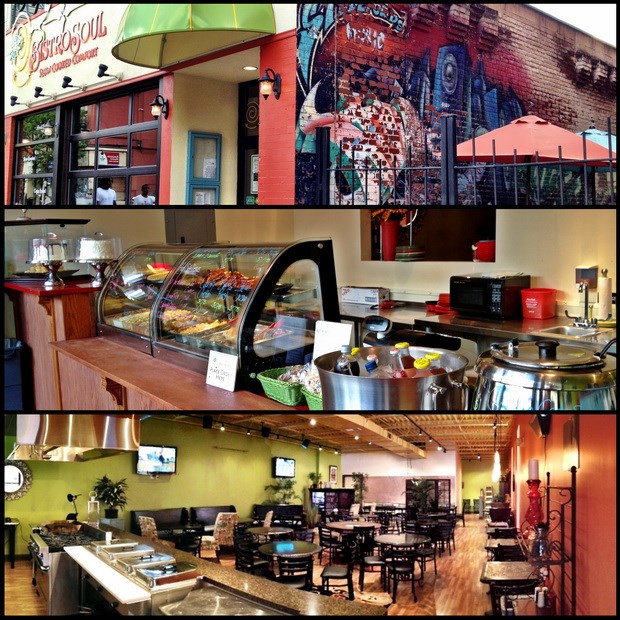 This slideshow is only available for subscribers.
Please log in or subscribe to view the slideshow.
Read These Next
Q & A

I Feel Like My Husband's Maid