Pure and Genuine Religion
Adoption isn't the only way to care for orphans.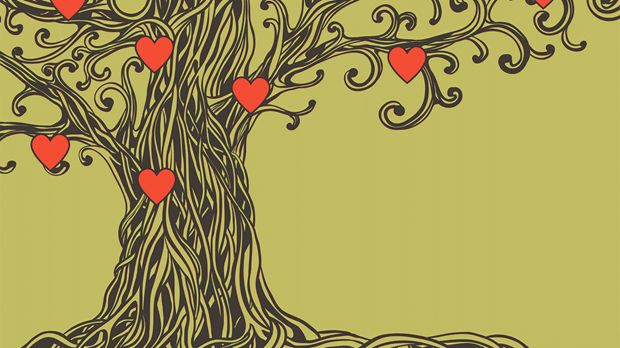 Pure and genuine religion in the sight of God the Father means caring for orphans and widows in their distress" (James 1:27). I was boldly confronted with this verse a few weeks ago. What am I doing to care for those who only have a mom or a dad? I thought. What am I doing to care for those who don't have any parents?
According to UNICEF, there are 151 million orphans (defined as a child who has lost a mom, dad, or both) worldwide. That's just below 50 percent of the population in the United States.
God Got My Attention
In May I had an opportunity to attend the Christian Alliance for Orphans Summit (CAFO) at Willow Creek Community Church. The Summit was filled with two days of general sessions, workshops, and interviews. From worshiping God in Korean, Portuguese, and English throughout the general sessions to seeing mothers or fathers with their children from different nations, tribes, and tongues around the world, the conference was a beautiful picture of God's kingdom.
"Pure and genuine religion in the sight of God the Father means caring for orphans and widows in their distress" (James 1:27)
At the conference, I was surrounded by people desiring to impact the lives of orphans around the world. At each workshop I attended, people would ask, "What brought you to CAFO?" And I'd have to sheepishly say something like, "I'm covering it for work." Because at the time I couldn't honestly say that I had thought much about adoption or foster care—or of the millions of orphans scattered throughout the world. Up to that point, it wasn't on my radar.
But I'm thankful that even though I hadn't seemed to care, God has been bringing this issue up in my life over the past seven months. In May I got to interview Bill Blacquiere, the president and CEO of Bethany Christian Services, the largest adoption agency in the U.S. I heard his passion for helping children find safe, healthy homes—whether it's through adoption or foster care—because "children just need to belong to a family," he says.
In August a friend of mine's adoption came through, after years of praying through the long-awaited process. As I was editing one of our issues in September, the Snowflakes Embryo Adoption program came up, which allows couples to adopt frozen embryos and then give birth to their adopted child. Not even a week later I received a non-related email regarding the same program. While the Democratic Republic of the Congo's adoption suspension has been going on for now over a year, it's come to my attention through my Facebook newsfeed; I've now been praying for the past several months that my college friend's adoption from the DRC would come through so that they can finally bring home their no-longer-baby boy. And this month I have the opportunity to join Bethany Christian Services in Africa to learn firsthand how the organization is making a difference in the lives of orphans around the world. God has gotten my attention.
God Showed Me His Word
When God shows me something once, I'm usually unsure of whether it was from him or not. But these six occurrences in less than seven months surrounding the call to care for those without parents has made me stop, think, and pray about what God is specifically calling me to do—because if there's one thing I've learned from my relationship with God, it's that he uses repetition in our lives to get our attention. He clearly wants my attention. God has not only made me aware of this issue through circumstances in my life, but he has also inscribed it repeatedly in his Word:
"Learn to do good. Seek justice. Help the oppressed. Defend the cause of orphans. Fight for the rights of widows" (Isaiah 1:17).
"Father to the fatherless, defender of widows—this is God, whose dwelling is holy" (Psalm 68:5).
"Give justice to the poor and the orphan; uphold the rights of the oppressed and the destitute" (Psalm 82:3).
"And anyone who welcomes a little child like this on my behalf is welcoming me" (Matthew 18:5).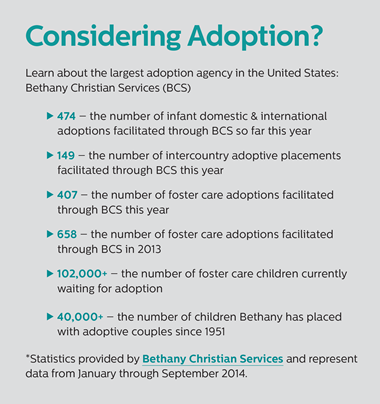 Perhaps one of the reasons God commands us to take care of those who are distressed and in need is because that's exactly what he's done for us. "No, I will not abandon you as orphans—I will come to you," Jesus claims in John 14:18. We are in deep need of the love of provision of our heavenly Father. When we're caring and providing for others in need, we are acting on behalf of God and showing his love to the world around us.
How Can We Help?
As I've pondered what this call looks like on my life, I've learned what options are available that allow others like me to respond to God's call. The obvious option is to consider adoption, as this action has touched more than half in the U.S. According to PBS.org, 58 percent of Americans know someone who has been adopted, has adopted a child, or has relinquished a child for adoption.
Bethany Christian Services performs between 1,600 to 1,700 adoptions every year, and a large percentage of those adoptions are older children and children with special needs (including those with physical or mental impairments, from mild to severe). When we typically think of the word adoption, we often picture the adoption of babies, but God has a wider call for us to consider—those who are abandoned and are often considered "unwanted" because of their special needs or disabilities. "We're advocating for 'These 400,'" Blacquiere says, "because we have names of more than 400 international children in these situations who need to be placed in a family."
Adopting through foster care is another option. Blacquiere says that 23,000 children in the U.S. "age out" of foster care every year. That's 23,000 children each year who are now legal adults without a family. According to Blacquiere, there are more than 100,000 children waiting to be adopted out of foster care. Whether you are a parent through the foster care program, or you adopt through it, it shows that you care about those without a mom or dad.
But adoption and foster care are not for everyone, and there are other meaningful ways we can care for orphans and other vulnerable children around us. Here are just a few ideas:
1. Sponsor a child through an organization like Compassion International or World Vision. Through Bethany Christian Services, you can even choose to sponsor a child and his family as part of their One Family sponsorship. Many of these kids in need have lost a parent or may be an orphan.
2. Consider financially helping friends who are trying to adopt. Adoption can cost a lot of money! While domestic adoptions (in the U.S.) average around $30,000, the cost of international adoption varies by country. For example, Chinese and Ethiopian adoptions to the U.S. average just under $30,000, but Russian adoptions to the U.S. average almost $50,000.
3. Help widows, single parents, and their kids (perhaps in your congregation or neighborhood) by bringing a meal, going to a Little League game to cheer on the kids, stopping by with a surprise care package, or finding another way you can help out.
4. Minister to local widows, single parents, and their kids who may be homeless or in poverty by supporting a local ministry to the homeless. This can look like volunteering at a local homeless shelter or soup kitchen, or donating food, clothing, or other supplies to a local organization that helps those currently without a home. It can also mean just being friendly and engaging in a respectful conversation.
5. Pray! We often get so overwhelmed by the evil and injustice in this world. So when your , go to God in prayer, for he is the one who the fatherless and the widows.
There are so many needs around us, but it's important to remember that the church is made up of several individuals who together can do the work God has called his church to do. Each of us is only responsible for responding to the Holy Spirit's leading in our lives. Even if you (or I) are not called to adopt, or if this cause doesn't resonate with you as much as it might with others, we can still have our eyes open to where God may be leading us to respond—and it may be in ways that surprise us. So I'll continue to learn, I'll continue to care, I'll continue to ask God, What am I doing to care for those without parents? Lead me, God: What do you want me to do?
Read more articles that highlight writing by Christian women at ChristianityToday.com/Women
Pure and Genuine Religion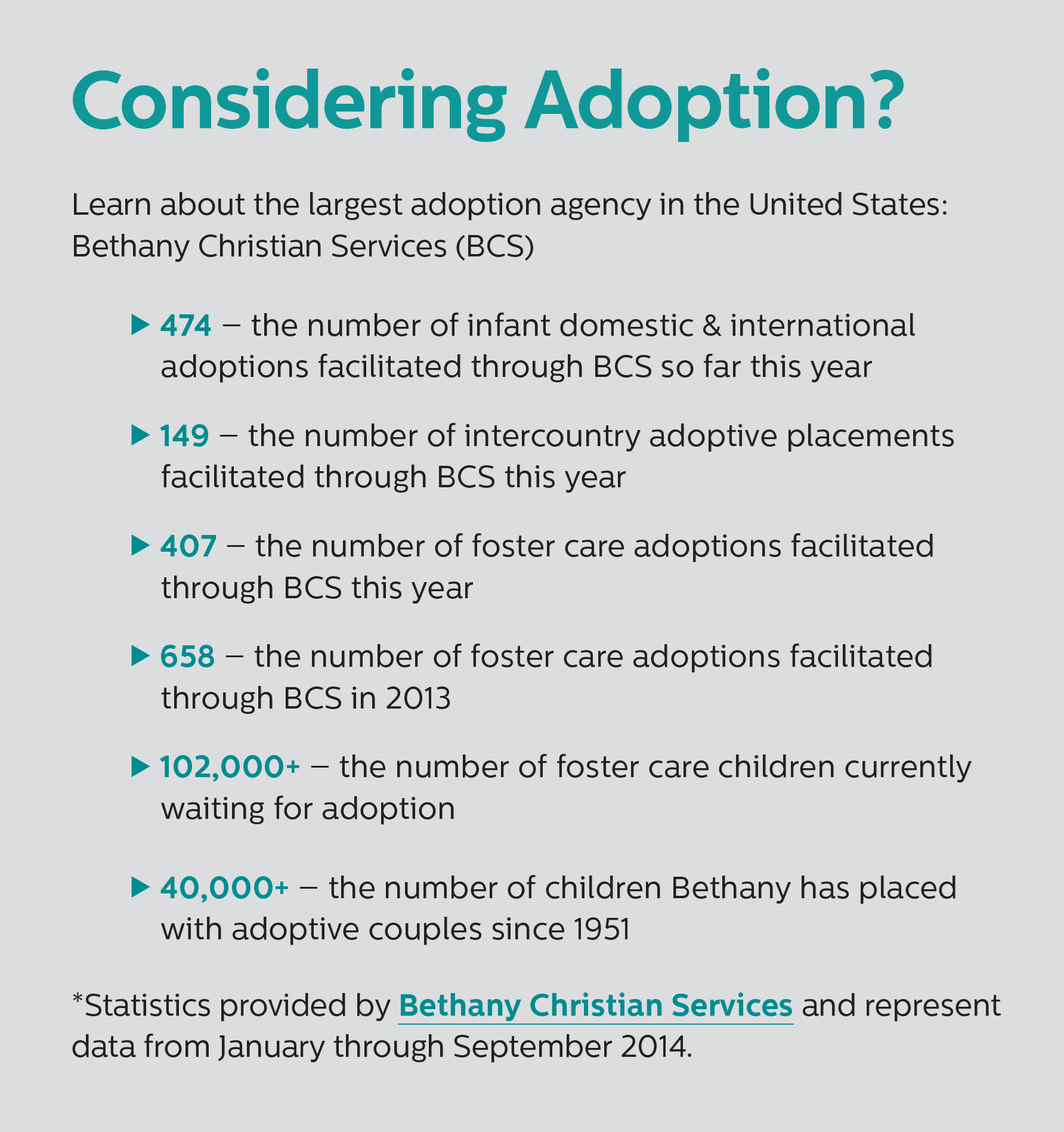 This slideshow is only available for subscribers.
Please log in or subscribe to view the slideshow.
Read These Next