The Power of Female Friendship
Here's to the women who have shaped my life.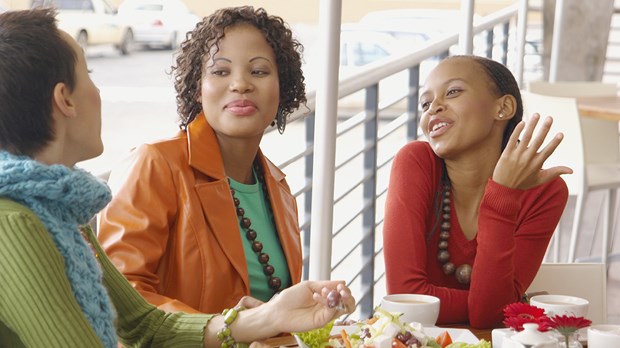 "It's our fear of the dark that casts our joy into the shadows," writes Brené Brown in her book The Gifts of Imperfection. I know this fear well. I experience it when my proposal for a workshop is accepted or when a new writing opportunity graces my inbox. Send me an invitation to work on a new creative project or whisper conspiratorially about a new event, and you'll find me ecstatic . . . for a moment.
Like a flickering light bulb, I have flashes of excitement that become tempered by my own fears. Rather than allowing myself to celebrate new opportunities, I hide my joy in the shadows.
Perhaps you do this too.
Truth Tellers
When this very magazine asked me to be a regular contributor, it was not my first inclination to post the news on Facebook. Instead, I waited for the second email confirmation, then for the phone call, then for the request for my short biography and photo, then for the first piece to be submitted, then published . . . (you get the idea). I have the ability to find an unending number of reasons why my joy must wait before it's safe to come out and play in the sun. Unfortunately, I often find myself constantly fighting my fear of the dark—of bad things looming, of gifts being snatched away, of not being "good enough" to hold onto good things.
The older I get the more aware I become of this propensity. Rather than waving my white flag, surrendering to the fear, I've found that my girlfriends have often stepped in to fight for me by offering encouragement and speaking truth that I needed to hear.
Our girlfriends remind us who we are. They can deeply, easily name what makes us special or different. Drawing from clear examples, they help us piece together the truth about ourselves. They expertly do this without falling into the trap of insincerity. Shying away from false niceties, our girlfriends tell us the truth about our gifts rooted in the hopefulness of our future.
Celebration Starters
Recently, I reached for my buzzing phone on the nightstand next to me. It was early in the morning, and my mentor was on the other end. Normally seeing her name pop up on the screen would make me smile. But as I quickly did the math in my head, I calculated it was about 4 A.M. in the morning in her time zone. What could be happening that has her awake and calling me at this time in the morning? I wondered.
"Why on earth are you up this early?" I asked once I quickly answered the phone.
I could hear the smile in her voice as she responded, "Girl, I'm in your time zone! I'm speaking later today but wanted to give you a call before I left the hotel." Without skipping a beat she rushed on to tell me how excited she was about a brand new opportunity I (finally) posted on Facebook. Her excitement was contagious. I could almost see her literally doing a jig with her phone in one hand and a shoe in the other as she laid out her clothes. I hadn't celebrated with anyone yet, but hundreds of miles away, she was leading me toward joy.
This is why we love the women in our lives. They lead the way to the dance floor when we can't quite find our way to celebration. When we think our joy is too fragile, they grab us by the hand. They start moving their feet and ask us to mimic. Before we know what's happening, delight has taken over. Our girlfriends create the safety we need to give into joy and celebration. They show us our joy can survive in the light.
Embodied Courage
Girlfriends prove they will be there even if everything falls apart. This is what makes girlfriends especially wonderful. Their belief that we can succeed does not demand that we must succeed. Our friends deeply believe in our dreams, our projects, our creative endeavors, our careers and families. They know we possess something special. But their love is not predicated on our success. If it all falls apart, if we fail miserably, if none of it comes together—their friendship still remains. Steady and strong, their arms are ready to hold us. They remind us that we are not alone. They show us, over and over again, that they will be there when the darkness comes.
Do you have women in your life like this—women who don't just offer encouragement but who make you courageous?
In the Bible, both Mary and Elizabeth faced unusual pregnancies that invited judgment from the community, but they still embraced one another. In the midst of shared confusion and distress, uncertainty, and fear, Elizabeth spoke words of blessing over Mary, showering her with affirmation, joy, and hope. With thankfulness, Mary then praised God with Elizabeth (Luke 1:39–56). Elizabeth's words paint a beautiful picture of giving her cousin courage.
This is the power of friendship. When we are unsure about God's promises, the women who surround us help us believe. When we are scared, they give us the courage to push forward. When we are overwhelmed, they give us the courage to rest. When we have lost focus, they give us the courage to realign our heart to God. When everything has fallen apart, they give us the courage to believe. And, yes, when we are happy, they give us the courage to dance.
Austin Channing Brown is a speaker and writer advocating for justice and racial reconciliation. Connect with Austin at @AustinChanning and on AustinChanning.com.
Read more articles that highlight writing by Christian women at ChristianityToday.com/Women
The Power of Female Friendship
Read These Next