Tempted to Trash Talk Your Ex?
Why it's worth it to take the high road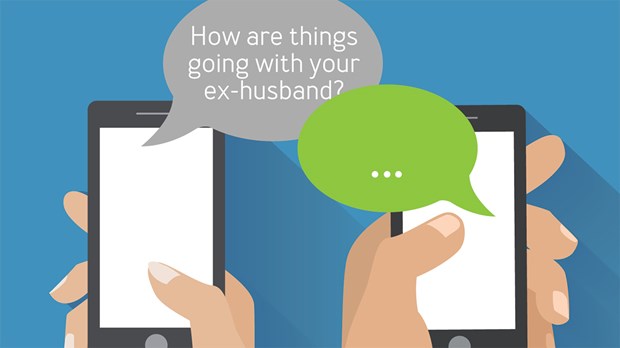 It started innocently enough. My daughter asked my opinion about something she was considering. I gave it, encouraging her to think through the situation.
Immediately, she rolled her eyes and laughed. "That's funny. Dad was right. That's exactly what he thought you would say."
I was taken aback. Then I exploded, yelling, "You have no idea what I've been through and what I've held back. I've worked hard not to say anything negative about your dad. How dare he discuss me with you? I'd like to tell you a thing or two about him!"
I finally stopped, paused for a breath, and then recoiled at my tirade. How in the world did I get here? We'd been separated for over a year. I thought I was past this.
"Faith is allowing God to straighten the record when false things have been said about me." Pamela Reeve's words, which I had tacked to my bulletin board, came ringing back. I had read those words over and over again. I read them when my husband moved out. When I wanted to defend myself. When I wanted to clear my name. When I wanted everyone to know what had really happened.
I had read them to remind myself of the truth. And the truth was I didn't need to defend myself, clear my name, or set the record straight. I needed to trust God to do that.
The Ever-Present Struggle
But when going through a separation and subsequent divorce, it's hard to take that perspective—at least it was for me. Because being separated felt so shameful, I wanted everyone to hear my side of the story—my friends, my family, and especially my children.
I'm thankful that from the beginning, a wise friend counseled me to take the high road: to only speak words of grace, and to choose my words wisely and not to say anything I could regret later.
It was wonderful advice but alarmingly hard to do in real life. I was often tempted to tell my children unnecessary details of our separation and later divorce so they would be on my side. I wanted them to see me as the good parent and to ensure they still respected and trusted me. Since my children were often with me, it was tempting to let little sarcastic comments slip, especially when I felt misrepresented.
Honoring God
In the midst of the unending battle to control my tongue, I often wondered, Why do I need to take the high road?
It always came back to honoring God. The Bible tells us in Ephesians 4:29: "Let everything you say be good and helpful, so that your words will be an encouragement to those who hear them." Sometimes that meant I had to say nothing when I was dying to speak.
I was keenly aware that God was watching my words and responses. Would I honor God under trial or would I serve myself? Would I protect my reputation? Vent my frustration? Those questions kept coming back to me as I struggled to hold my tongue.
I had been teaching a Bible study on 1 Peter when my husband left me. One morning, as I sat at my desk, God began speaking to me through his Word. I'd been asking him to show me how to act, what to say, and how to respond. As I committed these words to memory, I asked God to help me live them:
For God is pleased when, conscious of his will, you patiently endure unjust treatment. . . . He never sinned, nor ever deceived anyone. He did not retaliate when he was insulted, nor threaten revenge when he suffered. He left his case in the hands of God, who always judges fairly. (2:19, 22–23)
Week after week, I spoke those words to myself. They sustained me when I was tempted to speak rashly. They encouraged me to a higher standard. They showed me that restraint was possible. I knew I could not speak ill of my husband in the face of Christ's example. Christ entrusted himself to the one who judges justly and was content to let God set the record straight. I needed to be content as well.
Helping My Children Heal
In addition, I knew not speaking poorly of my children's father would be best for them. It would be difficult for them to hear and process negative comments about either parent. They loved both of us and wouldn't want to take sides. Hearing me criticize their father would just add more pain to a difficult situation. With their world shifting, I needed to help them feel secure, not intensify their anxiety.
"The words of the wise bring healing," Proverbs 12:18 says. My words could either bring destruction or restoration. As a parent, my focus needed to be on my children's wholeness and not my own desire to be understood, validated, or admired.
Ultimately, it would be best for our children to respect their dad and have a good relationship with him rather than a fractured, mistrustful one. Because I saw how closely they paid attention to my comments, tone of voice, and general attitude toward their father, I knew my perspective would shape their ideas of him (and of men in general).
I didn't need to point out their father's faults. I have huge faults as well. As our children grow older, they will also grow to understand the strengths and weaknesses of each parent. I don't need to help that process along.
Ironically, I knew the more highly I spoke of their dad, encouraged them in their relationship with him, and took the high road, the more my children would trust me. My conduct would speak louder to my children than anything else.
Learning to Hold My Tongue
But how could I do that? How could I take the high road when I was devastated and wanted the kids to know I wasn't crazy? That I was justified in my anger? That my side of the story was the truth they needed to believe? How could I possibly hold my tongue when everything in me wanted to blurt out what I was thinking?
The Cross. The Cross not only frees me from the penalty of sin, it gives me the power not to sin. So I begged God to do a supernatural work in my life. I asked him to help me let go of my desire to get even. I trusted God to make me gracious, and he answered in miraculous ways. He spoke to me through Scripture. He brought people into my life who encouraged me to stay the course, and he showed me the impact of speaking words of grace.
I also committed to journal whenever I felt frustrated or misunderstood. Before I spoke a word to anyone, I would pour out my heart on paper to get a better perspective. And I asked my sister to help me restrain my words. She prayed for me and consistently called me to a higher standard, pointing out the long-term consequences of speaking rashly. I needed her outside perspective and accountability.
Though we've been divorced for several years now, I still struggle. The issues keep changing, but the challenges remain. Though my daughters are older now, I still work hard not to criticize their father.
Difficult as it's been, this commitment to holding my tongue has already borne fruit. A few years ago, my older daughter texted me, thanking me that I had never said anything negative about her dad. Because of that, she knew I would be gracious and fair to him. I had earned her trust.
Her text was one of the most precious things I've ever received. To earn my daughter's trust was priceless to me. It was worth every time I felt misunderstood and wanted to set the record straight. After all, setting the record straight is the Lord's concern, not mine.
Read more articles that highlight writing by Christian women at ChristianityToday.com/Women
Tempted to Trash Talk Your Ex?
Read These Next