Lo que Dios nos enseña sobre el quebrantamiento de los votos matrimoniales
La Iglesia puede ofrecer gracia a los divorciados en lugar de cargarlos con culpa.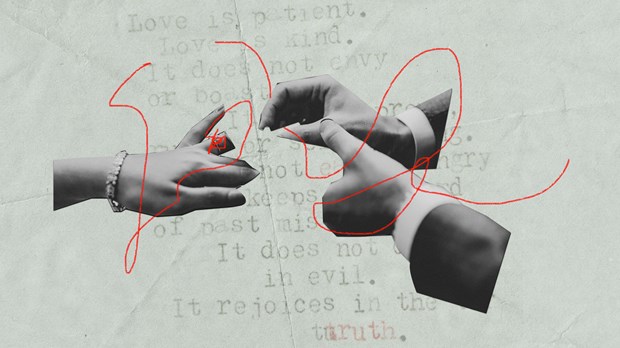 Image: Illustration by Mallory Rentsch / Source Images: Yohann Libot / Leighann Blackwood / Unsplash
Esta es una versión revisada y corregida de la traducción publicada en marzo de 2014.
Muchos cristianos divorciados han sentido que entran a la iglesia con una letra «D» en color rojo escarlata como insignia. La autora Elisabeth Corcoran era una de ellos. Después de que su matrimonio de casi 19 años se deshizo, Corcoran tuvo que lidiar con el dolor, la confusión y la vergüenza. Esos sentimientos se incrementaron cuando, poco después de su divorcio, le pidieron amablemente que cancelara su participación en un evento femenil navideño donde iba a dar un mensaje. Por supuesto, la petición se hizo procurando no hacer mucho ruido.
Después de la publicación reciente de su libro, Unraveling: The End of a Christian Marriage [Deshilachado: El final de un matrimonio cristiano], Lea modera un grupo para divorciados en Facebook. Ha escuchado cientos de historias similares. Los divorciados suelen escuchar estas palabras: «Dios aborrece el divorcio». Al escuchar eso, una mujer divorciada respondió escribiendo: «Lo sé, yo misma no soy una aficionada del divorcio».
Mientras que las investigaciones muestran que los matrimonios entre creyentes que practican su fe activamente tienen mejores resultados que otros matrimonios, el porcentaje de divorcios dentro de la iglesia es alarmantemente alto. Y tristemente, en lugar de experimentar la iglesia como un lugar donde se encuentra consuelo y restauración, los divorciados frecuentemente encuentran respuestas que los llenan de sentimientos de culpa.
Las diferencias de interpretación en cuanto a en qué circunstancias la Biblia permite el divorcio (y si lo permite), hace que algunos cristianos nos sintamos atados de manos cuando lo que añoramos es extenderlas en compasión. Además, la creencia tan profundamente enraizada de que «se necesitan dos» para que un matrimonio funcione, se traduce erróneamente a la conclusión de que «se necesitan dos» para que un matrimonio se rompa. Por consiguiente, pensamos que la culpa es de los dos.
Sin embargo, la verdad es que solo se necesita uno para destruir un pacto, como podemos aprender cuando vemos la relación de Dios con el reino del norte de Israel.
Nuestro entendimiento del matrimonio está modelado en el pacto que Dios mismo hizo con su pueblo. Como explica David Instone-Brewer en Divorce and Remarriage in the Church [Divorcio y segundos matrimonios en la Iglesia], Dios era el esposo de Israel (Isaías 54:5), quien la tomó como suya e hizo un voto de alimentarla, vestirla, amarla y ser fiel a ella (Ezequiel 16). En contraste radical a la fidelidad y el cuidado de Dios, Israel y Judá ignoraron el pacto sin vergüenza alguna: fueron negligentes con Dios, abusaron de Él y lo traicionaron. En repetidas ocasiones, los profetas denunciaron su comportamiento como el quebrantamiento de un pacto: lo llamaron adulterio (Ezequiel 23:37; Jeremías 5:7).
Read more articles that highlight writing by Christian women at ChristianityToday.com/Women
Lo que Dios nos enseña sobre el quebrantamiento de los votos matrimoniales
Read These Next