My Husband Has Alzheimer's
I've vowed not to become the disease's second victim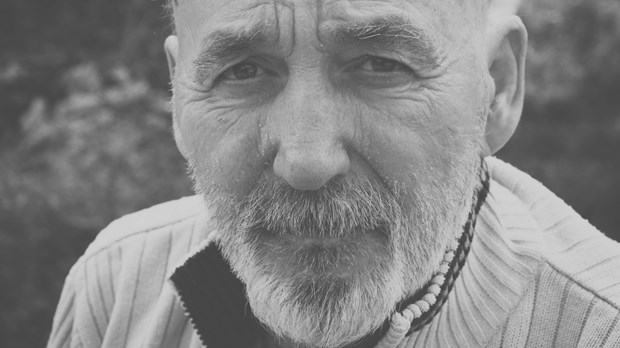 When the neurologist told me in 1984 that my husband, Jack, had Alzheimer's disease, I felt as though I was suffocating. Oh, God, no, my heart pounded. Please, not that.
Over the previous year, Jack had been having trouble following instructions at work. A professional printer with more than twenty-five years experience at layout, he no longer could handle stressful deadlines. His foreman had reassigned him twice to easier jobs. Finding his time card was a daily challenge. Sometimes Jack punched someone else's card, much to that employee's consternation. Then, after a near-fatal bout with Rocky Mountain Spotted Fever in the summer, his personality changed. He didn't want me out of his sight; he kept asking the same questions over and over; he became careless with his appearance and had to be urged even to take a bath.
Jack was fifty-five; I was seven years younger. We'd been married only five years. After serving thirteen years as a single missionary-teacher in Brazil, I'd thought I'd remain unmarried the rest of my life. Then I met Jack, who fell in love with me at first sight, he said. I loved being married—but Jack's diagnosis shattered my dreams of having a companion with whom I could share my life.
Along with others, I prayed earnestly for Jack's healing. Repeatedly I quoted Genesis 18:14, "Is anything too hard for the Lord?" I recited Psalm 103:2-3: "Praise the Lord, O my soul … who heals all your diseases." But when I finally became quiet before the Lord, he spoke to my spirit: Don't be afraid. Trust me. My grace will always be greater than your need.
Like persistent termites, the disease silently devoured Jack's short-term memory, coordination, and judgment. He became my shadow, not allowing me even five minutes of privacy in the bathroom.
I began attending meetings of an Alzheimer's support group. At first, my participation in the meetings was minimal. I hesitated to publicize what was happening at our house. Soon, however, I learned talking about it was therapeutic. People in the group were at different stages in the journey. Some were caring for family members at home; others had been forced to place their loved one in a nursing home. I silently prayed I could continue taking care of Jack at home.
About five years after the diagnosis, changes in Jack's condition accelerated. He became agitated and angry for no apparent cause. I couldn't reason with him. He accused me of infidelity and threatened revenge. Although I knew in my heart this wasn't the "real Jack," his words hurt. I cried, but my crying just made matters worse.
The nights were more difficult than the days. Because Jack couldn't sleep, neither could I. He paced constantly. Sometimes he left the house scantily clothed; once he exited naked.
There were other evidences, too, of his deterioration. He forgot how to tie his shoes. He became incapable of shaving, bathing, and brushing his teeth. Eventually he became incontinent. By mid-1989, Jack required around-the-clock care. For the past four years, he has been totally dependent on others, even for spoonfeeding. When I finally had to admit him to a nursing home, my heart broke. He didn't understand why we had to be separated.
Those first visits were extremely difficult. Somehow I managed to hold myself together until I left the premises—then sobs wrenched my body.
Surprisingly, Jack adjusted quickly to the nursing-home routine. Within a few weeks, he seemed not to have remembered ever having lived anywhere else. He watched for me and clapped his hands when I arrived. We strolled on the premises and played "catch" with a purple fuzzy Koosh ball designed for preschoolers.
My stepchildren found it emotionally draining to visit Jack in the nursing home. Their visits became less frequent. Then one day, he no longer recognized them. After that, they virtually stopped going.
We'd always expressed our love to each other. Daily at the nursing home I continued to assure him of my love. My heart warmed when he responded, "I love you, too." But with time, that shortened to a faltering "I—love--you," then to "I—love--," and finally to "I—I--I--." Then weeks of silence followed.
"Lord," I prayed, "are my words getting through? Please give me the assurance that Jack feels loved."
Though he didn't respond, I kept talking to Jack, hoping my words penetrated his tangled brain cells. Then one day in 1993, when I again said "I love you, Jack," he replied slowly but clearly, "I—know--that."
He hasn't spoken a word since. I'm confident, however, he still understands some, at least, of what I tell him. He responds to my voice and touch. Whether he still comprehends I'm his wife, I don't know.
Jack's condition has remained relatively stable for the past year. I teach full-time at a local college, but my class schedule permits me to spend a couple hours with him at noon each day. The nursing home is understaffed, so I do whatever I can to make Jack more comfortable—shaving him, brushing his teeth, or even changing soiled underclothes. Then I feed him. Finally, I walk with him, slowing my pace to his four-inch-step shuffle, while talking to him, quoting Scripture, or softly singing choruses and hymns he himself sang in bygone years.
When I leave the nursing home, I consciously relinquish Jack to the staff's care. At home I keenly miss him and often think about how things might have been. Sometimes I dream he's by my side, only to awaken, reach for him, and touch an empty pillow.
Having observed that the caregiver sometimes becomes the second victim of Alzheimer's—not by contracting the disease, but by becoming a recluse—I've tried to avoid that fate. To stay active socially, I've actually increased my efforts to cultivate a network of friends. I attend church regularly and sometimes go to concerts and other performances. Since gardening is my favorite pastime, I spend many pleasant hours working in my backyard. Digging in the dirt and watching things grow are therapeutic for me. And the garden provides delicious fresh vegetables for home-cooked meals, to which I often invite friends.
Caring and coping have brought some changes into my own life. Through caregiving, I've learned more about God's love. God loves me regardless of how I respond to his love—or even if I don't respond at all.
Jack offers no glimmer of recognition or word of thanks when I do a "dirty job" to make him more comfortable. On the contrary, sometimes he lashes out at me, grabbing my wrists and twisting them. Instead of retorting "That does it~! I'll not help you anymore," I excuse his behavior because he doesn't understand what he's doing. And I go back the next day, perhaps with a wrist brace on, to continue to do whatever I can for him.
I can recall times when I've lashed out at God, when I've sulked, when I've neglected talking with him, when I haven't acknowledged his goodness. But that hasn't driven God away. Just as I coax Jack, the Lord has said to me, Come on, I'll help you. I love you.
I'm learning God's grace is provided as I need it. If twelve years ago I'd been told I would do some of the things for Jack I've done and am doing, I'd have said, "I can't do it." But then I didn't have to. When grace has been needed, grace has been provided—just as God promised.
Ruth Crawford Lindsey teaches English at Lee College in Cleveland, Tennessee.
Read more articles that highlight writing by Christian women at ChristianityToday.com/Women
My Husband Has Alzheimer's
Read These Next