Stand by Your Man
Like washing the feet of the disciples, these strong women willingly and humbly began to serve their families.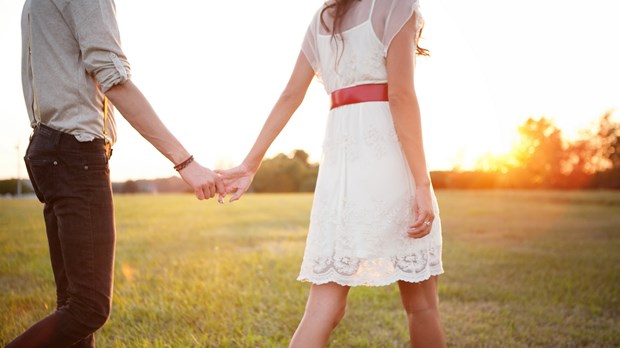 They have a saying in Arizona: Cowboy Up.It means never give up, do whatever it takes to get the job done.
For a cowboy like Don Pock, manager of the N Bar Ranch in western New Mexico, this was more than just a saying, it was a way of life. A typical morning for Don involved such activities as roping a cow from the back of a horse loping at full speed, all the while dodging twenty-six species of cactus and innumerable boulder piles. Such work fostered extreme self-reliance. Don also had a hair-trigger temper and was prone to humiliate his cowhands, especially after he'd taken an extended beer break. At seventeen, I was one of those cowhands. But I was a lazy, smart-mouthed kid, so I didn't last long there. I thought I'd seen the last of Don.
Fourteen years later I became the pastor of Lifegate Baptist Church in Phoenix, Arizona. There among my new flock sat Don Pock and his wife, Rosemary. In fact, Lifegate was home to four generations of this family; Don and Rosemary's oldest daughter, Donna, and her husband, Gary Mallory; their daughter, Rosie, and her husband, Jim Sander, and their daughter, Ramie. My first thought was, What could've changed the heart of that old coot?Little did I know the answer was sitting right beside him.
Throughout years of weddings and funerals, births and baptisms, I observed firsthand how the faithful witness and persistent prayers of Rosemary, as well as her daughter, Donna, and granddaughter, Rosie, greatly impacted each of their husbands. Although my family and I left Lifegate six years ago, my wife, Susan, and I flew back to Arizona recently to visit our friends. We spent a few days reminiscing about how these three generations of godly women stood by their men in good times and bad—and loved these tough cowboys into an active faith in God.
We began our conversation around the kitchen table in Rosie and Jim's new home in northern Phoenix. They now have three children: Ramie (eight), Alyssa (four), and Newton (two), who were racing in and out of the back door with their cousins. Donna had driven in from the ranch, about ninety minutes away on a rough dirt road. Just five feet tall, she can barely see over the steering wheel of her massive four-wheel-drive truck. Rosemary and Don had come from Wilcox, Arizona, where they moved to retire two years ago. After we caught up on all the recent news, I asked when their family's journey of faith began. Donna sat quietly until she realized both her mother and daughter were waiting for her to respond. All three laughed in unison.
"I guess it began with me," she said, and began to share her story.
In the early seventies Donna was a young mother with three small children. She and Gary lived on a remote Arizona ranch where he herded cattle and she "herded" the kids from daylight till dark, seven days a week.
Like washing the feet of the disciples, these strong women willingly and humbly began to serve their families.
But come Saturday night, the Mallorys were part of the hard-living, hard-drinking crowd. She recalls, "I was always right in the middle of the fun, but in my heart I knew our lifestyle was displeasing to God." Though Donna had responded to an altar call as a child, she had no peace that she belonged to Christ.
Beyond that inner turmoil, Donna wrestled with the issues of her generation. "We were told that a woman had to demand her rights in order to be happy," she said. She bit her lip. "I treated Gary so bad. I was so determined to be independent that I'd refuse to get him a glass of iced tea when he came in from a rough day of riding. I thought, He's got two good legs; he can get it himself."
She paused, fishing for words. "On one hand, I was full of guilt over our lifestyle; on the other, I was dissatisfied and selfish. But the more I pushed for my rights, the more Gary stayed away from home. I was miserable."
When the guilt finally won, Donna began reading her Bible. A few weeks later, she confessed her sin and surrendered her life and stubborn spirit to God. She immediately received a new heart, and gradually, a new perspective on marriage.
At the time, Donna's parents were running a ranch clear across Arizona. When her mom, Rosemary, read a letter from Donna describing her new-found peace, she wondered how she could have that same assurance. Do I belong to the Lord?Rosemary wondered, so she looked up some verses Donna had recommended and rededicated her life to Christ. She began reading her Bible and praying regularly, seeking to share what she was learning with Don. "I was so zealous," Rosemary recalled. "Don resented me preaching to him. So I decided to quit talking about it and just try to live what I was learning."
Her granddaughter, Rosie, decided to follow Christ when she was seven years old. Her mother had taught her numerous Bible stories and had prayed and sung with her and her siblings. "I remember sitting in the desert and asking Jesus into my heart," she said. Rosie grew up and married in 1988. Her husband, Jim Sander, worked long hours as a maintenance supervisor on a golf course. Though Jim had received Christ as a boy, he didn't share Rosie's interest in spiritual matters.
Three generations of women now shared a common faith, a commitment to prayer, and a heartfelt desire to see their husbands know and grow in the Lord. So Rosemary, Donna, and Rosie prayed, fasted, and hoped.
When Donna and Rosemary tried to talk to their cowboy husbands about submitting to the Lord, Gary and Don didn't get the concept. After all, they'd never surrendered to anything in their lives.
So, like Christ washing the feet of his disciples, these strong women willingly and humbly began to serve their families. For Donna, this meant simple acts like having that cold drink ready when Gary came in from the desert.
"I'd seen the way Mom always treated Dad," recalled Donna, "even when he wasn't that easy to live with. Instead of arguing with him, she would just smile and go along with him. And she went out of her way to compliment him in front of others."
"It wasn't that hard," Rosemary explained. "I always knew Don loved me. I was just doing what it says in the Bible: 'Wives, be submissive to your husbands.'"
"But that word made me crazy,"Donna interrupted, eyes flashing. "I couldn't even hear the S-word without getting mad. After everything I'd been hearing about women's rights … Well, as I began understanding the nature of the Christian life, I realized that even if I could somehow get around Ephesians 5:22 and 1 Peter 3:1, I still had to deal with dozens of passages like Philippians 2, where we're told, 'In humility, consider others better than yourselves.' If Jesus had to take upon himself the nature of a servant, who was I to say, 'I won't serve my husband's needs?'"
Rosie joined in. "I grew up with both my mother's and grandmother's example, so I never thought of submission as a degrading thing. It was so obvious that Christ made a difference in my dad and my granddad through the unconditional love of their wives."
"At first, I wanted Gary to get saved so mylife would get easier, not for hiswell-being or eternal security," Donna admits. "I was determined to make him change. But you can't make a cowboy do anything. So I started praying that God would change me."
There's no telling what God will do through this family in the future.
God honored that request after Donna quit going to the bars with Gary and their friends. One evening, left alone with her small kids, Donna read, "Make it your ambition to lead a quiet life, to mind your own business, and to work with your hands."
That verse from 1 Thessalonians 4:11 motivated her to pick up a block of wood and a knife. "I began wood carving as a way to keep my hands and mind occupied, instead of fretting about where Gary was. As I worked, I prayed for him. When he did come home, instead of chewing on him, I was actually in a good mood. So he wanted to stay home more!"
Rosie grew to share her mother's aptitude for art, and several years ago began painting her mother's eclectic carvings of cowboys, angels, and desert animals. Today they use their thriving craft business, Two Branches (taken from John 15), as a platform for sharing Christ at Arizona galleries and shows.
Faithful prayer and examples of authentic Christ-living warmed the hearts of their husbands. But before God could break their wills, they each had to be confronted with circumstances beyond their control. Don's crisis came first, when he finally admitted he couldn't win a decades-long struggle with alcohol.
In late summer of 1980, Don asked his whole family to join him at the top of Rhinoceros Peak, in the remote Bradshaw mountains of central Arizona.
"I'm tired of being a bad example for this family," Don told them. "With your help, and especially the Lord's help, I'm going to change." Donna, her sister Roseanne, and Rosie prayed for him and quoted Scriptures about the Lord's grace and mercy. They discussed salvation, how it couldn't be earned, only accepted as a gift. Don accepted Christ on top of that wilderness mountain and admitted he was totally dependent on God to beat the bottle. He's been sober ever since.
Gary's confrontation with his need for God came years later. After a family reunion in northern Arizona in 1988, Donna drove home with her mom and youngest daughter, Rachel. Gary stayed behind to party with friends.
A passing car cut too close, sideswiping Donna's truck, causing her to lose control and roll several times. Rosemary and Rachel were bruised but okay. Donna's jaw was crushed, and she sustained serious neck and shoulder injuries. When Gary arrived, he felt humbled and powerless to help. Clutching Donna's Bible, he prayed over her with a broken spirit. During the weeks Donna was hospitalized, her sister, Roseanne, prayed with him.
As God spared Donna's life, Gary responded with a genuine commitment borne out of gratitude. After Donna's convalescence, the family began attending church together for the first time, not long before I arrived as their pastor in 1990.
Though Rosie had seen God's grace in the lives of her father and grandfather, she was eager to see him work in her own husband's life as well. She, too, went through a period of trying to force her husband to change.
"I wanted Jim to pray out loud at meals—even though he didn't like to," Rosie recalls. "I thought he watched too much TV, so I griped. I nagged him about going to church with me, mostly because I was tired of sitting in church alone. But I had a selfish motive, and Jim sensed that.
"I finally learned to pray for his heart—and mine—to change. I also prayed for other men to come into Jim's life and encourage him to grow in his faith."
Only God has the ability to really change people.
God answered that prayer when I became their pastor and struck up a friendship with Jim. Attending a Promise Keepers rally with other men from church had a significant impact on him, and Jim began to grow spiritually.
But his emerging faith was also tested by a crisis. Jim and Rosie's son, Newton, was born in 1995. When he was seven months old, doctors discovered a rare heart deformity. Risky surgery was the baby's only chance for survival.
"I was really shaken," Rosie recalled. "And Jim was a boost to my faith while we waited. He prayed with confidence, and Newt came out of surgery in great shape. That crisis showed me just how much Jim had changed."
Rosie paused, wiping away a tear. In almost a whisper she continued, "It's what I wanted most—a husband who loves the Lord first. But I found out I couldn't force or control Jim. Only God has the ability to really change people or situations."
In our three days together with these women and their families, Susan and I continually marveled at their appreciation for God and his grace. At one point, as they listed the numerous family and friends who had come to know Christ in the past twenty or so years, I joked aloud, "Who's left to pray for?"
Without hesitation, all three said in unison, "The kids." Rosemary looked at her great-grandchildren running around the yard and added, "We old-timers have had a lot of catching up to do. But these little ones have their whole lives ahead of them. With the head start they're getting, there's no telling what God will do through this family in the future."
Donna said, "God is faithful to his Word. He tells us in 1 Corinthians 13 exactly what real love looks like in practice: It is not self-seeking, it is not easily angered, it keeps no record of wrongs. It always protects, always trusts, always hopes, always perseveres. And that's all we're doing. Just serving, hoping, and persevering."
Ed Rowell now serves as assistant editor of Leadership Journal, America's leading publication for pastors.
Read more articles that highlight writing by Christian women at ChristianityToday.com/Women
Stand by Your Man
Read These Next