Too Much Stuff
If clutter's got you down, try these secrets to simplifying.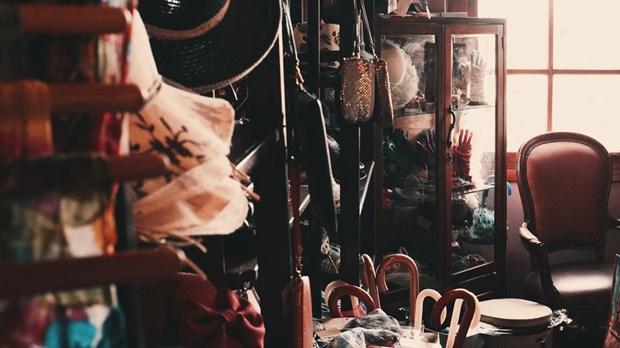 Image: Onur Bahçıvancılar / Unsplash
Many years ago while on vacation, our family ate at a restaurant that claimed to have the largest buffet in the United States. We swarmed the mind-boggling array of culinary delights as though we'd never seen food before. By the time we finished gorging ourselves, we could barely walk out of the restaurant.
Unfortunately, our restaurant experience reflected my lifestyle at the time: excessive possessions, commitments, goals, and desires. While our house had reasonable storage space, our belongings had expanded from the attic to the garage and beyond. My daily calendar was filled with back-to-back meetings for church and other ministry functions and civic groups. And they all had to be woven around family and work! My cluttered life left me no significant time to spend with God, and fractured my family time. But I had no clue how to begin creating more physical, emotional, and spiritual space in my life.
Then one morning I read in my Bible, "Watch out! Be on your guard against all kinds of greed; a man's life does not consist in the abundance of his possessions" (Luke 12:15). I'd never considered myself greedy, yet my home was filled with more clothes than I ever wore, more dishes, books, gadgets, and knickknacks than we ever used. Was God telling me to simplify my overcrowded existence?
I thought of a church family who'd adopted a Romanian girl. She'd spent her first five years in an orphanage, and after living in America for a few months, her new father asked her how she liked it.
"Oh, Daddy!" she said, laughing. "I love America. In Romania we had no stuff. But in America WE HAVE STUFF!"
Like the little girl, I liked my "stuff," but if God saw my excess as greediness, it needed to be eliminated.
I immediately set to work to declutter my house, only to find my "stuff" had a stronger hold on me than I'd realized. So I focused on the area of my greatest excess: my closet. I love shoes and owned more than 50 pairs. The thought of parting with any of them was painful. First, I boxed up all but one pair of each color and moved them to the garage. That way, if I went into shoe withdrawal, I knew where to get a quick fix.
To my surprise, once the shoes were out of sight, I never thought of them again. So I did the same with my clothes and accessories. I boxed them up, moved them to the garage, then eventually passed them on to a secondhand store.
The more spacious my closet became, the stronger my sense of freedom grew. Before, when my alarm clock went off in the morning, the first thing I faced was a jumbled closet. It made my day feel jumbled before it even started.
After the successful closet campaign, I advanced the battle to the bathroom, cleaning out makeup drawers (why have six tubes of lipstick when I only wear one?), medicine cabinets, and cleaning supplies. I started severely limiting the array of choices in my home.
I was shocked at how much time had been devoured by the upkeep of all these unnecessary possessions. My growing sense of freedom and time was exhilarating!
My next step was to limit my shopping excursions. Most of my excess was the result of casual shopping. Going to the store for a jug of milk, I'd return home with a pair of sale earrings from the drugstore next door. Now I limit myself to shopping once a week for groceries, household supplies, clothes—everything. One shopping trip a week doesn't leave much time for casual shopping.
My success at decluttering made me take a hard look at the other areas in my life. My calendar was chronically overbooked with too many commitments. A critical, prayerful look at my commitments showed me ones that were unnecessary. I resigned my position in a local speaking organization and looked for other things to prune from my schedule, asking God to guard the time I freed up, filling it only as he directed.
I also listed the things of greatest importance to me. To my surprise, my list was short; it consisted entirely of people, not goals or dreams or possessions: my husband, my sons, my family, and friends. I realized that no matter how fulfilling a career is, it's temporary. But my relationships as a wife, mother, daughter, sister, and friend remain—and deserve more attention. I pray God will help me never to become more committed to temporary things than to the permanent relationships in my life.
By creating material and physical space, I automatically created more emotional space, but I knew that to keep that space intact, I needed to take more deliberate steps.
In his book Margin, Dr. Richard Swenson recommends planning pauses into each day. He suggests doing things that force you to slow down, such as choosing the longest line at the bank or grocery store instead of the shortest. This has been the hardest habit to develop! I seem driven to find the shortest line and feel stress building when another line moves faster than the one I'm in. Forcing myself to step into the longest line and relax still requires great effort—but I'm learning.
Another way I've created emotional space is by taming the stress-promoters in my day. Since we operate a business from our home and the telephone rings incessantly, my greatest source of stress was the telephone. My stomach always coiled in a knot from the constant interruption of this necessary evil.
One day it occurred to me that I behaved as though I had to answer every call. So I started letting our answering machine take over when I didn't want to be interrupted. At first, I felt guilty about ignoring calls, but it so completely diffused my stress that I soon forgot about my guilt.
Along the way I've learned other ways to create emotional space: a brief walk or a few moments of solitude behind a closed door. Oprah Winfrey encourages women to create emotional space by keeping a gratitude journal in which they list five things they're thankful for every day. These simple actions promote a shift in attitude that keeps troubles in perspective so they don't affect me negatively.
Finally, I knew I needed to declutter my spiritual life. Much of my time is devoted to "spiritual things"; I speak to Christian groups, write for Christian publications, work in women's ministry, and serve with an international missions organization. But as important as all this Christian "stuff" is, it becomes sin if it crowds my relationship with God. I must never allow anything to interfere with that.
I can only maintain that all-important relationship by spending a significant amount of time alone with God each day. If I don't build space into my days to allow my relationship with God to mature, I'll never be able to maintain a healthyamount of physical and emotional space.
It's been two years since I first began decluttering my life. It hasn't come easily; it cuts against the grain of my natural desires. When a store advertises a huge sale, I still find myself getting in my car—even though I don't need anything. An invitation arrives in the mail that I long to accept—even though it will steal time from my family. My struggle to maintain physical, emotional, and spiritual space is ongoing, but the rewards of my perseverance are as enticing as that giant food buffet we encountered on vacation: a serenity, order, and satisfying sense of God's approval. It's impossible to accumulate too much of that kind of stuff.
Mayo Mathers is a writer and speaker who lives in Oregon.
Related Elsewhere:
A ready-to-download Bible Study on this article is available at ChristianBibleStudies.com. These unique Bible studies use articles from current issues of Christianity Today to prompt thought-provoking discussions in adult Sunday school classes or small groups.
Read more articles that highlight writing by Christian women at ChristianityToday.com/Women
Too Much Stuff
Read These Next