A Recipe for Freedom
How the prayers and dreams of an Ohio women's ministry are stirring up hope for the women of Afghanistan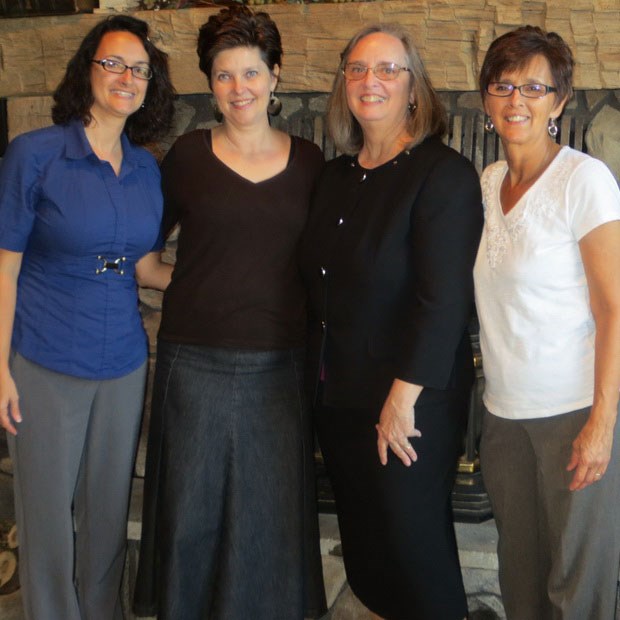 While driving through Holmes County in eastern Ohio, it isn't uncommon to see beautiful rolling hills dotted with cattle, sheep, and even llamas. But to tourists, the most intriguing sight of all may be the Amish people, traveling along in their horse-drawn buggies, plowing the fields, or selling their furniture and crafts. They are everywhere. In fact, Holmes County has the largest settlement of Amish in the United States.
The Amish are a people who hold to the traditions of their forefathers, including pacifism. And so, one would think that this rural part of the United States would be largely disconnected from the turmoil of the terrorist acts of September 11, 2001, and the ensuing war in Afghanistan against the Taliban and Al Qaeda. This, however, is not the case.
Set in the heart of Amish country is a 500-member nondenominational church called Berlin Christian Fellowship, which is filled with a group of enterprising women who are eager to share their faith and love with the women of Afghanistan. And they're doing it in the form of a book—a cookbook, to be exact. Their colorful tome, A Well-Watered Garden Cookbook, is the culmination of more than a year of prayers, hard work, and God's surprises.
Behind the Veil
In the summer and fall of 2000, when the Taliban's persecution of the women of Afghanistan was becoming more apparent to the outside world, a handful of Berlin Christian Fellowship women gathered to pray and fast for their upcoming women's conference. During that period, one of the women, Naomi Gingerich, had a dream. She dreamed of an Afghan woman clothed in a dark, full-length veil—only her eyes were exposed, and there were hordes of other veiled women behind her.
"As I looked into the woman's eyes, I saw tremendous sorrow, despair, and hopelessness," Gingerich recalls. The bleak look on the woman's face pierced her heart so much that she could almost feel the despair herself. In the dream, she asked the woman, "Why don't you take the veils off and be free?" But she received no answer, just a blank stare of sadness. This dream inspired Gingerich to research the plight of women in Afghanistan and to later suggest that a time of prayer for them be included at the women's conference.
During the conference, Gingerich told the assembled women about the dream and spoke about some of the persecution the Afghan women were suffering. Then they prayed.
As Erma Yoder listened to Gingerich, something profound stirred deep within her. "It broke my heart to hear about the bondage those women were in," she says. "I wanted to help set them free." She continued to pray for the women of Afghanistan after the conference, longing for a way to reach out to them.
Miraculous Ingredients
Soon after the conference, Yoder had the idea of creating a cookbook that could be sold to raise money for the women of Afghanistan. She held the idea in her heart until one Sunday morning several weeks later when her pastor, Tim Troyer, spoke to his congregation about pursuing their dreams.
"It's as if he were speaking directly to me," she says. "I realized at that moment that my dream of helping Afghanistan's women by creating a cookbook was given to me by God, and it was something I had to pursue."
Several other women joined Yoder in spearheading the cookbook. In November 2000, they began eagerly collecting recipes from members of the congregation. They posted notices on the church bulletin board, announced their mission during Sunday-morning announcements, and passed out forms for people to write recipes on. The entire church was excited as they watched the women's ministry pursue its goal.
The book's title—A Well-Watered Garden Cookbook—was inspired by , which speaks of satisfying the needs of the oppressed and rebuilding a devastated community. Remarkably, the book was in its final stages of production when the tragic events of September 11, 2001, shook the world. The book was finally released in December 2001, just weeks after the U.S.-led war on terrorism had begun in Afghanistan. If nothing else, the extraordinary timing of events confirmed God's hand in the project.
A Successful Venture
"Our first printing of 5,000 sold quickly," cookbook contributor Mandy Beachy said. "We had a second printing of about 2,500, and didn't have to promote it much at all—we still get orders, and there are a few shops around that just keep them on hand."
To date, the group has raised approximately $25,000, and still has a couple hundred cookbooks available for sale.
"It's amazing to see what God is doing around the world with a little cookbook that a bunch of little ladies got together and started," Beachy said.
The women's ministry of Berlin Christian Fellowship pray that the sales of this cookbook will help Afghanistan's women and girls achieve liberation from the tremendous persecution they have suffered in the past. The group has also laid the groundwork for indigenous businesses, such as small bakeries, which will enable Afghan women to support themselves and their children. In addition to supporting Afghan women and girls, the funds have also helped support small businesses in Kenya and Uganda, a women's prison in Columbia, tailors in Turkey, an orphanage in Russia, and an orphanage and bakery in Burkina Faso.
One step of faith was all it took to bring a miracle to pass, says Erma Yoder. "When we're willing to be obedient to God's leading, there is no limit to what he can accomplish through us."
Editor's Note: A Well-Watered Garden Cookbook costs $11.99 (which includes shipping). For more information, call (330) 893-3115 or email Erma Yoder at erma@bcfellowship.com; or send orders, with check, to: "Afghanistan Cookbook," Berlin Christian Fellowship, P.O. Box 396, Berlin, OH 44610.
A Christian Reader Original article. Edie Witner is a writer from Holmesville, Ohio.
Read more articles that highlight writing by Christian women at ChristianityToday.com/Women
A Recipe for Freedom
Read These Next
Liberty for All

Whether in the middle of the 1960s civil rights movement or now fighting for the rights of the unborn and the elderly, Dr. Alveda King wants everyone to experience the true freedom that Christ died to give us.