Is That You, God?
Learning to recognize your Father's voice.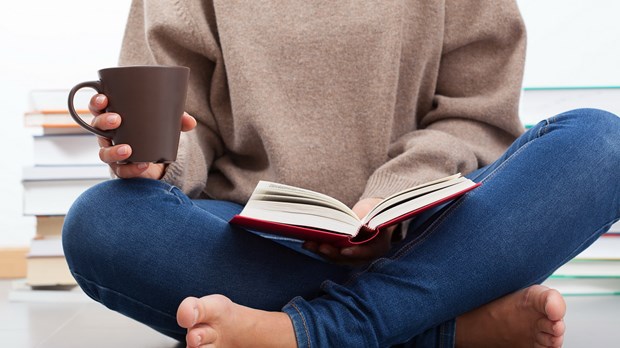 Image: SHUTTERSTOCK
I was curled up on the corner of our plaid couch, seizing the early-morning silence to talk with God, when my son's warm body cuddling next to mine interrupted the conversation. I opened my eyes to greet Lukas with a hug.
"Mommy?" he whispered. "Are you talking to God?"
"Yes, honey," I replied as I kissed his tousled hair, "I am." I closed my eyes to continue my prayer.
Soon, a curious voice interrupted, "Mom?"
"Yes, Lukas?"
"Does God talk back?"
My heart responded long before my mouth formed the words: "Yes, buddy, God talks back."
Lukas's blue eyes grew wide as he stammered, "But how do you know it's him?"
Help me, Lord, I prayed silently, attempting to formulate an answer. How could I explain recognizing God's voice when I was still discovering it for myself?
I've been a believer since I was ten, and I've always loved the Bible stories that portray a relational God. I knew God spoke to Mary through an angel and to the apostle Paul through a blinding light; I believed he longed to speak to me as well. But as I grew older, my childlike confidence faltered. How could I discern God's gentle whispers from my desires masquerading as godly guidance?
A Divine Progression
In his book The Pursuit of God, A.W. Tozer describes how the average person learns to recognize God's voice: "First, a sound as a presence walking in the garden. Then a voice, more intelligible but still far from clear. Then the happy moment when the Spirit begins to illuminate the Scriptures and that which had only been a sound or at best a voice now becomes an intelligible word, warm and intimate and as clear as the word of a dear friend."
A few years ago, after moving to a new community, I answered the phone and heard a vaguely familiar voice invite my children and me to the park. Not wanting to embarrass myself or the mystery caller, I asked for directions and hoped I'd recognize her face once I got to the park. Sure enough, as my children tumbled out of the van, I spotted a woman I'd met at church.
A-ha! I thought as I returned her friendly wave. So it was her!
My first encounters with God's voice were much like fielding that phone call from a vaguely familiar friend. My heart felt his "gentle nudge," but I was unable to decipher specifics. I proceeded in faith and hoped to recognize God more clearly in the process.
While seeking our first jobs out of college, my husband and I stumbled upon an opportunity to teach in Austria. We prayed for wisdom and eventually felt God give us the go-ahead. We accepted the job, moved overseas, and anticipated a romantic European adventure.
Months later, isolated by language barriers and weary from challenging job conditions, we questioned if we'd heard God correctly. Only in retrospect did we recognize the ways God used that experience to solidify our young marriage and prepare us for the difficult years to come, as Rob's commitment to medical school (which coincided with our initiation into parenthood) required long hours. With hindsight, we recognized God's purpose for our time in Austria and finally said with confidence, "So it was him!"
The Right Question
One winter day, I met a friend for lunch at McDonald's. In the midst of refreshing "grown-up talk," I heard a familiar high-pitched cry from the noisy crowd of preschoolers swarming the play area.
"That's Lizzy," I told my friend.
"How do you know?" she asked skeptically. "There's gotta be two dozen kids over there."
"But that's her," I said resolutely as I slipped off my shoes and maneuvered through the tunnels from which my daughter's cries had come. Following the desperate voice, I found my two year old hovering at the top of the play structure. With reassuring words, I coaxed her to safety.
While I wouldn't have recognized the cries of my best friend's child, I quickly picked out my daughter's voice. It's because I've listened to Lizzy since she squealed her first sounds of life, strained to make sense of her happy baby babble, and rejoiced at the first words that rolled off her toddler tongue. Her voice is a regular part of my days.
Similarly, the more I make Jesus a regular part of my days, the more I recognize his voice. Jesus explained this principle in John 10: "I am the good shepherd; I know my sheep and my sheep know me … My sheep listen to my voice; I know them, and they follow me" (vv. 14, 27). As my relationship with the Lord has grown, I've realized the real question of recognizing his voice isn't "How do you know it's him?" but rather, "How well do you know him?"
Going Deep
Recently I browsed some letters I wrote when I was engaged to my husband, Rob. I chuckled at my attempts to put into words what he meant to me after three years of courtship. My definition of who Rob was then seems shallow in contrast to who I know him to be now.
My relationship with God is much the same. As a young believer, I viewed God primarily as my Savior, but over time, he's proven himself to be much more.
As a lonely young educator in a foreign country, God stepped in as my friend. During the times I handled our family's finances and the money was short, God became my provider. Through years of sharing my life with God, I've gotten to know greater depths of his character.
In Breaking Free, Bible teacher Beth Moore writes, "We can't always know the mind of God, but we can always know the heart of God." As I listen for his voice, I'm learning to evaluate what I hear with who I know my Lord to be.
Listening Through scripture
In The Power of a Praying Woman, Stormie Omartian writes, "One of the most priceless gems you will find in God's Word is his voice. That's because he speaks to us through his Word as we read it or hear it. In fact, we can't really learn to recognize God's voice to our soul if we are not hearing him speak to us first in his Word."
Recently, my husband and I grappled with a possible relocation. "God," I cried out one day while on a walk. "I want our family to land exactly where you want us. But I can't figure out where that is!" Then I reached into my pocket for the memory verses I'd grabbed before heading out the door. As soon as my eyes fell on the words, I began to cry. "If you make the Most High your dwelling . . . then no harm will befall you . . . For he will command his angels concerning you to guard you in all your ways" (Psalm 91:9-11). God was talking directly to my restless heart that morning. It doesn't matter where you move, he assured me. Just make me your home, and I'll take care of you.
Meeting God daily on the pages of his Word enables me to recognize him "off the pages" as well. When I keep my mind fixed on Scripture as I go about my day, my heart remains still before the Lord (Psalm 46:10) even amidst deadlines, carpools, and screaming toddlers.
A Matter of Time
When my second child started preschool, I suddenly gained two hours of free time. I immediately filled them with an ambitious to-do list and Friday-morning coffee dates with friends. One day as I squeezed in a quick prayer time before racing my daughter off to preschool, I felt the Lord prompting, Let me be your coffee date. At first I struggled over exchanging some activity-filled mornings for prayer and Bible reading, but I've found the rewards to be priceless.
Shortly after I started my coffee dates with God, he graciously began to answer petitions I'd been praying for years. My six-year-old son who had grappled with anger began to show signs of a softening heart. My four-year-old daughter began to tell me about her "special ears" that listened to Jesus. My husband, who rarely showed interest in praying aloud together, began to wake me in the middle of the night to pray over our children. Needless to say, my coffee dates with God are now a favorite part of my week!
The squeeze of a little hand reminded me my son was still waiting for an answer.
"So how do you know it's God?" Lukas persisted.
"Remember when we were at that playground filled with lots of people and Daddy went to the parking lot to get the car?" I asked.
"Uh-huh?"
"Could you see Daddy from where you sat on the swings?"
"No."
"Well, how did you know it was Dad when he called your name and said it was time to go?"
"Mo-om," he said with a giggle and a hint of exasperation, "He's my daddy. I just know him!"
"You know what, buddy?" I replied. "That's how it is with God, too!"
Alicia Bruxvoort is a writer and speaker who lives in Iowa.
Read more articles that highlight writing by Christian women at ChristianityToday.com/Women
Is That You, God?
Read These Next