Joining What God Is Already Doing
The disciplines of service and outreach.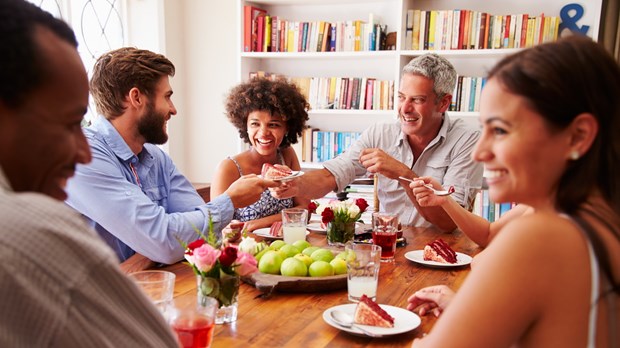 Last summer, I gathered together my neighborhood kids to talk about ways we could help other kids around the world. My desire stemmed from my horror at my own children's trajectory toward spoiled-bratness. From wasting food to "deserving" certain gifts, the excess in our home stood in exaggerated relief to our claims of living in a way that was honoring to God.
As the neighborhood kids ate goldfish crackers and talked about what we could do to help others, I realized I was taking one small step to bring my beliefs and lifestyle closer to each other.
In this issue you've read about the disciplines of service and outreach. So let's explore how these two disciplines work in your life.
Step #1: Uncover Your Beliefs
Both service and outreach are loaded terms in Christianity. Check your feelings and attitudes about them with a quick one-word association exercise. Write the following words, and then immediately go back through the list and write one or two words you associate with each on the list:
Serving
Evangelism
"The least of these"
Testimony
"My Mission"
"My Story"
You probably listed some negative (and hopefully a few positive) associations with each word. By getting honest with our feelings about each, we can ask God to transform into joy any burdens we feel about service or outreach. The stories captured in this month's issue give examples of how you might reframe each discipline. Write your own definitions of service and outreach that encourage you.
Step #2: Take Stock of Your Season
In her interview Kay Warren shares her definition of service: "If it isn't a way to say, 'Jesus, I love you,' then we've missed the mark." Think about the life you're living.
Where do you have opportunities to say, "Jesus, I love you," with your actions? This could be the attitude with which you play with your children, the words you use with your co-workers, or the way you use your influence to spur others on to good deeds.
What are the limitations of the life stage you're in? What are the joys of that season? For instance, if you're single, you may feel limited by your need to provide an income for yourself. But there's joy in your flexibility of time and availability for relationships.
Step #3: Steps of Service
Carolyn Custis James explains the discipline of service: "It means anywhere we go, anything we do holds the possibility of service to God—from creating culture and stewarding the earth's resources to freeing the captives, feeding the hungry, relieving the oppressed, going to work, or rocking your baby to sleep at night." Arloa Sutter says, "Your service in the world is a natural outflow of the Creator's good work in you."
We need the desire to serve and also the eyes to see where needs can be met. What needs are you exposed to? Pay attention for one week to the needs you see around you. What physical needs do you notice? Emotional needs? Spiritual needs?
Commit to one new service experience this month. It could be as simple as helping in the church nursery or finding a community project to participate in.
Step #4: Eyes for Outreach
In "From Your Doorstep," Heather Holleman shares how opening her life to the kids in the neighborhood helped her "no longer look at evangelism as just a booklet."
Take a few minutes to write your faith story. Have you ever shared with anyone your personal experience of knowing God?
Read the story of Philip and the Ethiopian in Acts 8:26-40. Have you ever sensed the Spirit telling you to do something? Ask God to prompt you this week to share love with someone, as he prompted Philip.
Step #5: Listen to Your Life
The afternoon gathering of kids in my neighborhood led to us picking one service project: feeding lunch to kindergarten girls in Burkina Faso. The kids predicted we'd raise $20 with our breakfast drive-thru (a glorified lemonade stand). We raised more than $500 in two hours.
Two months later, I attended a leadership conference and spontaneously raised my hand to sponsor our third Compassion child. The conference helper handed me a child. A five-year-old girl. From Burkina Faso.
I cried as I realized that our God delights in working in and through our lives. When I listen to my life, I realize that God is at work. Today, that looks like neighborhood gatherings and breakfast drive-thrus. And I hope one day, it'll look like a plane ticket to Burkina Faso.
Read more articles that highlight writing by Christian women at ChristianityToday.com/Women
Joining What God Is Already Doing
Read These Next