United in Christ
How interracial marriage demonstrates the gospel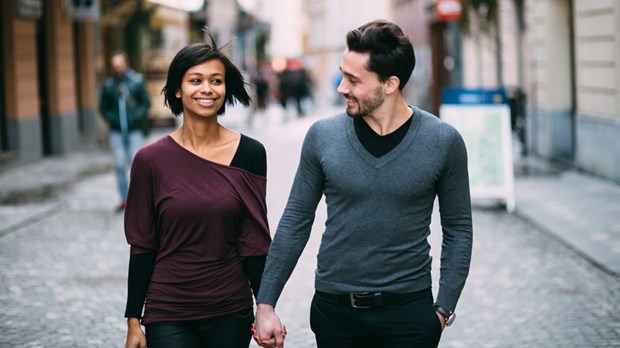 "What therefore God has joined together, let not man separate" (Matthew 19:6, ESV).
Each morning my husband and I greet each other with a kiss. His rosy cheeks and fair skin come close to my milk chocolate tone (as my son likes to say) and curly hair. My husband is white and I am black. We don't wake up and notice the difference of our skin color; frankly, we go most of our days without a thought of it. But every so often someone else will remind us. Like the time when we were dating and we stepped out of a restaurant hand-in-hand. The black couple standing next to the car adjacent to ours wasn't amused by our public display of affection. "Sell-out," was not only the message in their looks; it came off the male's lips. And then there was the time we visited Memphis, Tennessee, and ate at a nice restaurant in a suburban area. I was most definitely the oddball, and the glares helped remind me that I wasn't welcome.
Interracial marriage may be growing in acceptance now among the general population, but it has always been acceptable to God. In Numbers 12:1-10, God severely punished Miriam and Aaron for criticizing Moses' marrying a Cushite (Ethiopian) woman. Interracial marriage isn't merely acceptable; it reflects the beauty and glory of the gospel.
The Gospel
When I think of the gospel, I think of reconciliation, peace, unity, acceptance, redemption, and forgiveness. At salvation, we are reconciled to God and have peace by the blood of Christ. We are united now with Christ and accepted by God fully through his grace. We are redeemed and have complete forgiveness of sins. It is amazing grace! There's an earthly union that has similar descriptions as the gospel. It falls short of redemption but displays the power of the gospel and the glory of God in the lives of Christians.
When two people from different ethnicities take the sacred step to become one flesh in marriage, God's gospel is on display.
Reconciliation
Our history precedes itself. Slavery divided the United States and segregation continued that legacy of division. The Civil Rights Act of 1964 closed a chapter in the law of discrimination but it has taken decades for interracial marriages to become more commonplace. The gospel breaks down barriers and is available to all people. There is no distinction (Romans 10:12), and on that last day every tribe and tongue will be represented praising God (Revelation 7:9). But before that day, reconciliation is on display through interracial marriage.
We were once a people divided and hating one another. That could have been the case for my husband and myself (I am black). But each and every day we step out together—united first to Christ and then to each other, we send a message that God can and does reconcile.
Forgiveness
The gospel of Jesus Christ is rooted in the forgiveness of sins. When God forgives, he doesn't forgive only to bring sins back up in our faces (as we so often do to each other); he removes our transgressions as far as the east is from the west (Psalm 103:12). And his forgiveness isn't reserved for those who deserve (no one does); he forgives anyone who trusts in the finished work of Christ (Acts 10:43).
There isn't anyone who forgives like God forgives. But there is a beautiful display of forgiveness in the relationship of a man and women from different ethnic groups, in union together. Interracial marriage represents an end of an incredibly hate-filled era. Yes, racism still exists and divisions are ever present, yet when my family walks through our town square with our kids hanging off our necks, we aren't thinking about the historical past as it relates to us in our marriage. We are able to enjoy each other, laugh and play, kiss and hug. We have experienced forgiveness for our sins and though we won't forget the history of our nation we can forgive. That forgiveness is on display.
Acceptance and Belonging
There is no greater acceptance than the one found in belonging to Jesus Christ. Once alienated and dead to sin, those who believe are now united with Christ. The old self and all of its wretchedness has died, and the new self is alive with Christ (Romans 7:4). But this new belonging didn't come free; it came at great cost (1 Corinthians 6:19-20). It is because of this great love, this great cost, this new belonging, that we are now compelled to love and serve the one who died (2 Corinthians 5:14-15).
It is also because of Christ's sacrifice that we are compelled to love others. My deepest earthly love is reserved for my husband. There is a belonging in that love. I am his and he is mine. Our belonging to each other is regardless of our color differences or our cultural differences. We are accepted by one another. We are one.
Self-Sacrifice
Christ descended from heaven. He walked this earth perfectly. He did miracles upon miracles. And after all his service, he died on the cross. He loved to the point of death—the ultimate self-sacrifice. And husbands are called to do the same. No, they are not called to die on a literal cross. But they are called to love like Christ: "Husbands, love your wives, as Christ loved the church and gave himself up for her"(Ephesians 5:25, ESV).
Because racism still exists, there are times when husbands need to play a protective role in interracial marriages. There are certain places we may choose not to go as a way to protect me. When we've been heckled or glared at in the past, I know my husband supports me as he grips my hand and draws me in closer to himself. His act of protecting and guarding is a display of sacrificial love. When others acknowledge our difference in skin color, he stands ready to die in my stead.
When Christ Returns
The details and timing of Christ's return are largely a mystery. We know that every knee will bow and confess that Jesus is Lord (Romans 14:11). We also know that every tribe and tongue and nation will be there praising the Lord.
And they sang a new song, saying,
"Worthy are you to take the scroll
and to open its seals,
for you were slain, and by your blood you ransomed people for God
from every tribe and language and people and nation,
and you have made them a kingdom and priests to our God,
and they shall reign on the earth."
(Revelation 5:9-10, ESV, emphasis added)
Interracial Christian couples have a great opportunity to walk united with Christ and display the beauty of the last day. And though just a small glimpse now, what a glorious sight it will be on that day!
Trillia Newbell is a freelance journalist and writer. She writes on faith and family for The Knoxville News-Sentinel, and serves as the managing editor for Women of God Magazine. Her love and primary role is that of a wife and mother. She lives in Tennessee with her husband, Thern, and their two children.
Read more articles that highlight writing by Christian women at ChristianityToday.com/Women
United in Christ
Read These Next