My Fairytale Marriage
We can love better when we let go of our romantic dreams.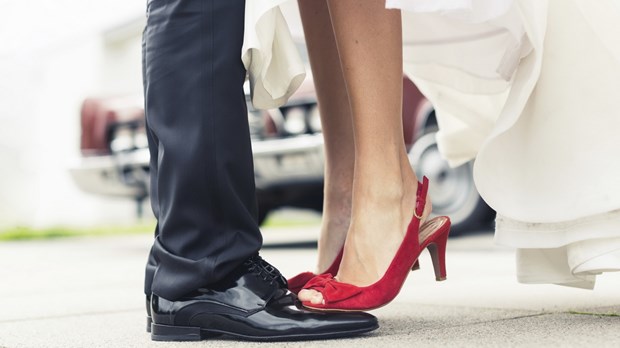 Jeff and I sat on the back of the borrowed convertible decorated with "Just Married" signs and pastel paper flowers. My mind whirled with beautiful thoughts of our wedding celebration-the string quartet, prayers and blessings pronounced on us, the fragrance of roses, and the taste of wedding cake. Jeff supported my back. I gazed over at him. I could feel the sparkles in my eyes. Jeff was my dream-prince in his tuxedo, and I was his princess. This was our wedding day—the main event I had dreamed of since I was a little girl. Air rustled musically through my veil and around my face. I looked up at the blue sky, the canopy of green trees above, and the lush field across the road from the church.
I believed, like so many romantic stories advocate, my prince charming would fulfill all my fairytale dreams. As we climbed into our own car and Jeff drove us into the sunset, I imagined we were entering our "happily ever after."
We spent the first night of our marriage in the Thomas Edison Inn in Port Huron, Michigan. When we were dating, we had often come to Port Huron with his family. We loved to watch the vessels float down the river and splash into the aqua blue waters of Lake Huron. Sometimes we saw huge ships, other times little tugboats.
In premarital counseling, Jeff and I took personality tests. Under pastoral counsel we talked about our differences. I joked about my being like a small tugboat, highly creative and maneuverable; while Jeff was like a large ship, logical and slow to change course.
One evening, several years after our wedding, I heard car tires rolling into our drive. Jeff was home. I ran on tiptoe across the hot asphalt to his car and plopped down on his lap. After I planted a kiss on his lips, I looked up. I expected to see that Irish spark in his blue eyes and a flicker of blush move across his high cheekbones. Instead, his face hung expressionless.
I looked at him questioningly. He finally found his voice. "I got a lay-off notice today. It could be weeks or months … we don't know yet." It was a corporate-wide layoff, not his fault.
As my tugboat self, I imagined Jeff would steer around this new obstacle, go out and get another job. Everything would work out.
Jeff continued consultation work for his old company, but this trickling income dried up. "In plenty and in want" were words I had meant when I'd said them, but they had seemed easier to embrace when he had an ample salary.
We spread out an assembly line in the living room. Manila envelopes, resumes, stamps, and labels littered the piano bench and floor. Jeff had excellent reference letters from former coworkers. We sent them out with each resume. We mailed what seemed like hundreds of packets. Surely one would yield a job.
Within a few weeks responses came. We opened each envelope with anticipation, only to read, "Thank you for considering our company. We will keep your resume on file" or "We regret to inform you we have chosen another candidate."
With all of Jeff's experience and talent, why couldn't he land a job?
Summer turned to fall. I panicked as our first winter approached. Like the snow and ice outside, Jeff froze emotionally. Not only couldn't he get a job; he could offer me little relationally.
This couldn't be happening! Fear and despair began to settle in, weighing down my usual buoyant spirit. What about my hopes and dreams? Why couldn't Jeff summon the courage to get another job? Didn't he want to?
I picked up the phone and walked into the bedroom. Closing the door I called Autumn, a Christian friend I had met at Bible study. We had learned the main reason people divorce is hard hearts. I held the phone to my ear. "Please pray," I said. "I am wrestling right now with a very hard heart." I called Autumn with this same request many times. Each time she encouraged me to refocus on God.
One morning Jeff sat despondent in the rocking chair. I went into the bedroom to make the bed. As I smoothed the bedspread, I began singing the words of Matthew 11:28-30 to a new tune. I walked out into the family room and sat down on Jeff's lap. Holding him, I sang my song to him: "Come to me, all of you who are weary and carry heavy burdens, and I will give you rest …" As I sang, Jeff's depression thawed, but inevitably, he froze up as soon as the realities of his situation settled in again.
When the stress felt unbearable, I declared a mental-health day. We took a short daytrip. We might not have had five dollars between the two of us, but it didn't matter. Getting away took our minds off our problems long enough to enjoy our relationship.
One day Jeff got up early. I caught up with him as he shoved on his grubby tennis shoes. "I'm going out," he mumbled as he left.
Jeff returned that evening smelling like an oil refinery, dirt under his nails, grease smeared head to toe. He had taken a job detailing cars.
I felt a strange mix of gratitude and disgust as I scrubbed the black stains out of his clothes. What about Jeff's college degree? He won math awards in school. He solved Rubik's Cube! Why couldn't he get an office job? In his old job, we'd had free memberships to a health club. Now he was cleaning cars!
Would I have to get used to this new lifestyle? In answer, I felt as if God checked me. "It's an honest income," I sensed God say to my heart. As my fingers worked sudsy detergent into the jeans, I felt as if God was scrubbing the stains from my heart. My father was an executive in the automotive industry. I had let my prosperous upbringing dirty my heart with pride and unrealistic expectations. I had to stop worrying about what other people thought and concentrate on God's viewpoint.
"I made this meal especially for you. Why won't you eat?" Jeff hung his head over one of his favorite meals, chicken fried hamburger with potatoes. He looked up with ashen face, raised his eyes slightly and moaned, "I just want to die."
My heart felt fragile, like a snowflake. Months passed, and my tugboat personality chugged through turbulent waters of Jeff's hopelessness. When I sought God, I felt I could hold on for another day. Just as the sun was still shining high above those heavy Michigan clouds, God was there for me.
I cut expenses like my $75 salon visits, name-brand skincare, cosmetics, and salon hair-care products. We could survive without cable television, cell phones, and expensive vacations. In warm months we used ceiling fans. I hung laundry on the clothesline.
In cold months, the fireplace helped with heating costs. I fought hard against the constant gravity of despair. Sometimes I won, other times I didn't. I had to stop letting my feelings push me around. When we were dating, I had referred to Jeff as my diamond in the rough. Now I began again to mine that treasure. I engaged him in conversations. Sometimes Jeff read novels to me and we discussed them. As Jeff and I began sharing more together-time, our relationship deepened. Humility and honesty began to replace walls of pride. As I exposed my weakness, I discovered Jeff's strengths counter-balanced them. Respect blossomed.
Instead of nagging, I learned to earnestly pray then speak my heart. "Jeff, I just need to hear you say you want to get a good job" I admitted one day. Like a ship unloading cargo, Jeff opened the strongholds of his heart. I tried hard to be the peaceful harbor he required. We had always had devotions at bedtime. Now we began to pray and praise God together when we felt pressures. This refocused us on God and each other.
Some nights I scraped together ingredients and invented one-of-a-kind meals like my stuffed-breaded Italian chicken. I put on Bing Crosby music and lit the fireplace. We danced in the firelight then sat, holding each other like boyfriend and girlfriend. Each investment in our relationship stirred the flames of love.
Even before Jeff's layoff, I had prayed for God to help us with our credit problem. We enrolled in an organization that promised to settle our debts. This company we trusted counseled us not to communicate with our creditors. Our debt snowballed out of control.
Early-morning phone calls and court summons from creditors challenged my commitment to our marriage. It felt as if we were clamped in ever-tightening metal jaws of a human-size trap.
We decided to ditch the credit settlement company. With the help of a Christian attorney-friend, we opened up dialogue with our creditors.
"Tammy," I heard Jeff's voice on the phone. "I need you to pray for me; I'm going to talk to a lawyer today." We prayed together through one settlement after another.
I think there's a reason Michigan chose the robin as the state bird. After long, hard winters, Michiganders need a sign of hope.
Two and a half years passed. An old coworker of Jeff's called. Jeff went into our home office and shut the door. After a long time, he emerged. "What's up?" I asked.
"My friend wants me to help him start a business," Jeff said.
At first they worked out of their homes. Slowly the business grew. They established an office.
One afternoon, Jeff and I drove home together from his office. I gazed out the window at the melting snow. Robins hopped around on the new spring grass outside the office.
"Well, Tam," Jeff said, patting me on the leg, "We've settled the last credit card account."
As with the other accounts, Jeff had met with the lawyer at the courthouse that day and settled out of court. Thus we began our no-credit card "new-normal."
Today, I am still not living the dreams I once treasured. Instead I have a marriage with Jeff that feels real and satisfying. It's okay if my dreams of having 10 kids, renovating an old farmhouse on sprawling acreage, and running a self-sufficient farm don't come true. After all, that's a lot of work.
Instead of expecting my husband to meet all my needs, somewhere along the way, I learned to make God my source. Surrendering my dreams to God freed me to love Jeff for all the wonderful things he is. Today we share a wealth of comfort and companionship that comes only through persevering together. I have to admit, this reality exceeds even fairytale fantasies.
Tammy Bovee encourages others in the Lord through her work published in newspapers, magazines, curriculum, and denominational publications, as well as through her music ministry. She delights in investing time in her relationship with husband Jeff, whether she's strumming her guitar and singing her new songs for him, cooking-up a special evening for him, or snuggling with him as he reads her another novel.
Read more articles that highlight writing by Christian women at ChristianityToday.com/Women
My Fairytale Marriage
Read These Next