Suffering 101: The Required Class We Wish We Could Ditch
When life provides us with unwelcome doses of pain, do we cling to God or run away?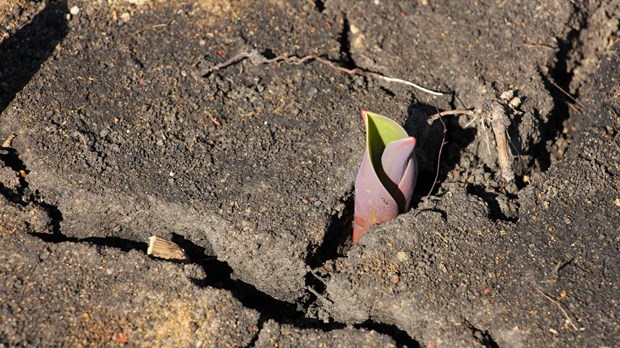 Image: TROFIMOV DENIS / SHUTTERSTOCK
I must admit I wasn't thrilled a few weeks back when my husband signed us up for an upcoming class at church. . .on the Book of Job.
The teacher is great and the fellowship will be fantastic. But Job?
That book is all about suffering. It's about horribly difficult questions about pain and heartache and God not intervening or, even worse, playing an apparently complicit role in that suffering. It doesn't have the ending I want—the ending in which God answers the hard questions and, poof!, turns back the hands of time to magically erase all the suffering. No, Job wades right into the deep, dark muck of pain—the muck I strive hard to avoid.
It's a human instinct to avoid pain, to steer clear of what hurts, to run like the dickens from heartache.
But what Job, and in fact the entire witness of Scripture, tells us is that suffering is unavoidable and inescapable. It will touch our lives. It's a "class" we're all signed up for, whether we like it or not. After all, Jesus reminds us: "Here on earth you will have many trials and sorrows" (John 16:33). And he definitely had his share as well.
Will we learn from suffering? Will we grow in and through it?
Much in life can cause us pain and suffering: physical illness, the death of a loved one, the betrayal or abandonment of a spouse, the rebellion of a child, the loss of a job, the breakup of a relationship, and so much more. Thankfully, blessedly, Christianity honestly addresses the heartaches we face in this life. It doesn't offer pat answers or magical cures. But it does invite us to cling to the God who is present with us in the pain—and to somehow, with God's help, courageously wade our way through that muck to the other side. And it does promise that, as we cling to God and endure in faith, we will grow in character and mature in faith through the crucible of pain (Romans 5:3–5).
How have you grown through heartache? How have you experienced the truth that, no matter how deeply it hurts, God will not leave you or forsake you?
For inspirational stories of women who have found hope in the midst of suffering, read this TCW interview with Mary Beth Chapman, or this recent article, "When God Doesn't Answer." TCW also offers downloadable resources for small group and church study: see TCW's Transformation in the Midst of Suffering PDF in the TCW online store.
Read more articles that highlight writing by Christian women at ChristianityToday.com/Women
Suffering 101: The Required Class We Wish We Could Ditch
Read These Next