Trafficking the Girl Next Door
Katariina Rosenblatt knows what it is to be caught in the world of sexual exploitation. Now she works with the FBI and local authorities to minister to other girls who find themselves in the same place.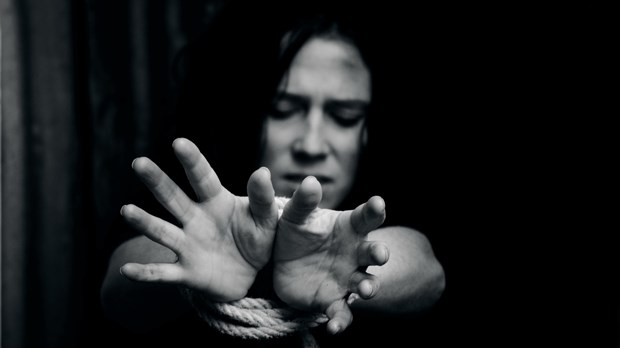 During the 1980s, mothers used the phrase "stranger danger" to caution their children about the possibility of kidnappings. It was the idea of seeing your missing child's photo on the side of a milk carton that caused many U.S. families to warn their kids about abductions. The possibility of human trafficking wasn't even on most parents' radar screen.
Yet during the same time period, a 13-year-old Miami girl became one of the countless children to fall prey to a sex trafficking scheme. Only in recent years have U.S. officials realized the trend is just as alarming at home as it is abroad. According to the U.S. Department of Justice, human trafficking ranks second only to drug trafficking as the fastest growing criminal industry worldwide. And half of those trafficked are children.
In 1985, Katariina Rosenblatt, her teenage brother, and their mother left their South Florida home to escape Kat's abusive father. Katariina's mother was trying to hold down a job while caring for her children. The family lived out of a Miami Beach hotel, where the kids spent most days unsupervised at the swimming pool. There, Katariina was approached by Mary, a sophisticated 19-year-old who took an interest in the young teen. "She was everything I thought I wanted to be," Katariina says. "Thin, pretty, blond hair, and blue eyes."
The sexual, verbal, and physical abuse Katariina had endured from her father left her damaged and vulnerable, a weakness Mary quickly sensed. Offering her friendship and sisterly advice, Mary began telling Katariina about local men who would take care of her, give her money for food, and offer fatherly love. In reality, Mary was a recruiter for a local child trafficking ring.
"The devil doesn't come with a pitchfork," Katariina says. "He's much more deceptive. For me, he came in the form of a girl in a red bikini."
Led by Mary, Katariina soon found herself sequestered in a room with a 65-year-old man who attempted to purchase her, still a virgin, for $550. Refusing the marijuana she was offered, Katariina narrowly escaped the exchange and fled back to her hotel room. It was the first in a series of trafficking scenarios she would face as a young teen, and the only one she would manage to escape unscathed.
God's Whispers
In the following years Katariina became ensnared in a series of trafficking exchanges, all unbeknownst to her mother. In one instance, she went to a sleepover at a friend's whose father was a pedophile and worked as a trafficker. Katariina was taken to an apartment-style brothel in a neighboring county and exploited by a 40-year-old man who fostered her cocaine addiction and began making her dependent on him and the future men who would exploit her in exchange for drugs, food, and temporary affection.
Her darkest moment came at 15, when a drug dealer forced himself on her. She later learned he was trying to rid himself of AIDS by having sex with young girls. Katariina believes God spared her life, as the man became sick during the exchange and Katariina was able to escape.
"I remember fighting with God on that bed while this man was having his way with me," Katariina says. "I thought, I'm never going to get out of this. All I'm ever going to be is a prostitute. But God's Spirit kept telling me, No, I have a plan for you. He was speaking the truth from Jeremiah 29:11 to my heart."
The few tidbits of truth Katariina had learned about God came from her conversion as a nine-year-old. Her mother had taken her to a Billy Graham crusade where she'd prayed to receive Christ. "I remember Graham pointing his finger at the audience and saying, 'God will never leave you or forsake you. Remember that.'"
Katariina would remember it, but her road to restoration would be a long one. She finally managed to escape for good when her traffickers showed up at her home, and her mother (who normally worked during that time) answered the door, discovered what had been happening, and went after them. But it wasn't until Katariina's divorce after a 20-year abusive marriage that she began telling the truth about her past to fellow church members and found true restoration.
Helping Others
The more she shared, the more Katariina realized she might be able to help other young girls caught in trafficking. She began speaking about her past with inmates at local juvenile detention facilities in South Florida. Many of the girls were imprisoned because they'd committed crimes to escape the pimps who'd trafficked them. Florida is one of the top four states for human trafficking in the country.
While ministering to these young girls, Katariina earned her master's of law degree in intercultural human rights. Then in 2011, she formed a non-profit called There Is H.O.P.E for Me (www.ThereIsHopeforMe.org). The acronym comes from Katariina's desire to provide healing, opportunity, purpose, and empowerment to trafficking victims.
Working in tandem with the F.B.I., Homeland Security, and local police, Katariina visits jails, schools, foster homes, strip clubs, and other locations where children or young women are at risk for trafficking.
"I share my testimony and then offer women the opportunity to sign up for mentoring," Katariina says. "Initially, some of the facilities didn't want me to speak about the Bible, so I've had to come up with creative ways to share my faith and hope found in God's Word."
"I'm humbled beyond belief that these children trust me with their stories, and that they're willing to work with us and make things right in their lives."
Once the girls sign up for mentoring, Katariina gives them a form she created with the F.B.I. that helps identify victims of trafficking. "Then we take the appropriate steps to make sure these girls get the help they need, whether it's providing lawyers, law enforcement, or mental health services," she explains. "Some need assistance with their family, or help getting their G.E.D. Others just need food. Many of these girls come from single-parent homes, and there's not enough to eat."
Katariina's role as a liaison between these girls and law enforcement has proven critical, because many victims don't initially feel safe speaking to the authorities. "Girls are afraid they'll get arrested," Katariina says. "I tell them about the Trafficking Victims Protection Act, a federal law that protects children as victims and not perpetrators. Law enforcement agents appreciate my program because otherwise they have a hard time getting kids to talk."
Happening to Our Children
Like Katariina, young girls who become trapped in trafficking often are from broken or poor homes, foster children, or runaways. The Internet is also a major force in recruiting young girls with the promise of money, friendship, or meeting a short-term need.
While children who are trafficked outside the U.S. often are kidnapped and sold into sexual slavery, trafficking in America can work differently. Some girls living at home, as Katariina did, experience shameful and forced sexual situations without their parents ever knowing about it. According to the data Katariina has accessed through the juvenile detention facilities in South Florida, 20 percent of all minor girls incarcerated have been trafficked.
Girls often are too ashamed to tell school officials, local authorities, or their parents about their situations, and many simply don't have the resources to leave their trafficker for a better environment.
"Frequently, a girl will return to her trafficker once she's released from jail if she has no other place to go, because she feels a connection to him," Katariina says. "It's like Stockholm Syndrome or Battered Woman Syndrome. The trafficker gives her attention, and she'll confuse that for love if she doesn't have anyone else."
"God has called me to this work and I know he is greater than the enemy. He delivered me from such dark circumstances for this purpose."
Because of Katariina's program, a growing number of girls are escaping the vicious cycle of returning to prison again and again. "In one situation, I helped evaluate a teen who'd been to jail twice and never been identified as a trafficking victim," Katariina says. "She'd met her traffickers at a neighborhood convenience store while just hanging out one summer, looking for something to do. We helped her get a waitressing job and provided her with funds to get her G.E.D."
Another girl who went through Katariina's program will attend college this year. Since beginning her non-profit ministry, Katariina has helped 65 victims so far receive some kind of assistance or counseling. "I'm humbled beyond belief that these children trust me with their stories, and that they're willing to work with us and make things right in their lives," she says. "I'm seeing these girls come to faith, and it's such a reminder of God's power."
Girls Valuing Themselves
Through small group mentoring meetings, Katariina works to replace what society has taught young women about their self-worth. "The pimp culture portrayed in music, movies, and television gives the concept of trafficking a sense of acceptance," Katariina explains. "Our over-sexualized society has taught kids that it's okay to sell your body to somebody else. As a result, how these girls value themselves is far less than what God created them to be."
Traffickers know just how to capitalize on low self-worth, Katariina says. "All it takes is the gift of a Coach purse, a night out, or a little act of kindness that a girl doesn't receive at home. Then the kindness turns into a trafficker asking, 'Will you do this for me?' And before she knows it, the girl's locked up in a room."
Currently, the demand to evaluate and mentor girls is so great that Katariina's working to expand There Is H.O.P.E. for Me by training former victims to be mentors and small group leaders. She's also completed her Ph.D. in conflict resolution from Nova Southeastern University in South Florida and teaches a course on human trafficking at Trinity International University. This fall, she'll help host a symposium, sponsored by Trinity International University and There Is Hope for Me, to raise awareness. Local authorities, safe-house directors, and lawmakers will gather to share with area faith-based organizations how to better identify victims and put measures in place to stop trafficking. "The idea is to draw the faith community together and engage the body of Christ," Katariina says.
As she regularly visits truck stops and strip clubs in search of girls who may need help, Katariina knows the darkness present is palpable. "But God has called me to this work and I know he is greater than the enemy," she says. "He delivered me from such dark circumstances for this purpose. I'm trusting him and believing he will redeem my story and the stories of these girls."
Corrie Cutrer is a freelance writer who lives with her family in Tennessee.
Read more articles that highlight writing by Christian women at ChristianityToday.com/Women
Trafficking the Girl Next Door
Read These Next