Believe God Can Do Anything
Third Day frontman Mac Powell is passionate about faith, family, and 'doing what's in your heart to do'
Third Day frontman Mac Powell knows what he's doing with a guitar—and with family. Married to his high school sweetheart, Aimee, for 17 years, Mac has a full house with five children, four GRAMMY awards, and 24 Dove awards. Since its start in Marietta, Georgia, in 1992, Third Day is still going strong. This year the group released their 12th album, Miracle, and appeared on 60 Minutes and Jay Leno's Tonight Show before heading out to lead worship at the 2013 Women of Faith Tour, "Believe God Can Do Anything."
"I'm a big believer in doing what's in your heart to do," Mac says. "What is it that makes you happy, what's your ultimate dream? God has placed those goals and desires on our hearts, so why not try to follow them?"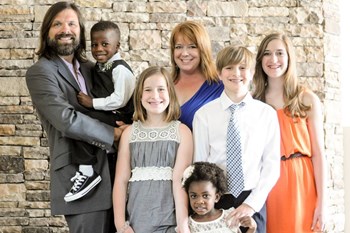 Image: Mac Powell
When he's not on the road with the band or as a solo artist (he released his solo country debut, Mac Powell, last August), he's spending time with his family in Atlanta.
"I'm home quite a bit more than what people think," Mac says. "We're never gone more than four or five days during the week—we're not one of those bands that leaves for weeks at a time. So we're able to manage it quite a lot better than people would think."
Familiar with global travel, here's what Mac had to say about keeping long-distance love alive and striking a balance between faith, family, work, and finding inspiration for over two decades of chart-topping CCM and mainstream music.
How do you manage marriage and family when you're on the road?
Cell phones help a lot these days, and Skype. When we first went out on the road, we had to go to a pay phone. There were no cell phones, so everybody was waiting all day for the pay phone. Now you can get in touch a lot easier. We're only gone at most 100 days out of the year, so that leaves 265 days where, for the most part, I'm home.
How do you and your wife, Aimee, stay close and overcome obstacles in your marriage?
We were high school sweethearts. I'm really blessed and honored to be with her. We learned at an early age that couples are going to fight and they're going to argue, so as an early married couple, we learned to do it well. I may raise my voice, and she may say some things she'll regret, but we've learned to talk about how we feel, to listen well, to not ever call someone a name, and to never bring up the "D" word—divorce. Never use that word. Even through anger and disappointments, we try to not say something we're going to later regret. It's a lot easier said than done. Sometimes how you feel is not the truth. But God is good and he loves us, and I like that Scripture in Jeremiah—he wants us to have a good life. That doesn't mean we're not going to have hard times, but it means through those hard times God is for us and not against us. We have to remember those words and be encouraged that God loves us.
You must have your hands full with five children!
They keep us pretty busy. Our oldest is 13, then 10, 9, 4, and 3 years old. Our last two were adopted, and they're amazing kids. They're driving me crazy right now, but they're really great. It's funny because when I first started having kids I was 25 or 26, and had a lot more energy than I do right now. Having a 3- and 4-year old again drains you, but it's so awesome.
How would you encourage people who aren't called to be rock stars to discover their God-given talents and gifts and live them out in everyday life?
I'm a big believer in doing what's in your heart to do. I have so many friends that have messed up in life because they went and got their degree in something they have no desire in working in because they thought they were going to make a lot of money. Some of them are, and they're still miserable. If I were to ask you what your ultimate dream is, why not try to follow that? Or at least do something like that? For example, my son is 10 years old, and he wants to play in the NFL. Odds are he's not going to be playing in the NFL, but he can still take that love for football and do something else like coaching or working for ESPN.
"I don't want my faith to be something I'm living on from 5, 10, or 15 years ago—I want my faith to be something that's real today."
You've been on the road touring for over 20 years—how do you keep your faith fresh?
We have a road pastor that's been traveling with us for over 10 years now, and he serves as a mentor and counselor on the road with us. He really keeps us grounded, keeps us in the word, and keeps us prayed up. The main thing is having him as a mentor and a counselor to talk through life on the road. Being surrounded by Christian brothers is another big part of it. I also want to be honest and real about my life on stage. I don't want my faith to be something I'm living on from 5, 10, or 15 years ago—I want my faith to be something that's real today.
You've inspired millions of people with your music, and have 25 number one hits. Talk through your songwriting process. How do you focus and find inspiration behind your songs?
For me it really starts with the music. If the music's not any good, then what's the point of being a band? My ideas come to me mostly musically, then I try to fill in the gaps with lyrics. So I'll be humming the melody, then thoughts of things I've read in the Scriptures, from someone who's been preaching, a thought that I have, or maybe a close friend is going through a tough time and I want to say something to them through a song. For example, our most recent title track, "I Need a Miracle," is based on a true story a couple shared with us after a concert in New Jersey. Their son was in a really depressed place in life. He drove way into the woods and was going to kill himself, but he turned on the radio and he heard our song "Cry Out To Jesus." It literally changed his heart and gave him encouragement to keep going. When you hear a story like that, it just blows you away. All of those different influences and those different ideas kind of come together to make the song. A lot of it comes from Scripture.
Is there a particular book of Scripture that inspires you?
I think the whole Scripture is very inspiring. The Psalms are definitely a big part of that. I've joked that I owe King David a lot of royalty money. But I also go through a lot of parables and stories Jesus tells—I've written probably five songs from the prodigal son story.
You've accomplished a lot in life. What would you say your dream or goal is before you leave this Earth? What legacy do you want to be known for?
I have this dream that's slowly coming true about country music. I'm trying to reach as many people as I can through that—it's a really cool opportunity to be able to be in two different genres playing music that I love. I know it's not the destination, it's the journey getting there, and I feel like that's the journey I'm on right now. I think also it's not all about setting new goals, but it's about maintaining the things you've already been working on. That includes continuing to stay strong in our faith, and continuing to get better as songwriters and artists and performers. You don't ever want to get to a place where you're stagnant about that. Jesus says I've come to the world to give you life and to give it to you abundantly, and it's not until we die to ourselves and follow God do we find what true joy and true peace and true life really is. It's important to remember the only hope we have is in Jesus—it's in his grace that he's given us. It's not in our works and the things that we can do, but in what he has done for us.
Subscribe to TCW's e-newsletter at this link for an opportunity to win free music from Third Day.
Read more articles that highlight writing by Christian women at ChristianityToday.com/Women
Believe God Can Do Anything
This slideshow is only available for subscribers.
Please log in or subscribe to view the slideshow.
Read These Next