No Need for Nooners
Why glitz, glamour, and midday romance have nothing to do with my marriage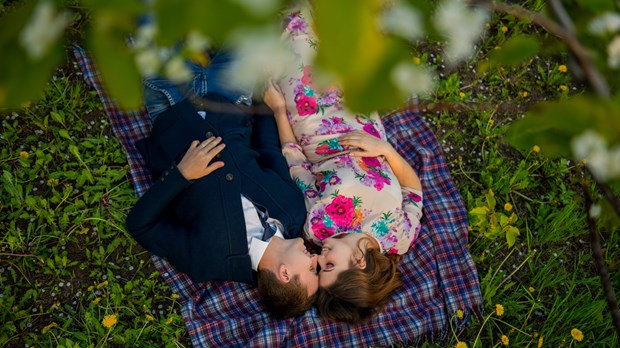 Image: VICTORIA NOCHEVKA / SHUTTERSTOCK.COM
A few weeks ago, against my better judgment, I found myself watching Keeping Up With the Kardashians, a well-orchestrated reality show designed to make viewers wish they were anyone else but themselves. The episode featured two have-not-seen-a-carb-since-Season One sisters, who, despite only being married for a grand total of 20 minutes, were comparing notes on what makes a relationship "work." Starlet Number One encouraged starlet Number Two to make time for "nooners." Have you heard of this? No longer is it enough that married couples squeeze in a date night amongst a laundry list of things to do, but now (according to the checked-out-of-reality divas) we should all be hiding out in the bedroom for some midday romance.
While they were giggling over how to spend their lunch, I fought back tossing mine. But as I watched these pillars of wedded wisdom go on and on about "perfect marriages," I couldn't help but think about how many other women were home resenting their own?
First, let me make it clear: the only thing my husband and I are interested in hiding at noon is the last cookie. And, after careful consideration, I can honestly say the most romantic thing my husband has ever done for me at lunchtime is let me finish his pizza crust. Clearly, I am not going to be followed around by a film crew any time soon. Which is really a shame, because I think the media and the mega stars are selling us a bag of goods when it comes to the good stuff. The really good stuff.
Having sex in the middle of the afternoon makes you a romantic about as much as standing in the garage makes you a car. There's a bit more that goes into it. And to compare drive-by love-making with actual love is ridiculous. Because here's the thing: romance is lovely. But it's the stuff that happens between date nights (or noons) that matters more than what's happening between the sheets. Perhaps so many marriages are currently crashing and burning because we are constantly given the message that if we are not fanning the flames of desire 24/7 we are not in passionate relationships. Hogwash. I've been fortunate enough to be with my husband for more than a decade, and love looks just a bit different with a couple miles under the mattress.
Sadly, judging by Ms. Just Married Mega Star's detailed list of "what makes a relationship work," I'm afraid she probably doesn't have that kind of staying power. The kind that comes from investing in verses like 1 Corinthians 13: Love is patient and kind; love does not envy or boast; it is not arrogant or rude. It does not insist on its own way; it is not irritable or resentful; it does not rejoice at wrongdoing, but rejoices with the truth. Love bears all things, believes all things, hopes all things, endures all things. Love never ends. (And just for the record, all modern-day starlets, those verses get credited to the Apostle Paul, not Taylor Swift or Justin Bieber.)
Love endures all things. All things. I don't know an (honest) woman alive who hasn't admitted that on more than one occasion the sound of her husband chewing his sandwich made her want to lunge across the table and silence his lip-smacking with a blunt object. (Most of those women have been married longer than I've been alive.) I have a girlfriend who was recently caught Googling "quickie divorce" after she had been trapped on the tarmac with her husband for more than three hours. Of course, they're still together.
Being pushed to the brink of sanity may sound like good enough reason to bolt, but staying, enduring, has its rewards too. The kind of rewards that come not from roses and rainbows and romps; but happen over bran flakes and brake pads and braces, when the two become one flesh (Ephesians 5:31).
My marriage is not glamorous. We will never be featured on any talk shows or quoted in any tabloids bragging about our sex life, communication skills, or relationship insights. But I'm staying. Maybe because he has the most recognizable gait of any person I've ever met; and when I spot him half a block away, I still smile. Maybe because I know the first tee-shirt he'll wear out of the dryer. Or because I know the laugh that makes him throw his head back. He is quick to joke, slow to apologize, and an above-average cook. And when I see him standing at the sink, a dish towel over one shoulder, scraping leftovers into Tupperware, I think, I could spend the rest of my life getting to know this man. That's when all the glamorous television banter in the world takes a back seat. Because that's a passion to be proud of. And it doesn't even have to be noon.
Helen Coronato is all about homeschooling her two boys, loving her husband, spending time with her girlfriends, and trying to become more like the person Jesus intended her to be. Check out her projects and connect at www.helencoronato.com.
Read more articles that highlight writing by Christian women at ChristianityToday.com/Women
No Need for Nooners
Read These Next