Dancing Through Darkness
When I lost my sight, God gave us a new kind of vision for our marriage.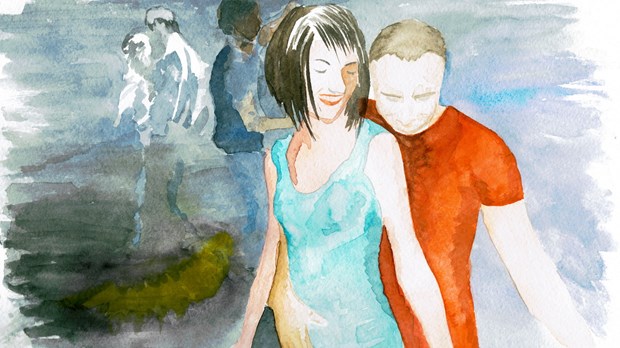 Image: N-2-S / SHUTTERSTOCK.COM
A crazy chica, that's what I was, crazy in love with Gene, my blue-eyed gringo.
"Oh, stop," I'd giggle at each of his silly compliments. Of course I didn't want him to stop. I thrived on his every "You look beautiful" and "Love you, my Juanita"—the nickname he gave me as he said he loved my Spanish accent.
His arm would wrap around my waist and lift me with one swoop, leaving me high with joy, the kind of joy that made my life sparkle.
He dazzled me. And I relished those moments when we detailed our dreams, lying beside each other on the pillow of love.
But no amount of romance, commitment, or devotion could have prepared us for the storm that would shake our world.
Losing Vision
The storm had a name—retinitis pigmentosa. What an ugly name. It sounded as distasteful as its effect on my retina. My father carried the gene and I had inherited it.
"You need to prepare," the ophthalmologist had said.
Prepare? For what? He never said the word "blindness" then. But subsequent eye check-ups revealed a rapid progression of my side vision closing in. Then the doctor said, "You might lose it completely." He paused. "Or you may not."
I hung on to those words, "you may not." I clung to that hope.
But months later, my side vision closed even more, with the progression moving way too quickly. Bumps into open cabinet doors, running into furniture, missing steps, and even bumping into my own sons became a daily routine.
By then, they were three, five, and seven. They needed me. And I knew God, good and kind, would never allow me to lose my eyesight. Not completely. Not when I attended church every Sunday. Not when I prayed so fervently to be able to do all the tasks a mom does.
But those tasks were not as risky as driving the car with limited vision. "Don't worry, "Gene said, "I'll do the driving."
Giving up the car keys was the beginning for him and for me. We both began a battle not against the disease, but with our feelings, ones we hid behind pride, behind fear, maybe both.
Both of us 31 years old and only eight years after we declared our vows at the altar, we were caught, unprepared and helpless. With each week, each month, more vision diminished. We nearly exhausted our bank account with treatments, visits to specialists, herbal healers, and even acupuncture.
But the pain of those needles around my eyes didn't compare to the pain I took to bed each night. Gene might have done the same. I didn't know. Our talks of romance and sweet phrases revealing what was in our hearts were lost in the midst of worry and uncertainty.
I prayed, asked, and begged. But God was silent. Gene was too. He never said how he felt about the evident loss of my vision. And, appearing to be in control, I was afraid to ask.
Learning to See
Some short months later, the dreaded moment came. I lifted my hand before my face and saw nothing. Not a shadow, no shapes, colors, or forms.
But the shape of the turmoil inside me and in our marriage was darker than my physical world. Suddenly I felt ugly, worthless, and like a burden for my husband.
He lay beside me in bed, distant. I dabbed my tears with the edge of the sheet. And although the eye disease was out of my control, I sensed I'd failed him. I'd failed us as a couple. And I was responsible for shattering the dreams we had.
Those dreams ended along with moments of intimacy. This change added to my insecurity, and I reasoned the emotional wedge between us was logical. Being blind, I was pitifully unattractive. He was now married, not to that bubbly young wife anymore, but to a blind woman.
The happily-ever-after he expected had turned to the worst.
Although he never expressed this to me, I assumed it to be true. I lamented those days of dancing the salsa of happiness as they had disappeared into heartache. They had turned instead to asking over and over again, "Why me?"
But this time, God wasn't silent. Ever so subtly, as with delicate dancing steps, God guided me toward the melody of his promises. A friend gave me an audio Bible. Day after day, I listened to verses until my ears smoked. God's promise that he would guide my steps, that he would be a lamp to my feet and a light for my path (Psalm 119:105), played a different rhythm for my days. His promises set a new sweet symphony of renewed courage, hope, and refreshing peace.
I had prayed, begged, and asked for healing. He did, indeed, heal me. But it came in a different way. He didn't grant me physical sight, but he give me spiritual 20/20 vision instead.
I learned to see with my heart. When I accepted God's love, his love had no conditions. His love, even when I was blind, feeling worthless and unattractive, was always strong and constant. Then reassurance came back, silencing the lies that echoed in my heart.
The emotional storm in our marriage was also silenced when I chose to draw my confidence, fulfillment, and significance from God's Word.
A New Vision
"Need to tell you something," I said to Gene one evening when he came home from work. "I don't want you to stay with me out of pity. I will understand."
What a thing for me to say. Of course I didn't want a divorce. But I wanted to give him the freedom to choose to stay not out of guilt, but out of devotion.
"I've made my decision." He held me tight. "I'll be committed to you and the boys forever."
That's when our relationship began to sway to a different beat. I saw beyond my blindness and into a new today, one filled with adventure and rekindled hope.
I figured out tricks to do the laundry, mop the kitchen floor, clean, and cook.
One evening, I fixed his favorite baked chicken. "Close your eyes," I said and, with careful steps, I carried a casserole dish to the table where he and our sons sat. "Careful, there's hot stuff coming."
"But Mom, that's not fair, you don't have to close your eyes," my five-year-old said.
"That's right. I don't. But all of you have to. It's a surprise."
We all laughed. I delighted in their chuckles. They needed to know the importance of a sense of humor. And Gene embraced the permission we all gave ourselves to laugh, to find humor in daily life, and to see the bright side of every instance.
My blindness turned to a new "normal" for us. And although I still fumbled with some chores, with each task, I expressed joy. Even when he took over the grocery shopping and helping our boys with homework, Gene saw in me a new young woman, stepping forward with a confidence I didn't have when I was sighted.
"Ah, honey, "he said one morning, "my underwear is pink."
Gulp. Separating the colors from the white clothes was a challenge for me.
I walked toward the dresser. "We'll take care of that," I said as I pulled them out one by one from the drawer. "God has a solution for everything." I gave him a wink. "This time it's called bleach."
"I learn from you," he said. "You have what it takes to move forward. That's a lesson for me."
What a switch. He was learning from me. Could it be in a subtle way I was showing perseverance, commitment, courage, and faith? While sighted, I had seen only what floated on the surface of our relationship. And, swirling in romance, I had hung on to the superficial.
As the years swept by, my disability had turned into the ability to see new meaning and significance—attributes that sparked his admiration. Intimacy came back. Our moments together are not limited to sweet talks on the pillow anymore. They hold a deeper meaning, a sweeter tone. They're laced with rich faith-filled passion for God and also for each other.
Heading out for a night of salsa, I put on my own make-up, fix my hair, and even do my own nails. Beyond his frequent compliments, he has to know that inside, I'm the same lively chica he married 36 years ago.
His arm still wraps around my waist. "You look beautiful," he often says.
Is that so? I really don't know. But I do know that I now dance through life, taking the steps to prove what he knows I am—a wife faithful to him, supportive through tough times, encouraging when his days are dark. And in spite of my blindness, helping him see the best of life.
Janet Perez Eckles is a writer who lives in Orlando with her husband, Gene.
Read more articles that highlight writing by Christian women at ChristianityToday.com/Women
Dancing Through Darkness
Read These Next