Finding Faith in the Cloud
Thousands of believers are plugging into digital community—are you one of them?
For a majority of history, God's Word was only available on paper within the bounds of two leather covers. In recent decades, however, with the explosion in popularity of tablet and mobile devices and smartphones, digital versions of Scripture have been jumping into cyberspace. Pastors approach pulpits toting iPads instead of Bibles, and the need for power outlets at spiritual retreats has increased significantly.
While church attendance and religious affiliation has decreased, smartphone and tablet use has increased exponentially. To date, more than 100 million people have installed the YouVersion Bible application on their smartphones and tablets worldwide. The emerging $25 billion app industry hosts thousands of topical Bible plans, and YouVersion leads users through studies including "Compassion and Justice," "Stepping Out In Faith," "Joy," and more, to studies hosted by Bible teachers and musicians including Joyce Meyer, Darlene Zschech, the Newsboys, and more.
Though many of these are studies tailored to individual participation, a group of women launched a community-focused YouVersion study called "She Reads Truth" in May 2012.
"The Christian life is personal, but it's not private," She Reads Truth's co-founder Raechel Myers says. "True gospel transformation is going to take place when we share our struggles and what God is doing in our lives."
The study is tailored to women seeking accountability in digital communities worldwide and rotates through a variety of topical studies throughout the year based on user request and demand. More than 20,000 women have engaged with She Reads Truth's studies including the Book of Hosea, "Songs of Ascent," "Prayer in the Bible," and more.
"The reading plans have been great to get me into a daily habit of spending time in God's Word," stay-at-home-mom Elizabeth Piasecki says. "Now it's more something I look forward to and not something I do 'because I should.'"
In addition to providing a downloadable YouVersion app, "She Reads Truth" offers users a daily blog written by one of several contributors as well as active engagement on Facebook, Twitter, and Instagram. She Reads Truth also sells merchandise: personalized journals and pens.
"I found their study on YouVersion and am obsessed with the content, layout, and how close it's bringing me to Christ," 20something user Bridgette Wells says. "It's laced with conviction and teaching all at once."
From fiction to Facebook
In a similar vein, best-selling author Karen Kingsbury has experienced success with the launch of a "New Testament Challenge" on Facebook. The idea was originally intended to be a collective study within her family, but quickly grew to over 8,500 members around the globe.
"I am so absolutely blessed every single day by this challenge," user Mary DePaul says. "I cannot tell you how much this study and fellowship has filled the loneliness in my life."
Though the study has several thousand followers and Karen is online every day, she's also passionate about the importance of physical church community.
"It's important to establish yourself in a group of women who study the Word, but it's also important to live it out together," Karen says. "Facebook isn't for everyone, and if you aren't feeling connected at church, you need to seek that connection as well."
Karen is actively involved with a small group in her local church community outside Nashville and sees the New Testament challenge as a way to encourage others and ensure faith remains an active part of her life and family.
Though she doesn't hold a divinity degree, Karen shares her thoughts on a chapter of the Bible every day and has received an overwhelmingly positive response from readers worldwide.
"I realized that part of my calling as a novelist is to touch lives and reach hearts that maybe would have never discovered Scripture otherwise," Karen says. "Who would've thought a Facebook post a day would stir the Word of God to life in all these different people?"
Bible apps for children
According to the Pew Research Center, 57 percent of tablet-toting parents have downloaded an app for their children. To meet increasing demand, the Christian Broadcasting Network (CBN) launched the "Superbook Kids Bible" iPhone app in March to support its Emmy-nominated children's television series, Superbook. The app spent two weeks in the top ten on the iTunes Book Chart, providing children a media-rich experience that helps bring the Bible to life with videos and images from the Superbook animation series as well as engaging, interactive games.
"Our vision is to bring the Bible to the children of the world," said CBN's CEO Gordon Robertson. "Mobile devices are a tremendous way to reach people anywhere, anyplace, anytime, and the Superbook Kids Bible app is a fun way for children to learn about God."
Allison J. Athoff is the editor of Wheaton Magazine. Follow her on Twitter at @ajalthoff.
Read more articles that highlight writing by Christian women at ChristianityToday.com/Women
Finding Faith in the Cloud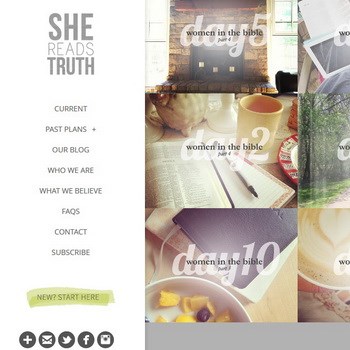 This slideshow is only available for subscribers.
Please log in or subscribe to view the slideshow.
Read These Next