Pray Without Ceasing?
Taking the plunge into constant conversation with God.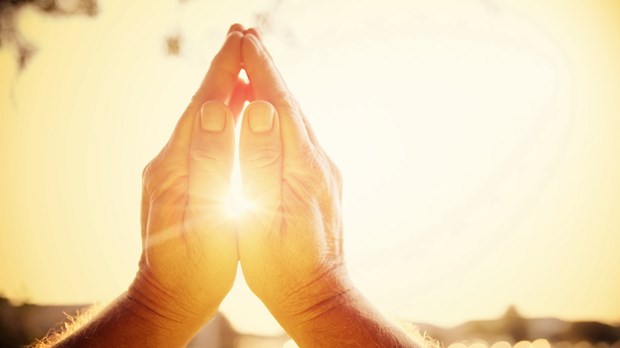 I recently attended a women's retreat where four women raced each other in a "multitasking mama" contest. Each had to send a text message, put in a ponytail, make a sandwich, apply mascara, and wrap a present. The winner, panting, curtsied as the women in the audience raucously cheered.
I can relate. Multitasking isn't optional in my life; I scurry around like a game-show contestant most mornings (and evenings). My prayers often consist of a hurried "Help me!" or a scattered "Thanks God!" But I don't think that's what the apostle Paul had in mind when he exhorted believers to "pray without ceasing" (1 Thessalonians 5:17).
If you are like me, you want a vibrant prayer life but don't know how to get there. Here are a few things I've learned about making continual prayer a reality in my frenzied life.
Dwelling with Christ
As believers, we do not shout our prayers out and up to the heavens like a wish slingshot that we hope hits the mark. God did something incredible in the person of Christ—he released us from worshiping in a particular place and time because he took up residence in our hearts. Romans 8:11 says that the spirit of Christ lives in us. We must first take in the truth that Christ is closer than our breath if we are to understand how to pray constantly.
I liken it to a swimming pool. When standing in the water, I am both in and out of the pool. My body is mostly submerged, but my eyes and ears continue to take in sight and sound around me. If I recline my head backward and float, I still hear life around me, but it is overtaken by the lovely muted quality of water.
Consider your conversations with God like this pool. At any moment, God invites you to toss your head back and enter into his presence. Although still "present" in the task at hand, you have the opportunity to soften the sounds of life and listen to his quiet whisper.
Constant Remembering
The truth of Christ's dwelling, closer than our skin, is the foundational relationship with God that makes "praying without ceasing" a possibility. But what do we pray about? Paul links joy, thankfulness, and petition in several places in his letters (1 Thessalonians 5:16-18, 2 Timothy 1, Romans 1:8-10).
Steadfast joy is cultivated outside of my daily circumstances. In Psalm 107, we see a theme of remembering what God has done in our own personal stories as the key to joy. In the business and busyness of life, I easily forget the miracles God has worked in my heart. But remembering his faithfulness, his mercy, and his love toward me in the past grants me peace in the present. It emboldens my heart in times of self-pity and convicts me when I fall for the illusion of self-importance.
Racing through life distracts me from this kind of thinking, so I keep a journal with specifics—ways that God has worked in my life, stories I've heard that remind me of his love. I might write down one sentence on a Post-it and stick it to my steering wheel or bathroom mirror.
This re-calibration of spirit throughout the day reminds me that I am dependent on God, even in the smallest details. It redirects me to God's will rather than my own because I remember that he is faithful and good. Richard Foster says about this process: "In prayer, real prayer, we begin to think God's thoughts."
Continual Thanking
When I call forth those memories of God's healing presence, there is only one response of the heart: thank you! These moments of remembering are opportunities to submerge myself in God's love and communion even as I continue my day.
Immediately following Jesus' resurrection, the disciples continually praised God (Luke 24:53.) Paul continually thanked God for the work he did in people, and Hebrews exhorts believers to continually offer a sacrifice of praise.
What might that look like? Continual thanking can be as simple as marveling at the softness of a rose petal or the tenderness of a child's heart. It might be an internal listening for God after seeing him through worship, creation, or his Word. It's an attitude of always giving him the glory for every good thing in life. Tomorrow is Sunday. I expect to offer my sacrifice of praise in a continual fashion through singing in worship, celebrating God's words spoken through my pastor, thanking him for the ways I'm seeing him work in a young friend's heart, and expressing my gratitude for health and strength when I go for a jog.
Persistent Petitioning
Throughout the gospels, Jesus teaches persistence in prayer—and belief in God granting our requests—as a mark of our faith. We are also told in 1 Corinthians 4:9 that we are God's fellow workers. Somehow, the God of providence also leaves room for our prayers to flex his plans. Our prayers do matter! There is no higher call than to be persistent in petitions to God. What do we petition him for? A quick glance at Paul's requests show him praying for the spiritual lives of those he had brought to faith, as well as requesting prayer for the ability to continue preaching and for his physical safety.
When I remember that my heart is Christ's dwelling place, it becomes easy to open my ear to hear a word from him in every interaction I have throughout the day. I'll take my Bible memory cards in the car to "take every thought captive to Christ," asking God to release me from fear, worry, or selfish ambition. I may then ask God to strengthen my children's teachers or bring peace in my co-worker's life. My grocery cashier who looks particularly harried, my neighbor rushing to work, the school bus driver: it all comes back to remembering that Jesus is closer than our skin. He is there dwelling within us, inviting us to a continual conversation with him. The result of that communion is a deep joy, a heart of gratitude, and faith-stretching petitions that open our eyes to God's very active work around us.
Martin Luther, the Christian theologian who inspired the Protestant Reformation, said: "The less I pray, the harder it gets; the more I pray, the better it goes." So jump into the water today. Believe the indwelt Christ takes up residence in your heart, and that continual prayer is as easy as reclining your head and joining the conversation.
Nicole Unice is a TCW regular contributor and contributing editor for GiftedforLeadership.com. She works in family and student ministry for Hope Church in Virginia and is the author of She's Got Issues.
Subscribe to TCW's free email newsletter at this link for weekly updates and chances to win free books and music downloads.
Read more articles that highlight writing by Christian women at ChristianityToday.com/Women
Pray Without Ceasing?
Read These Next