The Simple Life
My month-long experiment in mutiny against excess: I only wore 7 items of clothing for 30 days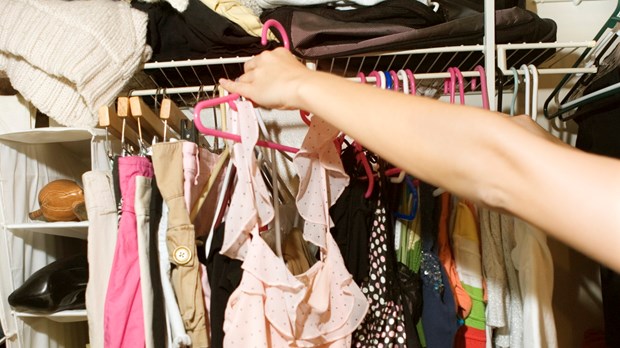 This morning my seven-year-old Caleb went to school in "matching clothes:" a green camouflage T-shirt, brown camouflage cargo shorts, and a gray camouflage hoodie. Back in the day I would've marched him upstairs to change into some Gymboree collection. But now? Three real kids later? I'm over it. This is not the hill I'm going to die on when I have bigger fish to fry, like raising them to leave my house one day and not move back.
Frankly, I've always taken my son to Target in his Batman costume and let my daughter wear a leotard and boots to church. It was never worth the drama—plus, there would likely always be another mom pushing a little Teenage Mutant Ninja Turtle around.
On any given day I wear jeans and a T-shirt. My style is utterly unsophisticated; I look like a college girl who rolled out of bed five minutes before class and has prematurely aged. Anyhow, I'm a simple, lazy dresser who doesn't spend much time thinking about my wardrobe.
Clothes are just not a huge deal to me.
Although that sounds true in my head, my closet tells me a different story. I counted, and have 327 items from which to choose. You read that right. No other category even comes close to this one in quantity. If I spent $20 on each item, that's $6,540 spent in the last five years. If the average is closer to $30, that means I've spent $9,810. This doesn't include anyone else in the family.
Sadly, I only wear a tiny percentage of these clothes. So while my mouth is yammering about my laissez-faire attitude toward my wardrobe, my hand keeps reaching into my wallet to buy more. If I am serious about addressing overindulgence and irresponsible spending, I need not look any further than our closets. I spend more just on clothes in one year than the average Ethiopian family earns in five.
Simplifying my wardrobe: 7 items for 30 days
So I decided to simplify my wardrobe. Here are the clothes I selected to wear for one month:
One pair of jeans, dark wash, kind of plain
One long-sleeved solid black T-shirt, fitted
One short-sleeved black 'Haiti relief" T-shirt with white print
One short-sleeved gray "mellow Johnny's Bike Shop" T-shirt with yellow print
One pair of gray drawstring knit Capri pants
One long silk dark brown dress shirt
Shoes: cowboy boots and tennis shoes
In case you don't fully understand some of the core items I chose to leave out of life for a month, here are a few pieces I left in the closet:
No coat (it was February when I committed to doing this)
No jewelry, except my $45 wedding band from Walmart
No accessories
No belts
This experiment began with this wee pile of clothes. I turned a blind eye to the four bars, six shelves, and one dresser full of other garments, and made peace with these seven items which I just realized are all black, gray, and brown.
At the end of the month, I observed that, first, wearing seven items of clothing was way easier than I expected. In my self-important mind, everyone would notice my repetitions and whisper about my wardrobe and people would obsess about my attire. You know what I discovered? Others aren't thinking about me nearly as much as I thought they were. Blending seamlessly into my environment, I brought up "my clothing situation" 100 percent more often than it was observed by anyone.
No one really cares.
You know what I discovered? Others aren't thinking about me nearly as much as I thought they were.
Shockingly, even I don't care as much as I thought. With the boundaries locked in, I lived this month unattached to "looking cute." And no one died. Ministry commenced untainted. Life carried on. I could live my real life on a fraction of my previous wardrobe, and nothing significant would be altered. In fact, the simplicity was a blessed relief.
In the grand scheme of things, "how I look to people" all of a sudden seems ludicrous. If my influence is linked to my wardrobe, then my ministry is falsely inflated and built on sand. A well-known ministry leader pulled me aside after I received my first multi-book contract and said: "Jen, stay especially connected to Jesus from here on out. With your age and persona, they will try to make a starlet out of you."
At the time that sounded ridiculous. I was a 29-year-old nobody with a vague notion of my mission. Yet that statement lodged deeply, and I was never able to shake it. In a culture that elevates beauty and style, the Christian community is at genuine risk for distraction, even deception. What do we truly admire in our leaders? Are we no different from the secular population, drawn to charisma and style above substance and integrity?
I hope not.
A different kind of beauty
I want to belong to a Christian community known for a different kind of beauty, the kind that heals and inspires. I can't help but remember Jesus, and how God made sure to mention he was plain and simple by human standards:
He grew up before him like a tender shoot, and like a root out of dry ground. He had no beauty or majesty to attract us to him, nothing in his appearance that we should desire him. He was despised and rejected by men, a man of sorrows, and familiar with suffering. Like one from whom men hide their faces he was despised, and we esteemed him not. Isaiah 53:2–3
There was nothing physically attractive about Jesus. He wasn't rich or notorious, well-dressed or handsome. At first glimpse Jesus was forgettable, neither standing out for beauty or charisma. Maybe this is why the widow, marginalized, sick, and outcast flocked to him. He was approachable in every way.
Jesus didn't garner esteem the conventional way, but make no mistake: He was noticed. He was loved by the outsider, hated by the religious elite, revered by his followers, and killed by his enemies. For a plain carpenter from Nazareth, Jesus sure found his way to the center ring; not through power or ruthlessness, but in subversion and truth. His humility appeals to the unloveliness in us all. We are drawn in by his simplicity, then transformed by his magnificence.
Oh sure, there will always be people who want Jesus in the Oval Office, on Primetime, across from Oprah, on the Red Carpet, spruced up by a stylist and touched up for the cameras. They try to assign him the power and public sway he always resisted; people want to make a starlet out of Jesus. But he insisted his power was activated in the margins. Jesus didn't redeem the world on the throne, but through the cross.
Subscribe to TCW
at this link
, and sign up for our
e-newsletter
to become part of a community of women striving to love God and live fearlessly in the grit of everyday life.
I don't want to consume the redemption Jesus made possible then spurn the methods by which he achieved it. Jesus' kingdom continues in the same manner it was launched: Through humility, subversion, love, and sacrifice; through calling empty religion to reform, and behaving like we believe the meek will indeed inherit the earth. We cannot carry the gospel to the poor and lowly while emulating the practices of the rich and powerful. We've been invited into a story that begins with humility and ends with glory—never the other way around. Let's align ourselves correctly, sharing in the humble ministry of Jesus, knowing one day we'll feast at his table in splendor.
After the suffering of his soul, he will see the light of life and be satisfied; by his knowledge my righteous servant will justify many, and he will bear their iniquities. Therefore I will give him a portion amount the great, and he will divide the spoils with the strong, because he will divide the spoils with the strong, because he poured out his life unto death, and was numbered with the transgressors. For he bore the sin of many, and made intercession for the transgressors. Isaiah 53:11–12
Excerpted from 7 by Jen Hatmaker. Copyright 2012 B&H Publishing Group. Jen Hatmaker and her family live in Austin, Texas. She has written nine books, including Interrupted andA Modern Girl's Guide to Bible Study. She and her husband planted Austin New Church in an economically and ethnically diverse, socially unique, urban area of the city in 2008.
Read more articles that highlight writing by Christian women at ChristianityToday.com/Women
The Simple Life
Read These Next