I Can't Get No Satisfaction
Scrooge McDuck and I have more in common than I'd like to think.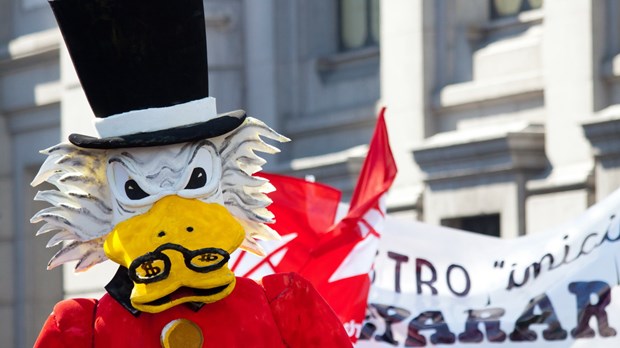 Remember Scrooge McDuck? The namesake of Charles Dickens' Ebeneezer Scrooge?
If he wasn't throwing fistfuls of gold coins into the air, Donald Duck's uncle could often be found swimming in or skiing down a huge pile of gold coins, with a wake of green bills flying behind him.
That guy was greedy.
It seems as if greed, though—recognized since the earliest decades of the church as one of the seven deadly sins—has in recent years really fallen out of disfavor. Sure, we'll point a webbed finger at someone as twisted as that miserly Scrooge—hucksters like Tolkein's Gollum, Wall Street's Gordon Gekko, Superman's Lex Luthor, The Simpsons' Monty Burns, or Gilligan's Thurston Howell—but we're now less likely to recognize greed as being problematic for our own lives.
Which—for Christians—is problematic.
That to incarnate that iconic Hollywood form of "greed" is largely relegated to those who are fictional, male cartoon-animated and not always even homo sapiens is convenient for someone like me: a real flesh and blood female person. Because if that's greed, then I'm off the hook.
In order to continue viewing myself as someone who's not greedy, I even wile my way out of Jesus' clear teachings about possessions. For instance, I'm not like the guy Jesus describes who builds bigger barns to store his riches. Bigger closets, maybe, but I can assure you I do not own even one barn (Luke 12:13–21). And while I appreciate Jesus' warning against storing up treasures on earth, where moths destroy, living in the South now means I haven't worn a wool sweater in years (Matthew 6:19). I can't remember my last moth incident. And if memory serves, it's the love of money that's problematic, not spending tons and tons of it on home decor (Hebrews 13:5).
Seriously, I'm like a genius stealth-ninja when dodging Jesus' teaching about greed.
How much is enough?
There are, though, a few of Jesus' words I've had a harder time wriggling free from. Namely, in the prayer Jesus teaches his followers to pray to his father, he guides, "Give us today our daily bread" (Matthew 6:11). And, to my ear, daily bread is simply a fancy way of saying enough. In this prayer, which is so fundamental to the Christian life, Jesus instructs us to ask for enough.
And although I'm not skiing down piles of money, I rarely stop at enough. Daily I consume more than my fair share. Any meal I've ever eaten that's been followed by dessert, is one where I've already had at least "enough" before shoving more fats and carbs into my pie-hole. The image of my pie-stained face is an apt one away from the dinner table as well: my home, closets, pantry, Visa bill, water meter, and waistband reveal the obscene discrepancy between "enough" and all I've got.
I'm not alone in my overconsumption. Will Samson, the author of Enough: Contentment in an Age of Excess, observes, "It's really no surprise that we consume so much, since our economy is based on the need for us to generate more economic activity in the next year than we generated in this one. Creating and selling bigger, better and faster products is the engine of our economy."
For those of us who never once question the way our economy has bred us to be "consumers," we may not even notice the myriad ways we're taking more than our fair share. Beyond economics, the issue becomes a decidedly spiritual one when our overconsumption blinds us to the way that God has been faithful to meet our needs. When we become unable to recognize the delta between what we need and what we've gathered above and beyond that, we may be trapped in the sticky and difficult-to-acknowledge web of greed.
When I look to faces like Scrooge McDuck or Monty Burns, I can easily convince myself that I'm not greedy. Or perhaps I comfort myself with the fact that I don't have as much stuff as someone else in my church or in my family. Or—this one's my favorite—I point an accusing finger at those horrible CEOs who make 729 times as much annual income as one of their factory workers. Then I'm free to over-consume without pesky guilt nipping at the heels of one of my 26 pairs of shoes. When I'm honest, though, these weak comparisons simply allow me to continue practicing the greed I enjoy.
5 ways to live greed-free and well
If we are to live differently, if we are to be converted, it won't happen by comparing our lifestyles to those of Donald Trump or Oprah Winfrey. Rather, we'll be converted as we set our eyes on the One who made us, and pray for fresh courage to live well.
1. Noticing Need
In a culture where we mindlessly upgrade phones and wardrobes and automobiles without batting an eye, many of us have lost sight of what we actually need. The first step to freedom from the grip of greed is to notice what we need. One year when I decided to purchase no new clothing, I was surprised to discover that there was not one single thing that I actually needed to add to my wardrobe that year! A real eye-opener.
2. Practicing Gratitude
Too often I've been guilty of waiting until the fourth Thursday in November to express genuine gratitude for all that God has given. As we begin to practice a regular pattern of gratitude, thanking God for the ways our needs have been met, we both honor the giver of daily bread and begin to notice and appreciate any "extra" bread we've been given.
3. Building Relationships
When I asked Will Samson what wakes people up to our overconsumption, he offered, "The only way I have been transformed in my life is through relationships. When you are in contact with someone struggling to pay their rent, or to find medical care for their ailing child, suddenly that must-have temptation seems optional at best. Consumption is not an economic problem, it is a moral one, and it needs to be addressed through relationships and communities." When we step outside our ghettos of privilege, we are set free in new ways.
4. Embracing Spiritual Practices
A rhythm of fresh spiritual practices is another way we can be set free from the stranglehold of greed. Regular tithing releases us from money's grip by helping us live into the reality that "the earth is the Lord's, and everything in it" (Psalm 24:1). Other smaller practices—giving away clothes we no longer use, eating just what our bodies need, turning off a steamy warm shower once we're clean—are further ways that we can agree with God that our needs have been met.
5. Honoring Sabbath
One particular spiritual discipline that offers freedom from our consumption addiction is the practice of Sabbath. Some families choose to make Sunday a day when they don't shop or eat out at restaurants. This day often becomes a surprising source of joy and freedom.
As a follower of Jesus Christ, I've learned that I simply can't make Scrooge McDuck the measure of whether or not I'm caught in greed's clutches. As I tip my face away from the absurd caricature, though, and toward the One who taught me to pray for daily bread, I am at last set free.
Margot Starbuck is a writer, speaker, author of several books, and a TCW regular contributor. Connect with her on Facebook or at MargotStarbuck.com.
Read more articles that highlight writing by Christian women at ChristianityToday.com/Women
I Can't Get No Satisfaction
Read These Next