Haute Couture in Haiti
How Dorcas Ministry Shop is revitalizing the economy—and women's lives—in Port au Prince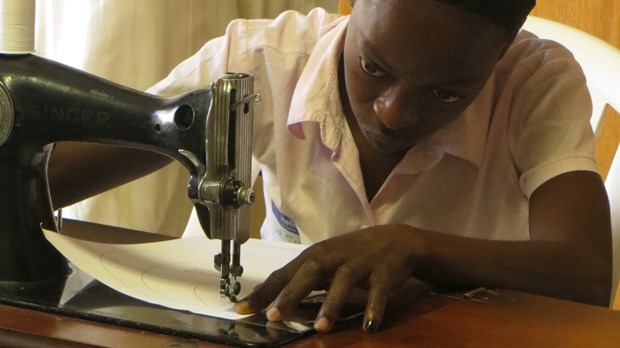 Image: COURTESY OF KIM HARMS
Life in the destitute nation of Haiti is hard. But through Dorcas Ministry Shop, God is using Esther Giunta to ease the burden of poverty for a small group of women in the capital city of Port au Prince. Just as Dorcas in the book of Acts is remembered for doing good and helping the poor, Esther's desire is for the bridal gown rental business to be an avenue through which the poor and the widows of Haiti can be helped.
Specializing in renting and selling reasonably priced bridal and formal gowns, Dorcas Ministry Shop offers a needed service to its customers and life-changing wages to its employees. Acquiring a steady income is a dream come true in a nation where the poverty rate is 78 percent.
When the shop opened in 2012, it not only brought to fruition an idea that evolved in Esther's mind over a period of years, but it also brought great joy to her mission-minded heart.
Becoming a missionary to Haiti
Though Esther was nearing retirement age when she first set foot in the country of Haiti, her heart for missions goes back to childhood. "I remember as a teenager I always wanted to go on the mission field. I've always had a heart for it," she said.
A preacher's kid, Esther grew up to marry a preacher herself. Through most of her adult life, she and her husband Pino's mission field was in the United States, but when they made the leap from shepherding an American church to caring for Haitians, they knew it was the right place and the right time.
Her brother-in-law and sister, Bill and Ann Nealey founded an organization called Mission to Haiti in the early 1980s, and Bill regularly encouraged the Giuntas to visit the country. "Bill would always say, 'Why don't you come to Haiti with us?' But we resisted. We just didn't feel the call," said Esther.
In 2006 Esther agreed to a short-term trip, and the country reminded her of the poor area in Italy where Pino grew up. "I came back home and said, 'It's (Haiti) what you know. Only it's a lot worse."
Months later, Pino resigned from his pastorate and the couple was added to Mission to Haiti's staff in January of 2007. Pino's personal testimony of an impoverished childhood has allowed him to reach Haitians in a way other people can't. And Esther's passion for the people has led to a business opportunity she could not have dreamed up on her own.
She originally planned to open a used clothing store with a supply of items that had been donated to the mission from abroad. "Bill kept prodding me to find a way to help someone earn a living with some of the (donated) clothes," she said.
A location for the store was secured in 2009, but Esther recalls preparations coming to a halt in January of 2010 when "the earthquake hit and everything changed."
The store became inconsequential when the third-world country's already impoverished capital city was decimated by a 7.0 magnitude earthquake. Esther vividly remembers the horrors of the quake, but looking back she also sees God's providence in the change of plans it set in motion.
Evolving plans
"It was my experience with a Haitian woman after the quake that was a turning point," said Esther.
Familise is a young mother Esther started helping in 2009, but it was seeing the woman near death in 2011 that changed Esther's focus from simply opening a store to finding a tangible way to help single Haitian women become self-sufficient.
For Familise and her four young children, including infant twins, every day was a struggle for survival after her husband was attacked and killed and his truck stolen in 2008. "We (Mission to Haiti) began giving her beans and rice and clothes and tried to help. And I had medical teams check on the babies and give them milk. But you know, it was an afterthought," Esther remembers.
When Esther became involved in a traditional Haitian wedding, her eyes were not only opened to a new cultural experience, but to a business opportunity that would benefit Haitian brides and employ destitute Haitian women.
Then in May of 2011, Familise got seriously ill. "We sent a nurse who found her near death," said Esther. It was over the course of Familise's three-week hospital stay and five blood transfusions that God broke Esther's heart for the many Haitian mothers who could easily suffer the same fate or become one of the many who turn to prostitution simply to put food on the table.
But Familise refused to become a prostitution statistic, and her testimony became Esther's catalyst to turn her desire to help into a thriving business. "Familise shared with her church that (even in the worst of circumstances) she just trusted the Lord, and the Lord was faithful. Learning that was a turning point for me. I knew I needed to go the next step," Esther said. But she wasn't sure what that would look like.
The next step
Then Esther was involved in a traditional Haitian wedding, and her eyes were not only opened to a new cultural experience but to a business opportunity that would benefit Haitian brides and employ destitute Haitian women.
Much like American weddings, Haitian weddings are a big deal. But unlike American brides who pore over magazines and try on dozens of gowns before spending hundreds or thousands of dollars on the perfect one, Haitian brides typically rent a wedding gown and gowns for their attendants.
After that wedding, Esther knew exactly what she wanted to do; open a store that rented wedding attire. "It gradually came about, and the Lord was just with it from the beginning," she said. Plans began to take shape as she acquired a number of used wedding gowns from the United States with the help of a friend.
Opening Dorcas Ministry Shop
Longtime friend of Mission to Haiti, Madam Benison was Esther's first hire. Then she hired translator Brunel to bridge the communication gap. He was a perfect fit with excellent language skills and business experience. But Esther said she saw God's hand of providence when she learned after she had decided to hire him that he is also a tailor by trade with experience on a variety of sewing machines.
"That had to be the Lord, because I had no clue. I'm realizing what a valuable gift God brought me through him. He provided just exactly what was needed and more."
"I need to stop asking the Lord to do it my way and instead just ask him to provide. He always does."
Because of Brunel's knowledge of the trade and his skills using and servicing sewing machines, Esther saw an opportunity to expand the business beyond dress rentals and to hire more of the poor women to whom her heart was drawn.
Esther arranged a free weeklong sewing classes for about a dozen potential employees who were handpicked by Brunel according to need. Three women showed great potential and were given part-time positions at the end of the week: Sonia, abandoned by her husband and left alone to care for their eight children in a makeshift tent; Mirlaine, a widow with two children; and Venette, a single childless woman.
Together they alter dresses and sew items to be sold in the shop. Because her employees possess exceptional skills, Esther hopes to utilize them to train even more workers as the Lord provides for business growth.
Remembering how Dorcas Ministry Shop came to be, Esther is amazed at the Lord's plan and provision. "We never know what the Lord is going to do. I like to tell the Lord, 'Do it this way', and then I'm surprised when he does it his way instead," she laughs. "I need to stop asking him to do it my way and instead just ask him to provide. He always does."
Read more about inspiring women in TCW's Living Beyond section, and sign up for TCW's email newsletter at this link for weekly updates and opportunities to win free books and music.
Kim Harms is a freelance writer living in Huxley, Iowa with her husband and three sons. In addition to writing, she operates 500 Dresses, a clothing ministry to Haitian children, and can be found online at kimharms.net or on Twitter at @kimharmsboymom.
Read more articles that highlight writing by Christian women at ChristianityToday.com/Women
Haute Couture in Haiti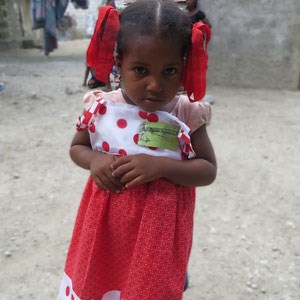 This slideshow is only available for subscribers.
Please log in or subscribe to view the slideshow.
Read These Next