How Far Would You Go?
Wendy Ploegstra, 32, uses her love for long-distance running as a way to bring clean water to Kenya.
Before dawn on a warm summer morning in June, nearly 20,000 runners gathered in Durban, South Africa, for Comrades, the world's oldest, largest ultramarathon. Wendy Ploegstra of Chicago, Illinois, was one of thousands of international competitors preparing to run 54 miles full of hill climbs from Durban to Pietermaritzburg in 80-plus degree heat.
"I had heard about the Comrades race about seven years ago and was intrigued by the difficulty and adventure of it," says Wendy. "I've been given the opportunity to run it for the past three years, but I've always had to say no—first, because I was pregnant, then because I had just had our son. Finally, after a lot of prayer and discussion with my husband, we decided we were going to make the sacrifice and the commitment to do it this year."
Though she is a seasoned competitor with 12 marathons under her belt, Wendy didn't arrive at her decision to compete in an ultramarathon casually. "It had to be something much bigger than just a race to give up the amount of time training would require," she says.
More than a marathon
Wendy began training for Comrades in December, six months before the actual event. A full-time nurse practitioner, she frequently would wake up at 4 a.m. and jump on a treadmill, finishing her workout by running the remaining miles to the clinic where she works. Though Chicago winters are not conducive to outdoor running, Wendy often would brave sub-freezing temperatures, snow, and ice to complete her training runs. As the weather improved, she'd bring her then-one-year-old son Maurice along in his stroller. At her peak of training for Comrades, she put in about 12 hours, or 80 miles, in one week.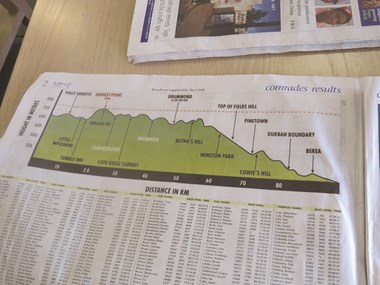 Image: Illustration of the tortuous Comrades route from Durban to Pietermaritzburg
"I like a physical challenge, and I wanted the Comrades training and race to be harder than anything I had ever done on a physical level," Wendy says. "I wanted to experience that closeness to Christ when you're going through something difficult.
Though training for Comrades was a part-time job, it was only half the battle. As a part of Team World Vision (TWV), Wendy also had to make time for fundraising for clean water, which was her main reason for running the race. She and her teammate, Anthony Halpin, joined forces and hosted several creative fundraising events and opportunities, such as kids' concerts, a yard sale, an adult concert and silent auction, and donor matches to increase funds quickly. Together they raised more than $100,000.
"In 2009, I ran the Chicago Marathon with TWV for the first time," says Wendy. "The night before the race, TWV hosted a dinner for all the runners. They shared stories of people who didn't have access to clean water, and they showed the difference it makes once they have it. Prior to this, I hadn't heard much about water. Plus, when I ran the marathon that year, I noticed I had much better cheer support throughout the race than in any of the prior nine marathons I had completed. Why is this orange jersey so special? I wondered while I ran. That made a huge impact on me. My reasons for running for TWV just keep building."
Making it personal
Soon after crossing the finish line in Pietermaritzburg, she and her teammates boarded a plane for Kenya to see some of the development sites where their donors' dollars had gone. It was there she began to understand why people cheered when they saw her orange Team World Vision jersey.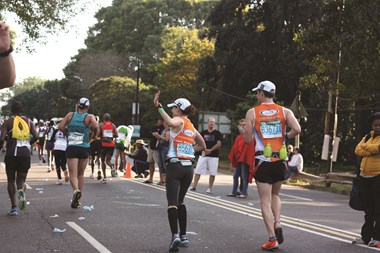 Image: Wendy's Comrades time: 9:18:02 (Photo courtesy of Simone Halpin)
The team toured three different communities, all at varying stages of transformation. Two of the communities were clearly benefitting from the life-giving changes clean water was bringing: marked improvement in the health in the children, increased school attendance since they didn't have to spend the majority of their day fetching water, better food security because of access to water for gardens and cattle, and the ability to create small businesses because families had more time to pursue other activities instead of just searching for water. The third community that didn't yet have clean water is where Wendy met Antony, her eight-year-old sponsor child. He was at risk of malnutrition, dehydration, and other sicknesses.
"When you have a child of your own, you feel a love for this little person that you didn't even know was possible," Wendy says. "I experienced a love for Antony and his father in the same way. Meeting them made it personal."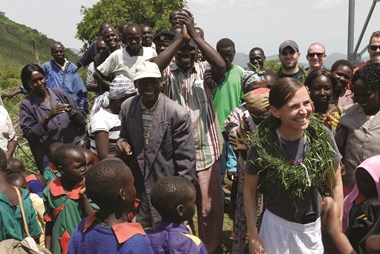 Image: Wendy Ploegstra with villagers at a local water project. (Photo courtesy of Chad Dykstra)
Going the distance
While Wendy admits that training and fundraising for the Comrades ultramarathon was tough, she's thankful for the experience. "It's been a long journey, and it's been difficult, but it's nothing compared to what our sisters and brothers experience every day on the other side of the world," she says. "I've been given a gift to run, and this provides a platform to highlight these needs and allow for a better life for others."
Marian V. Liautaud is editor of Today's Christian Woman. She also serves as editor of Church Law and Tax Resources for Christianity Today. You can follow her on Twitter @MarianLiautaud.
Read more articles that highlight writing by Christian women at ChristianityToday.com/Women
How Far Would You Go?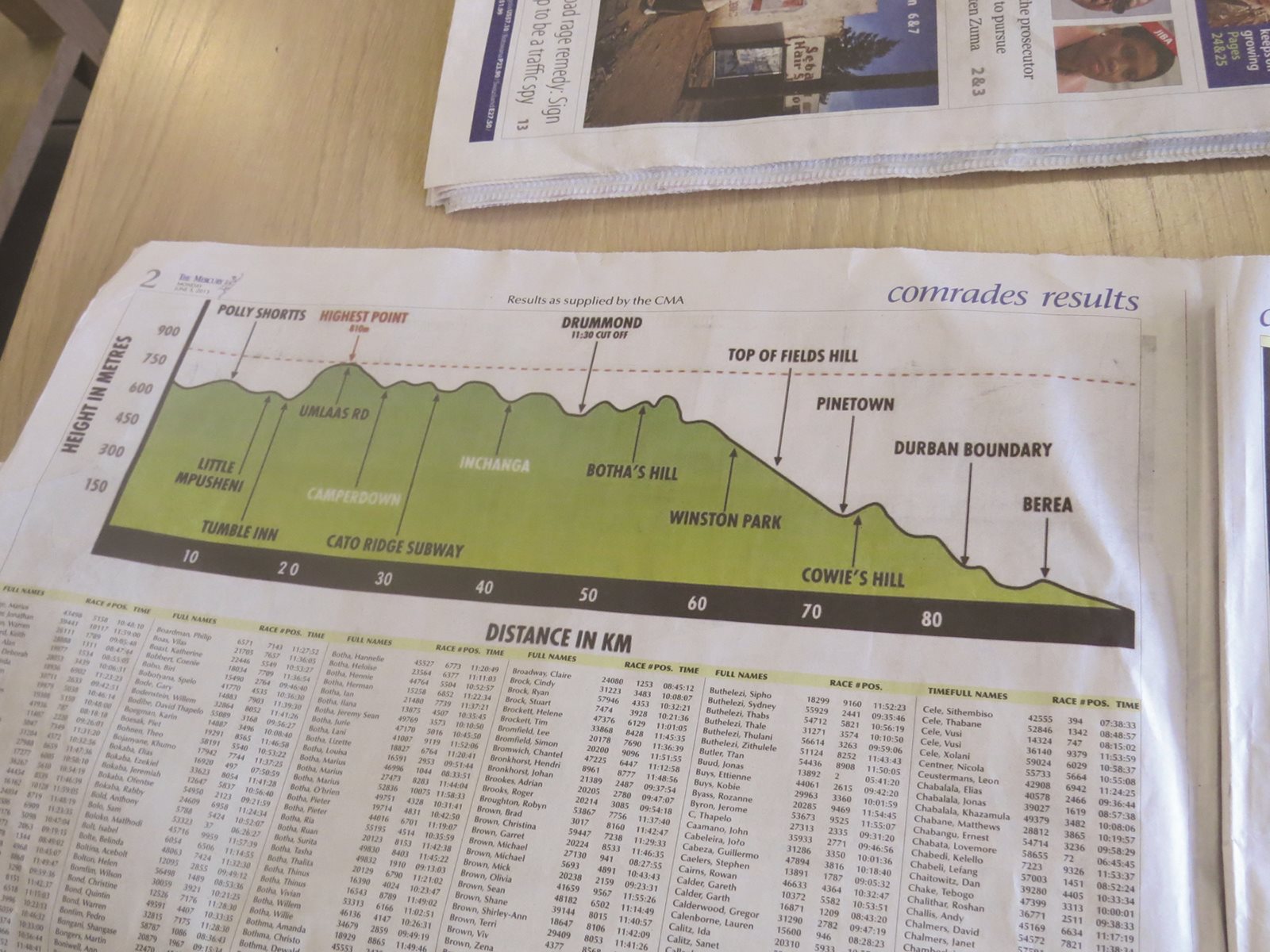 This slideshow is only available for subscribers.
Please log in or subscribe to view the slideshow.
Read These Next