Is It Okay to Be Sexy?
A healthy approach to marriage and modesty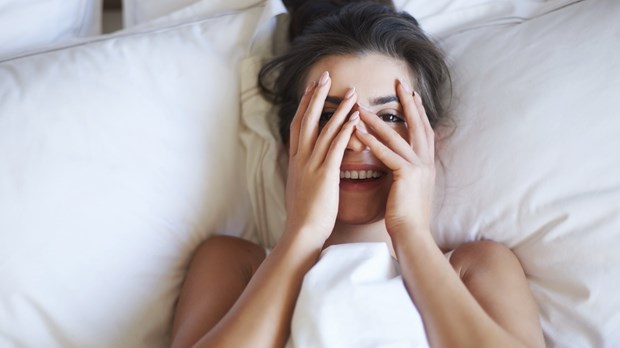 Much has been written for Christian women on the topic of modesty and most of it is addressed to single women. But do those standards of modesty change once you slip a wedding ring on your finger? If so, how?
Actress Candace Cameron Bure made this question a matter of public discussion with some of her statements regarding what she would wear on Dancing with the Stars. I think she communicates a wonderful balance: "I'm not gonna be your sexy girl. I'm a mom of three kids, so I want to look good and feel beautiful, but I will probably stay on the more modest end of costuming . . . I won't be the sexiest one out there," she said. "I am a mom, and I want to be a good role model for my children and my husband. But I think for each dance we'll wear what reflects the dance but in the most classy way possible."
While you probably won't have people blogging about what you chose to wear to work this week, you do have to wrestle with similar questions. Is it okay to dress "sexy?" Does modesty mean you have to wear burlap? Where should you draw the line?
Two Extremes
A married woman should feel freedom to wear anything and nothing in the privacy of her bedroom. But when she walks out of the house, she needs to be considerate of modesty. Just because your husband can look at your body, that doesn't mean other men should.
If you learned as a teen or young adult to get attention from guys by how you dressed, then you may still have that desire as a married woman. It can feel good and give you a sense of power when you attract the gaze of men. But remember: The power of your sexuality and beauty was given to you to captivate your husband.
This can get tricky, though, in marriages where the husband wants to "show off" his wife. He may want other men to be jealous of the woman he takes home at night. Your husband might even encourage you to dress a bit provocatively. But think about this: Is that really what's best for your husband, your marriage, and even the guys (single or married) who are tempted to take a second look at you?
On the other side of the spectrum are women who go to an extreme to avoid looking sexy. Perhaps because of body-image issues, or a fear of unwanted attention, or a misunderstanding of what modesty means, these women don't put any effort into looking attractive. I went through this stage when I was home every day with three little boys. To be honest, I was just too tired to care—not to mention that anything I put on was soon covered by spit up, pee, or leaking breast milk! But at some point, I needed to stop wearing sweatpants and get back to being a woman.
Modest . . . and Attractive
For most of our husbands, how we look is important—and not just how we look in the bedroom. Whether they say so or not, they appreciate us putting some effort into looking attractive. But we certainly don't have to cross the line of "sexy" in order to feel attractive. Save that for the bedroom!
Standards of modesty are impacted by culture and personal experiences. What is considered modest in rural Georgia may be very different from what a New Yorker considers to be modest. And what is appropriate at LA Fitness may not be a good choice for church.
Clothes (along with makeup, jewelry, and so on) should be an appropriate expression of who we are and should also take into consideration where we are. What do you want to communicate about yourself to the outside world? Like it or not, people form first impressions largely based on how you look. Modesty is about more than a list of rules of what to wear or not wear. It is a choice to express priorities, values, and personality without speaking a word.
Juli Slattery is a TCW featured contributor, and a widely known clinical psychologist, author, speaker, and broadcast media professional. She co-founded Authentic Intimacy and is the co-author of Passion Pursuit: What Kind of Love Are You Making?
Read more articles that highlight writing by Christian women at ChristianityToday.com/Women
Is It Okay to Be Sexy?
Read These Next