Faith in the Delivery Room
One woman's powerful decision in a difficult pregnancy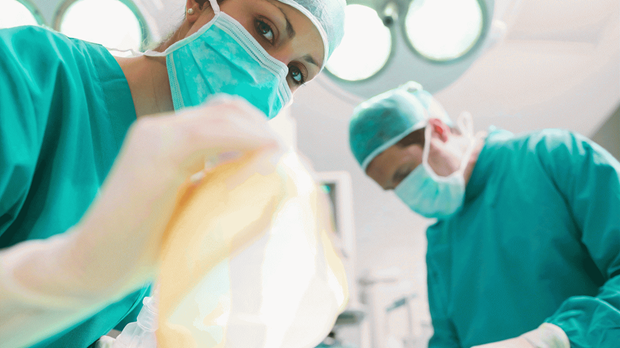 In November 2009, Johanna found out she was expecting triplets. Her first pregnancy, it was a time of joy and excitement for Johanna and her husband. Johanna is a delivery nurse and enjoys being a part of bringing babies into the world. But her pregnancy suddenly became a journey of trusting God in uncertainty when in early February, 13 weeks into her pregnancy, Johanna's water broke.
When it happened, Johanna wasn't exactly sure what was going on. "[The doctor] didn't think it was even possible for your water to break that early. So I just went home and did what I [normally] did," Johanna explains. It wasn't until the ultrasound two weeks later that she found out one of the triplets, the one she and her husband had named Nathan, didn't have enough amniotic fluid.
The news hit hard. "I just remember being in shock and not really believing what was going on. I mean, I knew better. I knew that meant that baby's not going to live," Johanna describes. "I guess I didn't even let myself think about that at the time." She sat in the doctor's office, numb, listening to their options. First, they could see what would happen. It would be a risk to keep her babies, because Nathan could possibly die in utero, in which case his identical twin, Noah, only had a 25 percent chance of survival. This option was grim, but Johanna couldn't begin to consider the alternative: "terminate and start over."
For Johanna, the shock of those words of finality reverberates even four years later. "I knew it was an option," she explains, "and I knew that doctors have to give you all of the options and possibilities, but it just never occurred to me because with our faith that's not something I would even think about or consider."
This option was grim, but Johanna couldn't begin to consider the alternative: "terminate and start over."
Many women in situations like Johanna's choose to "start over" by terminating a problematic pregnancy. It is estimated that in eight of the main industrialized countries (the G8) where these types of abortions are possible (including the U.S.), 30,000 to 40,000 fetuses with apparent birth defects were aborted in 2002. Abortion is often presented as a good option for women to safeguard their own lives or avoid the possibility of giving birth to a baby with lifelong health issues or a low chance of survival once born. But from Johanna's perspective, abortion is not necessarily the easiest choice. "There are side effects to everything," she cautions. "I know a lot of people sometimes think that abortion is the quick fix and can take care of everything. Mentally . . . it's not going to go away. If you lose a baby, it's always going to be there, it's always going to be part of you."
Johanna's advice doesn't only come from her personal experience. Research has shown that families who decide to terminate a pregnancy after discovering a problem with their baby are often unprepared for the psychological and emotional trauma they face for months or years after the loss.
Because of her faith, Johanna didn't consider terminating her pregnancy, even though the doctor presented it as a solution. She decided to take the risk and trust God. "I know that God put us in this place for a reason," she says. "He hopefully knows what he's doing!"
Praying Against the Odds
With parents as global missionaries, Johanna had people all around the world praying for her and her babies. Because her water had broken early, her babies were at a high risk for infection, which could then spread to her own body. As a delivery room nurse, she had seen a woman lose her life for this very reason. She knew the risk better than anyone, but she was determined to keep her babies for as long as she could. If she could carry them to at least the 24th week, they would have a significant chance of surviving.
"I know that if God can give up his one and only son . . . then I can give up my firstborn if I need to, if that's what he has planned."
Easter weekend, many of Johanna's prayers had been answered. She had been pregnant for 24 weeks and had escaped infection. But as she lay in bed, ordered to rest, her mind was full of what was ahead. The doctor had warned her of all that could go wrong for premature babies—eye problems, lung problems, developmental delays. Worse, she wrestled with the knowledge that Nathan, who had held on for so long, would probably not survive outside the womb. "That was always one thing I questioned, because Nathan and Noah were identical, from one embryo that split into two. Why would God make that one split just to take one away?" With these troubled thoughts, Johanna's eyes wandered across her bedroom and rested on a familiar shape in her bedroom doors. "For some reason I just saw the cross, and for Easter I remember thinking, I know that if God can give up his one and only Son, if that's what he's calling me to do, then I can give up my firstborn if I need to, if that's what he has planned."
A week later, her babies were born. Noah and Amelia survived and are healthy almost-4-year-olds. "My little miracles," Johanna calls them. Her third baby, Nathan, was "the little hero" who stayed alive long enough to keep his siblings safe. At his funeral, Johanna cried out to God that she would never have to endure the grief of losing a child again. But she did not lose her sense of hope and peace; God was in control.
Today, Johanna enjoys being able to encourage other women with her story. She remembers her dad telling her, "God gives you something to go through so that one day you can help somebody else go through a similar situation." She sees many patients in the delivery room who have high-risk pregnancies like she did, and their pain is familiar. "I know what it feels like to lose a baby," she says. "I know what it feels like to watch your son die in front of your eyes and to just feel like all hope and dreams are gone. I also know what it feels like to watch a little baby that's one pound struggling to live and not know if he's going to live or what's going to happen next."
Johanna says her experiences have enabled her to empathize with her patients, and most of all, she loves that she's able to give patients hope through her story, something others did for her while she wrestled with her decision about whether to carry her triplets to term. "To hear other success stories and know that God does miracles and can take care of these tiny, tiny babies" gave Johanna hope during her pregnancy and gives her energy to share her story with others today.
Hannah Roop is a senior English Writing major and editor in chief of the campus literary journal at Wheaton College. When not reading for class, she enjoys trying new recipes, taking yoga classes, and watching vegetables decompose in her very first backyard compost pile.
Read more articles that highlight writing by Christian women at ChristianityToday.com/Women
Faith in the Delivery Room
Read These Next