In Sickness and in Health
7 ways to prepare your marriage for tough times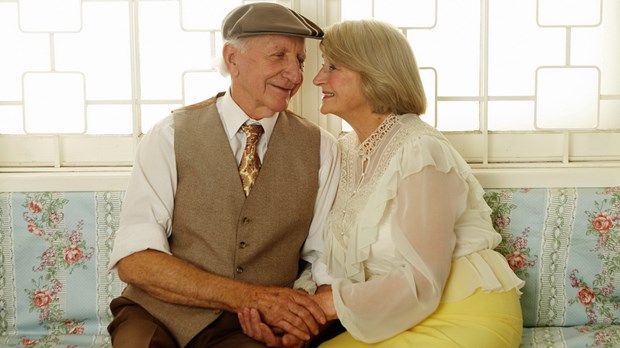 I had just stepped into the hallway when I saw it. One of the most beautiful things one could see: the undying love between a man and his wife.
A Love Story
Dad had been sick for some time already, and the cancer reduced him to about 85 pounds. Looking at him, I wondered if his transparent skin was the only thing left that held him together. He was too weak to sit up without being lifted, and up until two weeks before he passed on, Mom was his sole caregiver, waiting on him both night and day.
The evening we saw her stumbling to help him into his wheelchair was the night that my sisters and I knew it was time we stepped up. Taking shifts we stayed by his bedside around the clock. With six daughters popping in and out of the house, we spent our afternoons talking, visiting with our dad, and helping our mom around the house.
Pulling her close, he looked at her the same way you look at someone when you're about to have your first kiss, and it was obvious to me that they were still as hopelessly in love as the day that they met.
Keeping a spouse at home instead of the hospital was an incredible sacrifice for anyone—never mind the fact that our mom was 80 years old. But it wasn't until I spent the night at their house that I realized the extent of what our mom had been going through in recent weeks. But despite the hard work it took our mom, she served her husband joyfully.
She was the bride of his youth, and he was her groom. Pulling her close, our dad looked at her the same way you look at someone when you're about to have your first kiss, and it was obvious to me that they were still as hopelessly in love as the day that they met.
Waving my hand, I motioned my sisters to witness this beautiful sight. And while the three of us looked in from the hallway, we captured their moment and tucked it away in our hearts. Love, 60 years in the making.
A Desire to Grow
Isn't it funny how nothing ever seems to change from day to day, but when you look back on it everything is different?
It seems as though I'm always being asked, "What's new with you?" And I always come back with the same dull response, "Not much, you?" The truth is, everything is new. My kids are growing, my husband is maturing, and my dog has tripled in size this past year alone. On that note, can we stop for a minute and rejoice in the fact that I'm not wearing mom jeans, jelly shoes, shoulder pads, and mile-high bangs? Yes, even my closet has changed dramatically. More important than fashion, however, is the fact that I'm growing, I'm maturing, and I'm developing in my role as a wife.
It's good to love your spouse "just the way he is," but the best thing that we can do for ourselves and for each other is to support and encourage growth throughout the years. Consider the words of Paul in Philippians 3:12: "I don't mean to say that I have already achieved these things or that I have already reached perfection. But I press on to possess that perfection for which Christ Jesus first possessed me." Jesus pursued us. Before we were even conceived and before we were placed in the warmth of our mother's womb he knew us by name. He loved us. He longed to call us his own. What Paul illustrates here is a desire to grow in the grace of God, pursuing the One who loved him.
Each trial is another opportunity to grow strong in God's grace and prepare ourselves for tomorrow.
As I was sitting down with a friend the other day, we got to talking about pursuit. "Thirst doesn't make me human," I said. "I thirst because I am human." Pursuit is our response to the One who first pursued us. This thirst for God doesn't make me a Christian. But I can tell you without a doubt that I thirst because I'm a Christian.
Weathering the Storm
I long for growth, and I long for change that will further equip me in my roles as a wife and as a mother. I saw how important it was for my parents, and I know it's important for us. We may very well be in a good place today, but God prepares the heart for tomorrow.
If you would have asked me 25 years ago about the journey our marriage would take us on, I couldn't have even imagined the trials, the pain, or the joy we've experienced. Every turn has been unexpected, and every year brings new trials with it. Each trial is another opportunity to grow strong in God's grace and prepare ourselves for tomorrow.
Consider these seven ways to prepare your marriage for tough times:
1. Read the Bible. Blog posts, paperback books, and sermon podcasts are not the Bible. They're awesome (don't get me wrong), but the Bible is jam-packed with wisdom inspired by the Holy Spirit. There's nothing like it. If you struggle with reading, you're in good company. I failed high school English and couldn't get through an entire book until I was about 30. But once I started digging in and searching Scripture, God's Word came alive to me. I'm nothing short of addicted to God.
2. Pray. You don't have to get fancy. Talk to God like you talk to a friend. Invite him into your life throughout the day giving thanks, singing words of worship, and bringing your burdens to him.
3. Listen. One of the best ways that you can grow in your role as a wife is to listen intently. James 1:19 says, "You must all be quick to listen, slow to speak, and slow to get angry." I've come to learn that listening is more than simply hearing a voice. A good listener finds a way to hear the heart of another. A good listener is compassionate, empathetic, and full of grace.
4. Communicate. If you really want to grow as a couple, communicate with your husband. Share your needs and listen to his.
5. Fellowship. Get connected with strong couples who have walked this road before you. Learn from them, pray with them, and glean wisdom from them.
6. Stay Balanced. Don't let a hectic life pull you in a thousand different directions. Prioritize faith and family first, and be careful that you aren't compromising either of those. A balanced life is the sign of a well-grounded woman.
7. Walk in Virtue. Walking in virtue is a constant growing process. If we want to mature, then we must be willing to exercise those areas of our lives that need change. Exercise isn't pleasant. Nobody wants his or her patience tried. Nobody wants to exercise self-control when angry. But in doing these things, we grow in virtue and strength.
While there's nothing that can entirely prepare us for every possible situation we'll face in life, these seven practices will keep your faith and your marriage strong to withstand trials. As you seek the Lord with your spouse, remember that your shared goal is eternity with Christ, and your relationship is just one portion of his love for you reflected here on earth. Seek to serve one another, much like the beautiful devotion I see in my parents.
Darlene Schacht is the well-known Time Warp Wife whose purpose in ministry is to encourage wives to put God first in their lives. She inspires us to love our husbands and children, and to be good homemakers. In doing so, we bring glory to God. Her newest book, Messy Beautiful Love: Hope and Redemption for Real-Life Marriages (Thomas Nelson, September, 2014), delivers an incredible testimony of grace, offers hope for today's marriages, and will encourage Christian wives toward a God-centered marriage. For more information, visit MessyBeautifulLove.com.
Read more articles that highlight writing by Christian women at ChristianityToday.com/Women
In Sickness and in Health
Read These Next
Not Our Parents' Marriage

When their marriage didn't match Mom and Dad's, Brian and Jaime Lackey had to adjust their expectations.