Add Pie to Your New Year's Resolutions
How to pursue a well-ordered heart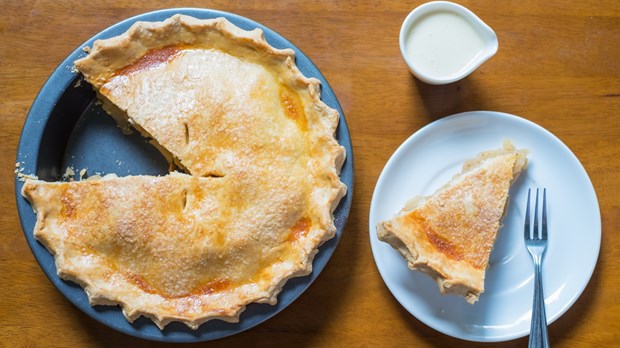 Image: W.TAB / SHUTTERSTOCK.COM
How do you like your pie? Perfect, even slices? A la mode? With whipped cream?
As 2015 has sputtered to an end, our thoughts turn to goals and plans for the New Year. We are finalizing budgets and operating plans at work. The calendar is filling up with all the things we want to accomplish. On a personal level, we resolve to exercise, eat right, and find better balance.
Ah . . . balance. What does balance even look like? There is much discussion these days on work/life balance. The truth is, though, maintaining a career, relationships, and faith is not about balance. It's about order.
John Ortberg, in his book The Life You've Always Wanted, explains the key to balance is actually a quest for a well-ordered heart. He says, "Spiritual transformation cannot be orchestrated or controlled, but neither is it a random venture. . . . We need a plan." When we don't plan for a well-ordered heart, we find ourselves managed by what's urgent, not what's important. When things are in the right place, however, we make better choices, perform better in our duties, and are simply better people. We are less jealous, less exhausted, and less selfish.
First Corinthians 14:40 says,"Be sure that everything is done properly and in order." But how do we find that order? Well, similar to the way we set priorities in our work, we need to commit to priorities in life as a whole. My well-ordered heart might look like this:
1. Love God, seek his presence, and give and receive grace
2. Love, spend time with, and serve my husband
3. Love, spend time with, and serve my family
4. Work and serve others
5. Rest
Picture your life as a pie. In this pie, the pieces are not all equal. Your spiritual life is the crust that supports the whole pie, and grace provides the flavor. The largest individual piece of my life/pie belongs to my husband, then my family. The rest of the pieces may be different sizes and shapes, depending on the season. Rest is the knife that divides each piece from the others because without rest, everything would all run together and have no beginning or end.
Just as it's hard to turn down another piece of pie, it's also difficult to turn down activities, especially if they are "good." If we fill up with too many good things, like volunteering at schools and serving on church committees, there may be no room left for what is truly best. A well-ordered heart helps us prioritize what is best in life and savor every sweet piece of it.
Add pie to your New Year's resolutions. Anticipate the blessings that flourish in a well-ordered heart!
Diane Paddison is a business professional and founder of 4wordwomen.org, local groups of professional working women committed to faith, family, work, and each other. Lori Berry is the Director of Operations at 4word.
Read more articles that highlight writing by Christian women at ChristianityToday.com/Women
Add Pie to Your New Year's Resolutions
Read These Next