Freedom Is a Cause to Celebrate
This Juneteenth commemorates 150 years of freedom from slavery.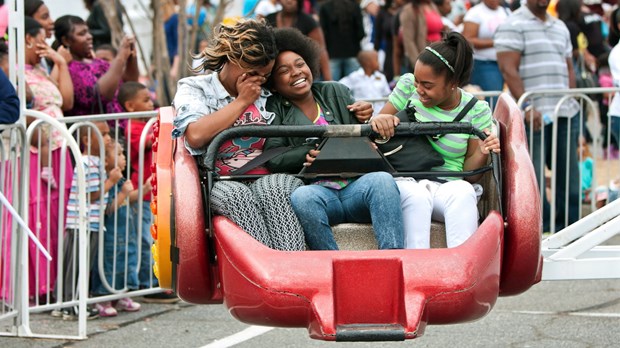 Image: BluIz60 / Shutterstock.com
The live music drew me toward the stage. I passed traditional African and African American food vendors with piping hot cuisine and perused the tents promoting religious or social causes as I meandered toward the locally known rapper. Smiling with my friends, I observed the masses of people also in attendance. This was my first Juneteenth celebration.
Juneteenth Independence Day is an annual state holiday that celebrates African Americans' freedom from slavery. Congress, the District of Colombia, and 43 states (all but Hawaii, North and South Dakota, Montana, New Hampshire, Arizona, and Utah) remember the holiday every June 19. This year commemorates 150 years since slaves in Galveston, Texas, heard that the Emancipation Proclamation had freed them.
The Texan slaves heard the good news on June 19, 1865, two and a half years after the Emancipation Proclamation was enacted, and a month after the Civil War ended. Texas was the first state to pass legislation making Juneteenth Independence Day a state holiday, and the first celebration as such occurred in 1980.
Celebrations of Juneteenth may vary, but one thing stands out among all the festivities: community engagement. This is a significant way for African Americans to remember their heritage and take pride in their ancestors, who played a vital role in building the United States as we know it. Non-black members of the community are also invited to participate in the festivities, extending the meaning of "community" to the entire neighborhood at hand.
Celebrating Heritage
Some communities, such as Five Points in Denver, celebrate Juneteenth as a music festival—this is the celebration I attended last summer. In other communities, such as one in Harrisburg, Pennsylvania, the events are faith-based. Music and food still construct much of the festivities at this large block party, but because it is run by the Neighborhood Center of the United Methodist Church in Harrisburg, the music and purpose behind the celebration are inspired by Jesus Christ.
According to Vivian Thompson, the Neighborhood Center's executive director, the local celebration is a great outreach opportunity and a way for the community to take pride in its ancestors. It's also a chance for the neighborhood to remember its freedom from slavery, promote awareness of the holiday, and introduce local artists.
Building One Another Up in Christ
As Christians, we're called to build each other up, carry each other's burdens, esteem others as higher than ourselves, love justice, and be ministers of reconciliation. Juneteenth lends African Americans (and anyone else who'd like to join in) a regular opportunity to put these verses into practice. Centering on freedom and celebration, Juneteenth is culturally based, but it can have faith implications if hosted through a church organization or serve as a means of reconciliation. "It symbolizes the freedom from slavery but also the celebration in it—the fact that people, no matter what they were going through, were able to find things to celebrate," Thompson says.
Nineteen-year-old MaLaysia Mitchell began attending the Neighborhood Center's Juneteenth festival her freshman year of high school. "I celebrate it because I try to hold on to and grasp any tradition I have as an African American," she says. "There's not always an understanding of 'what does it mean to be an African American,' so I choose to go to Juneteenth because of the tradition aspect."
As a Christian, Mitchell says her local Juneteenth event makes her think about the Great Commission because many people attending may not know God. "It provides a time for conversation to come about, for discussion. Truly, lives can be changed and people can be encouraged. I admire and appreciate the opportunity that Juneteenth provides."
Equality and Freedom in Christ
Christians of all races have equal standing and freedom in Christ. In Galatians, Paul cites his confrontation with fellow apostle, missionary, and Jewish Christian Peter. Peter had stopped eating with the Gentiles because they didn't follow the same traditions as the Jews. Peter needed to be reminded that Jesus Christ fulfilled the old Jewish laws, opening up salvation to Jews and Gentiles alike.
Paul reminds the Galatians from whence their faith—and thus their freedom—came:
For you are all children of God through faith in Christ Jesus. And all who have been united with Christ in baptism have put on Christ, like putting on new clothes. There is no longer Jew or Gentile, slave or free, male and female. For you are all one in Christ Jesus. (Galatians 3:26–28)
Rather than live entangled in slavery to the law, Paul urged them to live in the freedom they found in Christ, his argument culminating in chapter 5:
So Christ has truly set us free. Now make sure that you stay free, and don't get tied up again in slavery to the law . . . . For you have been called to live in freedom, my brothers and sisters. But don't use your freedom to satisfy your sinful nature. Instead, use your freedom to serve one another in love. (Galatians 5:1, 13)
Juneteenth is a way for African Americans to celebrate their freedom and to remember their heritage. For African American Christians or any others celebrating with the African American community, this freedom runs even deeper. Freedom means we do not have to live in sin but can live for Christ, serving one another in love. As Jesus promised both physical and spiritual redemption, both physical and spiritual freedom are true causes to celebrate!
An Ongoing Celebration of Healing
The slaves in Galveston came into their freedom on June 19, 1865. That first Juneteenth they began a healing process—and it is a healing process our country is still working through.
Juneteenth is a part of the healing process. "First of all, we are called as Christians to forgive, to love our enemies, and to forget about past hurts and things that can hold us back because unforgiveness keeps you under the power of the oppressor," says the Reverend Bobbi Hogan, who has been on the board for the National Juneteenth Christian Leadership Council since its inception 15 years ago and serves as the reconciliation facilitator. "When people understand their neighbors' culture, they begin to relax a little bit," Hogan explains. "They begin to understand that everybody has some culture, and we need to learn to accept each other and find those common things. . . . Juneteenth is the perfect opportunity to bring some understanding among races if we come out and participate together.
"You can't legislate this kind of thing—it's a heart thing."
Katelyn Skye Bennett is a Jesus-loving journalist who believes that #BlackLivesMatter. She is studying sociology and journalism at Wheaton College and is elated at God's call to go to the DR Congo. You can read Skye's blog at KatelynSkyeBennett.com and visit her musician page on Facebook.
Read more articles that highlight writing by Christian women at ChristianityToday.com/Women
Freedom Is a Cause to Celebrate
Read These Next