Building Friendships Across the Racial Divide
Cross-cultural friendships take more than good intentions.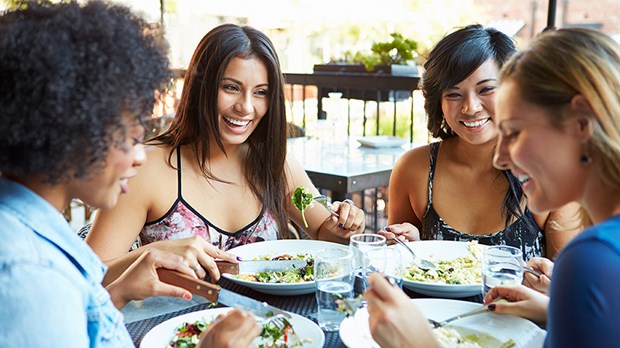 Have you ever heard someone talk about their desire for racial reconciliation, only to discover that the people they spend the majority of their time with look exactly like they do?
Have you ever been that person?
We can spend hours listing the ways we each benefit when we move beyond homogeneity in our lives, but it's crucial that we do more than merely talk about racial reconciliation. We need to actually build cross-cultural friendships. These relationships can stretch us in ways we never anticipated. The opportunities to learn from one another can be invaluable, greatly impacting our lives. But how are friendships across racial and cultural lines actually formed and sustained?
A Complex Blessing
If we want to develop healthy cross-racial friendships, we need to first acknowledge the complexities and challenges of those friendships. Yes, our differences are beautiful, but they can also cause misunderstandings—even deep hurts. Thankfully, there are many stories in the Bible that teach us what it looks like to form faithful friendships. Ruth and Naomi, Mary and Elizabeth, and the women surrounding Tabitha are all great examples of life-changing female friendships.
One story that's inspired me, particularly when it comes to cross-cultural relationships, is found in Exodus 2, where three women—Miriam, Jochebed, and Pharaoh's daughter—worked together to save the life of baby Moses. As these very different women risked everything to rescue Moses, their story reveals to us some of the ways faithful friendships can be formed across ethnic and socioeconomic lines.
1. They were drawn together by a common cause. The reason these women were drawn together is no mystery. Their connection was born of a determination to resist an unjust law. Whether or not they liked each other was of little consequence—their goal was to rescue Moses. They united around a larger cause.
Some friendships are the result of a chance meeting, and others a purposeful introduction. Some are formed in adulthood and others have grown with us since childhood. I love the beginnings of this particular biblical friendship because it speaks to the depth a friendship can reach when it's founded on a shared commitment to make the world better. We, too, can form cross-cultural friendships that are built around a common cause. A deep sisterhood can grow out of a shared passion. Despite any differences we possess, we are committed to walking together.
2. They treated one another as equals. Though these women came from very different walks of life, each woman was treated respectfully. Pharaoh's daughter, who had money, power, education, and prestige didn't chide, disrespect, or humiliate the women standing before her. She resisted treating them as inferiors.
Similarly, Miriam and Jochebed could have expressed disdain for the princess, seeing her only as a representation of all the negative experiences of their lives. But the slave women committed to seeing her beyond her relation to her father, treating her instead as the powerful, compassionate, self-willed woman she was showing herself to be. These women show us the importance of mutual respect—of being able to truly see one another.
3. The marginalized women led. It's fascinating that the princess followed Miriam's plan to find Moses a wet nurse. This powerful, privileged woman had plenty of time to change the plan as Miriam raced to retrieve her mother, Jochebed. Pharaoh's daughter proved she was listening to Miriam by confirming the slave girl's plan. Perhaps this is the ultimate sign that she respected the women who stood before her. Pharaoh's daughter didn't swoop in with her best-laid plans, assuming she should determine how the plan was to be executed. Instead, she affirmed Miriam's strategy, believing the young girl had created a plan that would work.
Nothing stalls a cross-cultural friendship faster than a lack of respect or an inability to release control or power. On the other hand, nothing grows a cross-cultural friendship like mutual respect and humility.
4. They recognized their differences. Pharaoh's daughter did add one thing to the plan, but what she added was costly only to herself: she decided to pay Jochebed for nursing and caring for Moses.
Now, we could be cynical and suggest that the princess only offered payment for a child who would soon be hers, but even still, Jochebed was just a slave. The princess didn't have to pay her anything.
I like to think the princess gave out of her abundance, in recognition of their different life experiences. I think Pharaoh's daughter didn't shy away from acknowledging the injustice that existed. The princess couldn't upset the system by herself, but she could undermine it by giving this family a wage.
In our friendships, we don't have to pretend we're all experiencing the world in the same ways. We must create space for acknowledging the disparities that may exist between us, and in whatever ways we can, seek to ease that pain.
5. The relationship was mutually beneficial and sacrificial. This was a risky relationship, but it worked because each of the women benefited and sacrificed for the plan. Jochebed and Miriam were able to keep their family together for a little while longer without fear of Moses being killed. Yet they knew the day would come when they'd have to release the child to the princess.
The princess let the family leave, believing they would bring the child back to her once he was weaned. Though Scripture doesn't explicitly state this, I wonder if the princess sacrificially faced a severe backlash from her father and from all those who were convinced Hebrew children weren't worth saving.
Our friendships require us to all step out in faith and make the relationships work. Lopsided friendships, where only one is sacrificing or benefiting, are doomed to end. Mutuality is key.
So what risky relationships will you form? How will you tear down the walls that keep us apart? Cross-cultural friends can be extraordinarily meaningful, if we will put in the work to ensure they also remain faithful friendships. May you come together with respect and mutual adoration, working together to build a friendship that will change your life, and, quite possibly, the lives of many you meet.
Read more articles that highlight writing by Christian women at ChristianityToday.com/Women
Building Friendships Across the Racial Divide
Read These Next
The Color of Love

In a neighborhood where racial barriers are a fact of life, Kafi & Rudy Carrasco are showing others there is hope for unity