The Myth of "Normal" Worship
Facing the assumptions we bring to church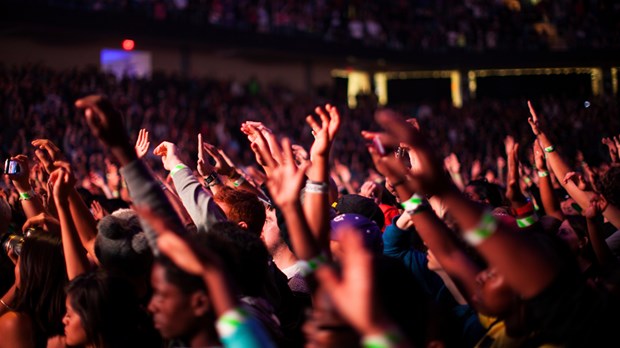 Image: BRIGHTSIDE CREATIVE / LIGHTSTOCK.COM
Peanut butter and jelly is a delicious American creation. Having grown up in America, I've regularly enjoyed it. It's also extremely efficient. Don't have time to make lunch? PB&J. Out of groceries? PB&J. Need some quick protein while writing a book on multiethnic worship? PB&J. It's normal for us to find peanut butter in our kitchen. But to what extent can we say it's normal? Consider the following story from Being White by Paula Harris and Doug Schaupp:
Every year the state sends an educational tester to [Holly's] classroom. The first year, almost all of the kids in Holly's class failed the basic academic test for kindergarten. They could not follow sequences. Their vocabulary was inadequate. The report came back concluding that the kids all needed special ed.

Holly's observation was, "This is a fairly average class. Maybe one or two could use some special tutoring, but most of the kids are normal. Some are very smart." So she asked the tester to return. As the test was repeated, Holly learned that to measure sequencing the white evaluator had asked each kid to explain the stages of making a peanut butter and jelly sandwich. This should be fairly simple for a five-year-old, but they all failed. Why? What was happening?

Holly realized, None of these kids eat PB&J; they eat burritos and tamales for lunch. They're all Latino. "Why don't you ask them what are the stages of making a burrito?" she suggested. All the kids but one passed this test. They passed easily, explaining clearly and sequentially how to make a burrito. That year they stayed out of special ed.
PB&J may be the most delicious cultural food that exists, but the fact is that the test assumed all American children would know how to describe its creation because it's so normal. When the church invites others to the table in worship, what assumptions do we make about what is and is not normal?
Normal Worship
Normal is something that occurs naturally: a pattern for how things should be. We use the word normal to describe not only what is but what should be natural for everyone. We are comforted by normal. We assimilate to normal. There is a lot of power in naming something as normative.
In the case of the PB&J kids, the assumption that they naturally should be able to describe how a PB&J sandwich is made limited how their intelligence was evaluated. Basically, PB&J is "normal," but arepas and spicy rice cakes are "ethnic." This similarly happens in the church.
Over decades of hosting conversations about worship, I have seen this principle applied in conscious and subconscious ways. We are normal, but everyone else has a hyphenated culture. We are normal, but everyone not like us is other. We do not realize that the way we do things is locked in a set of values and beliefs deeply influenced by cultural factors (denominational, generational, gender, ethnic, racial, and socioeconomic). The biggest barrier Christians face in developing communities hospitable to people of every ethnicity and culture is their ignorance about their own culture. We are unaware of what it means to be us and hyper-aware of what it means to be them. The hardest part of the journey for many of us starts with self-awareness. A few years back at the Willow Creek Arts Conference, I was asked to lead a seminar on worship and culture. The supplied title was "The Curse of the White Suburban Worship Leader."
Surprise! The curse was the fact that those who attended didn't know they had a culture. This eye-opening information invited them on a journey of understanding that their PB&J-eating culture was indeed ethnic. The energy was fantastic as people described their worship services to one another in contrast to the cultural expressions they had experienced in urban churches they had visited or worship they had experienced overseas. It made them move from describing their worship as boring or normal to more concrete values and descriptions. At the end of our time together they were more aware of their own culture. The reality is that we all need this revelation moment.
Good Worship
I was sharing a vision for inclusive worship with a multicultural community of college students. While the group was ethnically diverse, the leadership was not. That meant that the way we did things did not embrace all the ethnic groups represented in our community. People would visit and celebrate how many students of color were present in contrast to most of the other student fellowships, which were primarily white.
The community felt proud that people of different hues were present in the room, but that was not enough for me. What good was it to have a diverse community represented if the culture did not reflect the beauty of those communities? More than that, what about the other ethnic groups on campus who were not being intentionally reached? What if our community could develop spaces of hospitality where people of different ethnic backgrounds felt not only represented but also welcomed? I shared the vision and asked for responses. One of our leaders replied with energy and confidence, "Why do we have to try so hard to be something we are not? Why can't we just worship . . . you know normal worship? Why do we have to sing in Spanish? If we just have good worship, people from different backgrounds will come."
"What do you mean by normal?" I asked.
"You know, normal worship, regular worship," he said and went on to describe contemporary Christian singers and movements that were all white.
This is not just a white issue. I have heard these, or similar, words from churches of various ethnic backgrounds and generations. I have had conversations with African American worship leaders that were almost identical. These are well-intended but naïve words that invite deeper dialogue. We all desperately need someone to hold up a mirror so we can see ourselves. That is the beauty of diverse community: When we encounter those who are different from us, we have the opportunity to engage in conversation in order to understand them as well as ourselves.
Over and over I have heard the same thing: "Culture does not matter. Form and style do not matter. A heart of worship is what matters. If our worship is sincere and good, people will come." While that is a comforting thought, demographics don't support that as reality. The form and environment do matter to how people worship. I know that to some churches good worship means lots of movement. To others it means no distractions and places for reflection. Still, others believe the "anointing is obvious when you change plans," supported with comments such as "I don't know what the Lord is doing, but it's gonna be good." Another group might say good worship is prayerfully and intentionally planned by someone (often called a liturgist). Cultural preferences do matter.
Next Worship
The ultimate goal of diverse worship is not to have everyone at the same table. The image of the body in 1 Corinthians 12 pictures many parts of the body within the local church as well as in the broader church. Therefore, different churches will have different approaches to congregational worship, but we're all part of the same body and work together to do things that we can't do on our own.
To expect every church to be multiethnic would require regional churches since our neighborhoods are frankly not diverse. However, global and local partnerships across churches can allow us to create spaces to engage in ethnically diverse worship.
In worship we can connect our congregations with the global church in our community and abroad, regardless of the ethnic makeup of our own community. Imagine if through worship our churches confirmed that the banquet table of the kingdom is for all. This next worship is an inclusive and diverse table that embodies reconciliation and points to the future celebration of God's people from every tribe, tongue, people, and language.
Read more articles that highlight writing by Christian women at ChristianityToday.com/Women
The Myth of "Normal" Worship
Read These Next