Beyond Just #Blessed
Gratitude is more than a hashtag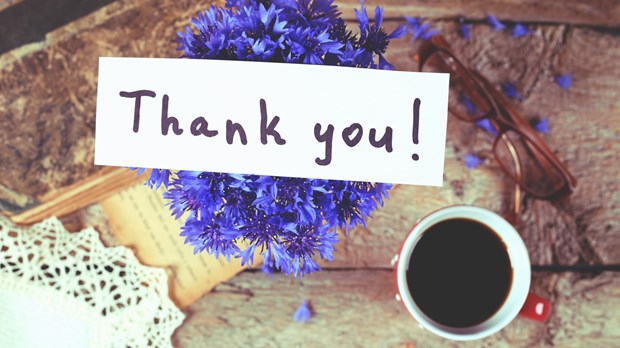 Image: FLIL / SHUTTERSTOCK.COM
Slightly off-center, a coffee cup with an argyle pattern sits, wisps of steam barely visible. To the right, a perfectly placed pumpkin scone. A tattered copy of Mere Christianity in the background and out of focus. The caption? "It's the simple pleasures in life! #blessed."
I posted this picture on Facebook 12 months and 2 weeks ago, and, embarrassingly enough, I wasn't even trying to be ironic. But since then I've realized how much I tend to minimize my thankfulness, wrapping it up with a trendy hashtag or appreciative sigh and then moving on to more pressing thoughts.
In the past year the Lord has reinforced the importance of leaning into those moments, taking the picture and even slapping on a hashtag but not stopping there. I want those glimpses of beauty to cultivate a deeper appreciation for all that God has created and done and will continue to do.
Life Lessons from Pumpkin Spice Lattes
One of my former professors likes to post pictures of fairly mundane things: flowers in a park, weeds peeking through a small crack in the pavement, a dog sprawled across her lap. But these images are always caught at just the right moment—light glints through the clouds, shadows lay the perfect background, or a unique angle offers a new perspective. And she always follows it with "#nothingisordinary."
Maybe there isn't anything outrageously beautiful about her pictures. Maybe it's in actively looking for the beautiful, in believing it to be present in every moment and from every angle, that we can truly see it. Maybe finding beauty, seeking it out, comes in acknowledging that nothing is ordinary, not a weed, a rose bud, or a puppy.
Embracing my professor's intentionality in admiring beauty, I am now attempting to revel in my thankfulness. I want to see thankfulness everywhere, from the extra cinnamon dusting on my pumpkin spice latte to the money in my account for an unexpected car repair. And when these moments arise as they inevitably will (we all have much to be thankful for), I want to press into that feeling. To grow overwhelmed with the Lord's faithfulness and provision.
The Theology Behind Thankfulness
The only way to live a life of sustained gratefulness is to cultivate a thankful heart—a heart that readily acknowledges the providence of the one who has never and will never disappoint. God is the one controlling the supply lines; he "will generously provide all you need. Then you will always have everything you need" (2 Corinthians 9:8).
Psalm 136 resonates with the idea that we should be showering God with gratefulness. "Give thanks to the LORD," the passage begins, "to him who made the heavens so skillfully" and "to him who placed the earth among the waters." We're not only to be thankful for creation but also for the active role God plays in it: "Give thanks to him . . . who parted the Red Sea," a God "who led his people through the wilderness," who "acted with a strong hand and powerful arm."
The chapter concludes by reinforcing the basic truth that God expresses his love through his care for us, and we express our love through our praise of him:
He remembered us in our weakness.
His faithful love endures forever.
He saved us from our enemies.
His faithful love endures forever.
He gives food to every living thing.
His faithful love endures forever.
Give thanks to the God of heaven.
His faithful love endures forever. (136:23–26)
Scripture exudes this kind of appreciation, even when expressed in unusual ways. The Samaritan leper's thankfulness came as a simple shout of praise. David's gratitude permeated his life and writings as he crafted the poetry of many psalms. And Mary's thanks? They came in the form of expensive oils and a humble act of service as she sat at the feet of Jesus just days before his crucifixion.
All You Need Is Love . . . and Thanks
"Thankfulness is a thread that can bind together all the patchwork squares of our lives," Adele Ahlberg Calhoun writes in The Spiritual Disciplines Handbook. "Difficult times, happy days, seasons of sickness, hours of bliss—all can be sewn together into something lovely with the thread of thankfulness." Intentionally being thankful brings structure and purpose to our lives. It becomes the adhesive that makes all the other pieces stick together, even the ones that feel impossible to be grateful for. After all, as Christians, we are commanded to "be thankful in all circumstances" (1 Thessalonians 5:18). Thankfulness is not optional—it's mandatory.
We all have cheerleaders, mentors, parents, and perhaps even strangers who have touched our lives and made us feel, even if just for a moment, like we were special, loved, and valued. And we all have those moments during a day, maybe it's catching a beautiful sunrise in the rearview mirror or finally being able to break a ten-minute mile, when we feel that brief stir, that nudge toward awe, wonder, and thanks. Don't allow these moments—these people—to pass you by.
When you express your appreciation for something, no matter how small or seemingly unimportant, others feel valued, realizing that their contributions are significant. And in a world where our plates are full and our hats are many, we need to know that we're making a difference. (There's also a clear biblical precedent for it: Boaz talks about his gratitude for Ruth, and Paul thanks God for the churches in Corinth and Ephesus.)
But gratitude isn't just good for the recipient—it's good for the person expressing gratitude too. According to one study, people are more likely to be friends with someone if she's appreciative. Gratitude givers are also less likely to feel aches and pains and more likely to take care of their health. Thankfulness even affects the psychological properties that contribute to one's mental health, markedly reducing emotions such as envy, resentment, and frustration. It also aids sleep, improves self-esteem, and reduces stress while boosting the immune system.
It's good to be grateful.
The beautiful thing about embracing this #blessed life, about finding reasons to say "thank you," is that it doesn't always require grand gestures like pouring out expensive oils or a skywritten message. It can also be as simple as a phone call, surprise gift, text message, or even Facebook post. And maybe when you let that feeling linger, as it feeds your soul, it's simply the act of meditating on all that you have and all that God has done that is the sweetest gift.
The language of thanks is universal, and it transcends our meager attempts to convey it. In this case, it really is the thought that counts.
Read more articles that highlight writing by Christian women at ChristianityToday.com/Women
Beyond Just #Blessed
Read These Next