Disappointed? Celebrate Anyway.
How I'm learning to embrace the life I have right now.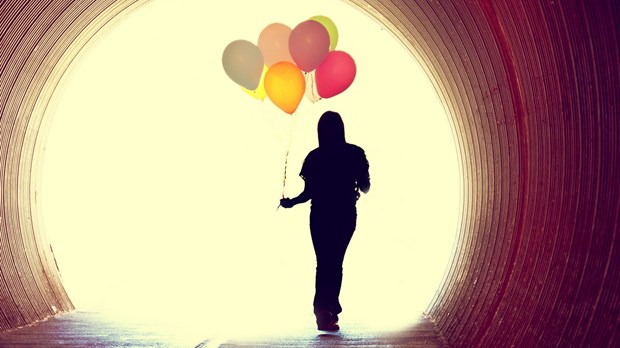 I'm not a patient person. And I like being in control. This obviously makes a great combination for a woman who's trying to follow God while life isn't turning out as planned.
All sarcasm aside, I've been struggling a lot over the past year to try to see God's hand in my life. The last few months have been wrecked with loss, and if I'm honest, it's hard to see past it.
I've also wrestled with wanting God to be a magic genie. Doesn't the Bible say, in Psalm 37, that if I delight myself in the Lord, he will give me the desires of my heart? And doesn't it say that if I ask, he will give it to me? I've struggled to reconcile these truths with the reality of the "here-but-not-yet" kingdom of God, as Dallas Willard once described it.
Heaven is not fully realized right now in our lives on earth, but Jesus has come and his kingdom has been inaugurated. We have a Father who loves us deeply, who rescued us through the death and resurrection of his Son, who bids us to bring our requests to him because he delights to give us good things. And it's been in this world of the here-but-not-yet kingdom—where sin and death still exist and where God is acting out his will—that we live. It's in this tension between brokenness and hope that I've struggled to keep my heart "alive" in the face of chronic disappointment. How does someone fight for her heart?
When It Hurts to Celebrate
I'm grieving over another birthday come and gone while I'm still single. I want a husband and I want kids, but right now, I'm spending my time congratulating friend after friend after coworker after friend on their pregnancies. And how do I reconcile that while I've struggled with mundane jobs (all the while interviewing for ones that would seem to be a better fit), friend after friend seem to be landing their dream jobs?
I've been told to have patience and to let God move in my life. Others have told me to pray like crazy for the things I want and then to put myself in a position for God to work.
But what does that really mean? How do I do that without being mowed over with disappointment? How do I protect my heart and keep it hopeful?
In Shauna Niequist's Cold Tangerines, Shauna notes how she remembered one season of her life as being difficult and not wanting to be present in it. She regretted it later, realizing that it was actually "rebellious to choose joy, to choose to dance, to choose to love your life. It's much easier and much more common to be miserable." Her words washed over me with conviction—I haven't been choosing hope, celebrating life, or enjoying my life as a gift.
She challenged me to see the "glimpses and whispers of the divine all through the daily . . . to believe that the world all around us is threaded through with divinity." I love her descriptions of embracing and relishing the day-to-day experiences of life.
Making a Plan
As I've walked through this seemingly long season of disappointments (which I hope is nearing its close), I began to identify tangible ways to keep my heart alive and worshiping God:
1. Make a thankfulness list every day. During this season, I've kept a daily list of people or things that I'm thankful to God for. I've recorded everything from the big stuff (like having a place to live and food to eat) to the smaller or sillier stuff (like the yellow tulips I see in the park or a smile from a friend). I intentionally thank God for them, nurturing thankfulness and gratitude in my heart (Habakkuk 3:17-18).

2. Put your hope in God, not in your circumstances. This is an intentional act for me—to choose to put my hope in God, not in getting married or getting a certain job. It doesn't mean I don't want those good things. I just want to make sure that I'm putting my hope in the one who doesn't disappoint (Romans 5:5).
3. Be present. I've decided not to "check out." After a very hard (and long, I might add) season, it was starting to feel easier to give up on dreams and not to engage with my life. It would be easy to choose apathy and become numb to my life by escaping into endless Grey's Anatomy episodes or Harry Potter books. But as daughters of the King, we are called to do more than just survive—even though that can feel like its own major feat at times! We're called to wrestle and to live with hearts that beat with a contagious love for Jesus. This isn't comfortable, but it is only with hearts that are truly alive—the kind that bleed and cry and laugh—that we can engage with the world, our heavenly Father, and ourselves. (John 10:10).

4. Seek God's presence. Sitting in God's presence while studying the Bible or praying probably isn't always a "quick fix" to your life, but it did change my perspective and fill me with joy because joy comes from being with God (Psalm 16:11; 28:7).

5. Serve. Through volunteering some of my time to working with kids at church, or giving up some Saturdays to help friends pack up boxes and move, or volunteering at my favorite local ministry, I've realized that God is able to redeem any situation I've gone through and will often use me in the lives of those around me (2 Corinthians 1:4).
This world is not our home—heaven is. But that doesn't mean we can't see God's hands at work here on earth. God is at work in our lives, here and now.
I hope that I soon get to praise God for the "just right" job and the godly husband that he (finally!) sends my way. Both then, and in the meantime, I will choose to "walk humbly with my God" (Micah 6:8). In this, not only will life be full of purpose and joy, but I will know that I will find rest in the one I am truly seeking: God himself.
Ginny Hrushka has been choosing thankfulness and putting her hope in God while living this past year in the outskirts of Atlanta, Georgia. Previously, she has done mission work in mainland China and Hong Kong after graduating from Wheaton College. She loves herbal tea, praying, cherry pie, and a good book.
Read more articles that highlight writing by Christian women at ChristianityToday.com/Women
Disappointed? Celebrate Anyway.
Read These Next