Should Christians Do Yoga?
3 views on the fitness trend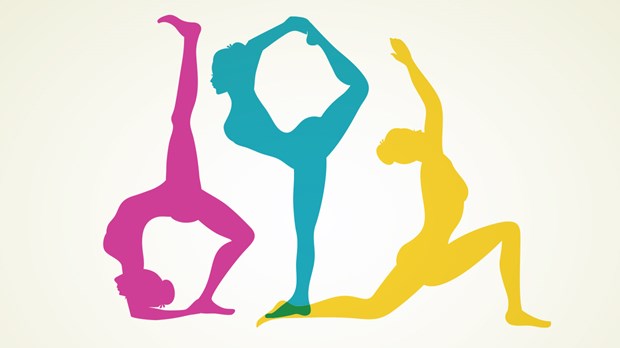 It seems like everyone has a different opinion about yoga, seeing it as everything from dangerous to life-giving. We connected with Laurette Williams (founder of PraiseMoves Fitness Ministry), Brooke Boon (founder of HolyYoga.net), and Jeannie Iseman (certified instructor and Christ-following yoga lover), and asked them to voice their opinion on the popular practice.
Yoga Is Hindu Worship
Laurette Willis
Having spent 22 years involved in yoga, I discovered, as many have, that yoga is an effective missionary arm of the New Age movement. As a child, yoga led me away from Christ when my mother and I began watching a daily yoga program on television (thinking it was "just exercise"). For the next 22 years I was heavily involved in yoga, metaphysics, and the New Age movement until I became a follower of Jesus Christ in my late twenties.
"Yoga poses are offerings to the 330 million Hindu gods," according to George P. Alexander, PhD. Originally from Sri Lanka, Dr. Alexander grew up in India. "Many Westerners who practice yoga today are unaware that the physical positions assumed in yoga symbolize a spiritual act: worshiping one of the many Hindu gods. To a Hindu, yoga is the outward physical expression of a deep spiritual belief. You cannot separate one from the other."
If they do yoga at your church, think about this: yoga means "yoke" in Sanskrit. It's a different yoke from the one Jesus referred to when he said, "My yoke is easy and my burden is light" (Matthew 11:30, NIV). What is a practice yoked to Shiva the Destroyer, the "Lord of Yoga," doing in the church of our Lord Jesus Christ?
Are there other ways to bring flexibility training into a Christian's fitness program without doing yoga? Yes! There are stretching courses, as well as Christian alternatives to yoga that incorporate stretching exercises with Scripture.
To quote Dr. Alexander: "My question for Christians who practice yoga is, 'Why would you want to better your body by aligning with a religious philosophy that contradicts the Christian faith?'"
Good question.
Laurette Willis is a Christian fitness expert and certified health coach. She is also the director of the internationally taught PraiseMoves Fitness Ministry.
Christian Yoga Can Fill You With God's Word
Brooke Boon
At Holy Yoga, we're not staunchly against the traditional (physical) practice of yoga, but our intent is to focus on ushering people into the presence of the Lord. We want to make the exercise experience more robust in terms of Scripture, and we see it as a chance to deliver the Word of God to non-Christians. The Word of God does the transformative work.
Every session starts with a time of centering—which is very similar to a traditional yoga class. Then we move to prayer, and then to the intention for our gathering: meditating on the Word of God. We want to make sure that we're focusing on something that will sustain us, so the instructor may share a story or a quote but will then read Scripture, because we believe Scripture has the power to transform people. Then, depending on the instructor's training and experience, he or she might even teach the Word. The most important thing is that we're creating space for God.
During our time together, we consecrate our breathing and mind to the Lord. So we have people focused and listening to God—heart, soul, mind, and strength—for an hour. At Holy Yoga, we have an amazing opportunity to bring the truth of the gospel to people who normally wouldn't hear it.
I don't necessarily think "traditional" yoga is dangerous—those are, for the most part, just secular fitness classes. But if you're attending a traditional Vedic class in which they're speaking from Hindu scripture, I'd be more careful. I don't want to take the totality of myself and offer it to anything besides God's Word.
A yoga practitioner since 1998, Brooke Boon founded Holy Yoga in 2006. Brooke is the author of Holy Yoga: Exercise for the Christian Body and Soul and co-author of Hatha Yoga Illustrated. A lover and teacher of God's Word, she writes and teaches over at BrookeBoon.com and The Mind Full Collective.
All Yoga Can Be An Act of Christian Worship
Jeannie Iseman
As a runner, I started taking yoga classes because my body needed a change of pace. On a physical level, my recovery time improved, and after awhile, I began to see the emotional benefits. The pace of the class challenged my hurried lifestyle. Each focused breath left me feeling more grateful for my body.
Most intriguing, I encountered the Lord on my mat. My yoga practice became my daily reconnection with the Lord. As my body unwound from the day, my mind untwisted deep-felt fears, unraveled conversations, and released burdens. I knew I needed to learn more, so I signed up for the 200-hour teacher training.
Often, I get an awkward pause after I tell another Christian that I'm a yoga teacher. I can respect their opinion. I have been part of the yoga community for more than a decade, and I too share some of their concerns.
However, just as the Lord has taken misguided things of this world and redeemed them for his glory, I believe that yoga can be a redemptive practice full of honor and praise to God. When the Holy Spirit is invited into a yoga practice, the time becomes worshipful, prayerful, and healing. This can be done even in a secular setting.
I choose my yoga instructors carefully, and I always invite the Holy Spirit to be present whenever I enter a new studio for the first time. As a teacher, I also try to provide my yoga community with the tools to experience the presence of God in their practice, under the safe covering of the Holy Spirit. If my students choose to practice at a secular studio, I know they are equipped to make any practice their own and give space for the Lord to work. I see yoga as a unique outlet to pray with your body, reconnect your body and soul in practice, and experience the power of God's truth—even in a secular setting.
Jeannie Iseman lives in Wheaton, Illinois, with her husband and two children. She is a registered yoga teacher and has been instructing for more than three years. She is currently studying The Spiritual Exercises of St. Ignatius and is working to incorporate the daily examen into her yoga practice.
Read more articles that highlight writing by Christian women at ChristianityToday.com/Women
Should Christians Do Yoga?
Read These Next