A Christian's Guide to Fasting
Get the skinny on this spiritual discipline.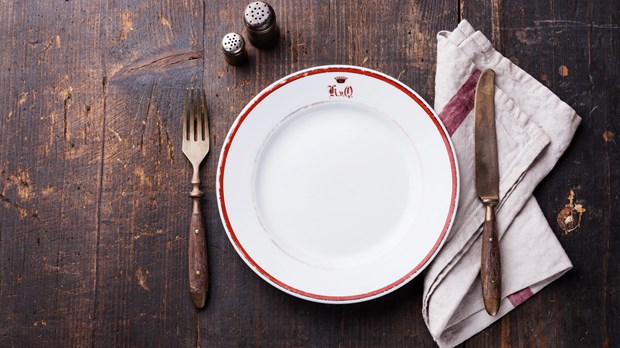 Image: LISOVSKAYA NATALIA / SHUTTERSTOCK.COM
"Lose 30 pounds to look like this celebrity!"
"Go out for dinner and buy this mouth-watering salad!"
"Eat vegetarian!"
"Drink this green beverage—all vegetables, no carbs!"
"Try this new diet fad!"
From SlimFast to protein shakes, fat-free to no meat, dietary fasts are certainly not dying in popularity. But a trimmer waistline or smaller pants size weren't the outcomes Jesus had in mind when he instructed his followers on how to act "when you fast" (Matthew 6:16–18). In fact, Christians are called to fast not to feel better but, oddly, to feel worse.
Ultimately, the discipline of fasting is about diminishing the focus on ourselves in order to intensify our focus on God.
Emptying Ourselves
"A fast is the self-denial of normal necessities in order to intentionally attend to God in prayer," Adele Ahlberg Calhoun explains in her Spiritual Disciplines Handbook. "Bringing attachments and cravings to the surface opens a place for prayer. This physical awareness of emptiness is the reminder to turn to Jesus who alone can satisfy."
Jennifer Dukes Lee, author of Love Idol, likens this physical reminder to a noontime prayer bell. Similarly, when Natasha Sistrunk Robinson, author of an upcoming book on mentoring, fasts from food, her grumbling stomach serves as a "simple reminder of spiritual poverty." Alicia Britt Chole, whose forthcoming book, 40 Days of Decrease, deals with fasting, adds, "I fast because I thirst: I thirst to love Jesus more."
The irony here is that in biblical fasting we temporarily deny ourselves food or drink because we hunger and thirst—for God. Satisfying this kind of craving goes beyond regimented dietary rules. In fact, Jesus' instructions on fasting and prayer are given in the same message that contains the Beatitude, "God blesses those who hunger and thirst for justice, for they will be satisfied."
Chole expounds, "My personal definition of biblical fasting is voluntary abstinence for the love of God. . . . In an age that idolizes more and many, fasting awakens us to the holiness of less and loss."
While fasting traditionally involves abstaining from food or drink, other forms of self-denial can also serve as meaningful fasts. One could abstain from pleasures, attachments, or cravings, such as television, social media, shopping, or even marital intimacy. We easily fill our lives with stuff, with our own pleasures, with our own self-interests. Many of these things are good as long as we don't idolize them, yet fasting invites us to empty ourselves to make more space for God. In that emptiness, we realize how much we need the Living Water to fill us. The Holy Spirit may convict us to fast or convict us through the discipline of fasting, and we can thank him for humbling us because it places us back in step with him.
We Are Broken, Grieving Vessels
For Robinson, fasting has been a "humbling act," reminding her that she's "in desperate need of God and . . . incapable of living, moving, and breathing without him."
Robinson doesn't say this lightly. She adds, "Fasting is my cry to God, in some cases, to make it right—for his will to be done on earth as it is in heaven, my agreeing with him as to what is right. It's a plea sometimes and a cry sometimes to make it right, to fix it, Jesus."
Robinson points to Mordecai as an important example as he fasted in the face of the impending genocide of the Jewish people in ancient Persia. The fast was at one level a physical act: Mordecai wore burlap and ashes while publically weeping, causing Esther to ask why he was in mourning. Yet this was a spiritual act as well, for the whole person is engaged in mourning during a fast, Robinson says. Fasting isn't simply a mental decision. At times, it is a physical manifestation of our grief. For her, it's an expression of brokenness.
Sometimes we can't do anything but fast and pray. Despite how heartbroken we might be about an injustice or sin or difficult situation, taking the issue straight to God is the best thing we can do. Rather than trying to alleviate grief with comfort food, television, or the company of friends—even wise Christian women—it may be best to fast from those things and enter into lament.
Often we can't control the circumstances that lead to grief, and we certainly can't control what burden the Holy Spirit chooses to place on our hearts. Lee says that when the Spirit prods her to pray for some suffering in the world, her own life, or with a loved one, her response is to fast. Recently, she gave up her Tuesday lunches to use that time to pray for a friend who was suffering.
Like Mordecai, the Israelites, Joel, and countless others in Scripture—we too may be broken over some situation, sin, loss, or heartbreak. "If we never, ever are broken [as Mordecai was], then that's probably a good indicator that we're either not paying attention or we need to be praying for God to do some work in our heart," Robinson cautions.
Now Love Overflows
The discipline of fasting is useful for more than just expressing grief. For example, we can fast in repentance, fast as we pray for guidance (2 Chronicles 20:1–30), fast to commission someone to ministry (Acts 13:1–3), fast with the church during Lent or some other religious observance, and fast simply to worship and show affection to God.
Chole says she fasts voluntarily "for the love of God." Rather than fasting out of legalism, when we fast for God love must be the driving force because God is love (1 John 4:8). God voluntarily sacrificed Jesus' life for our sin, and we voluntarily fast out of our need for him. As he sacrificed out of love, we fast out of love. "For the love of God is what makes a pursuit holy," Chole explains.
"Fasts that are pleasing to God begin with love for God and overflow with love for humankind," Chole elaborates, seconding God's forceful words to his people in Isaiah 58. She encourages us to "fast for the love of God. Without love, fasting descends into asceticism or bribery."
Likewise, Lee says, "Fasting always returns me to my first love. It always returns me to who I am in Christ, no matter what kind of fasting I do. Fasting, at its core, reveals my deepest hunger, and it reminds me who alone can satisfy it."
"Whether you fast social media for Lent or apathy year-round," Chole says, "the only thing that can make a practice holy is love. So fast with a longing to attend to Jesus more consistently, to see others through him more clearly, and to love him more completely."
Katelyn Skye Bennett is a former editorial intern at TCW. Skye is studying sociology and journalism at Wheaton College and is elated at God's call to go to the DR Congo. You can read her blog at KatelynSkyeBennett.com.
Read more articles that highlight writing by Christian women at ChristianityToday.com/Women
A Christian's Guide to Fasting
Read These Next