Are You Marriageable?
6 ways to become marriage material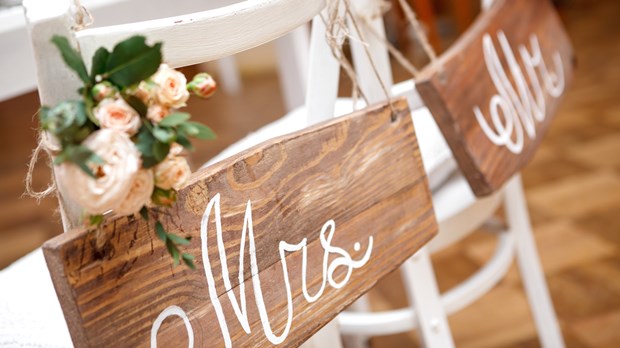 Image: PRODUCER / SHUTTERSTOCK.COM
Preparing for marriage is made up of a bunch of stuff. Some of it is stuff you need to do within yourself. Some of it is stuff you need to do for and with others. And some is stuff you need to learn about marriage and what goes into uniting yourself with someone else for the rest of your life. No small task, eh?
So whether you're dating right now or you desperately want to be dating right now, pay attention. These six things will grow you up and make you increasingly marriageable.
1. Get Tight with Jesus
If you're a Christian, this should be obvious. But so many Christian young adults today have absorbed a shallow, nominal, passionless faith that this deserves special emphasis.
So what needs to happen? Well, you need to get serious about your faith. It needs to infect your life, transform your heart, and be the catalyst for every one of your decisions. Your relationship with Christ is bigger and better than any of our other relationships. He's number one.
Here's what it's not. It's not merely knowing a bunch of Bible stories. It's not having grown up in church or youth group or gone to a Christian school. It's not having Christian parents. It's not being American, retweeting John Piper or Francis Chan every few days, or going to the Passion and Catalyst conferences every year.
Living reconciled to God is your Relationship 101, so put Jesus first, and keep him there.
2. Commit to a Local Church
You may think that loving Jesus is enough. It's not. Somehow this weird "Jesus and me" mentality has infected Christianity. We think it's okay to be lone rangers in our faith. In some cases, we want to listen to podcasts, watch popular preachers, hop in and out of small groups—even hike, ski, or otherwise spend time in nature—and call it church.
The Bible calls us to be part of a local church. A physical church with real people. The New Testament church kept lists of its people. It cared for its people. It broke bread together, shared things in common, and provided encouragement and correction. It also provided a space for the mandates of corporate worship and observance of the sacraments (Hebrews 10:24–25; Acts 2:42–47; 6:1–4).
We need the same.
Commitment to a local church provides accountability. Put simply, you need someone up in your business. This is why when I say "commit," I don't mean "sit in the back of a megachurch with your double-walled coffee mug and take in the show." I mean "get known by some people who won't forget you." If your church offers membership, join. Put yourself under the authority of godly elders, pastors, and leaders.
3. Take Responsibility
This is where you start mastering life skills and learning what it's like to be in the real world. It's everything from getting and keeping a job to managing your money, learning how to keep a household running, making responsible decisions, and taking care of the things and people entrusted to you.
It's also learning how to budge your time and talents. It's knowing when to work and when to play. It's knowing that work is good and should be done to the glory of God. It's knowing that play is also good and is to be used for refreshment and renewal, not escapism or idleness.
There's value in accepting challenges, taking risks, and doing hard things. Push yourself, and allow others to push you too. Sometimes the easy road is the right road, but sometimes it's just easy. Know the difference.
4. Lead Where You Are
You may be young. You may be on the bottom rung at work. You may not have a job at all. It doesn't matter. You're still a leader.
First, you're in charge of yourself. That's a start. We just talked about taking responsibility for our own lives. That should keep you busy.
But there's more. You are needed. Everyone (certainly every Christian) is called to serve where we are and lead if given the opportunity. It may be in a role with a big title; it may be in a small but pivotal moment where character is needed. In both circumstances, you're on display. What will you do?
Don't be afraid to be an example, regardless of your age. Remember the words of Paul to Timothy: "Let no one despise you for your youth, but set the believers an example in speech, in conduct, in love, in faith, in purity" (1 Timothy 4:12).
5. Love the People You've Got
I'll never forget the girl who stood in front of me, beaming, and announced that she couldn't wait to get married someday.
"That's so great!" I replied. After all, I wanted to encourage her interest in marriage.
"Yeah, I need to find a husband so I can get away from my family."
Um.
Look, I know family is hard, and you can't really trade in the family you were born into, but using marriage as an escape plan is hardly the solution. First, it's our call to live at peace with everyone (Romans 12:18). Intentional strife, hatred, and discord are not allowed. Second, you'll only take your poor relationship skills into marriage. No husband is amazing enough to please you all the time. If your current family bugs you, I guarantee your future hubster will too.
And it's not just family. How do you relate to those in your current sphere: family, friends, neighbors, coworkers—even your enemies?
Actively looking to bless and love those around you is a start. Are you an encourager? How are your listening skills? Are you a peacemaker in your circles, or do you spread gossip and try to one-up others when you can?
Growing healthy relationships is learning how to communicate, how to do conflict well, how to apologize and forgive, and how to own up to your mistakes. It's establishing healthy boundaries and knowing when to say no.
Above all, it's putting others above yourself, as Jesus did. It's something you'll have plenty of opportunity to do in marriage; you might as well practice now.
6. Actively Pursue Marriage or the Next Stage of Life
We should always be growing and looking ahead. Where is God calling us? What's that next step in our journey to adulthood? For those of you truly called to singleness, or celibate service, it may be a new ministry opportunity or friendship. For most of you readers, it will be marriage.
How do you begin? First you cultivate a love for marriage by understanding God's purpose for it. Then you champion God's view of marriage and your role in it.
You decide right now that marriage and everything leading up to it (dating and preparation for marriage) is to be approached with biblical intention. You resolve to keep God at the center of every decision you make from here on out. You allow him to shake up your plans and expectations. And you remain teachable.
Now's also the time to identify addictions, outrageous debt and spending pitfalls, past or present abuse, bad family patterns, and anything else that's holding you back from spiritual, emotional, and relational health. Get counseling if you need it. I'm a big fan of Christian counseling that is no-nonsense, targeted, compassionate, Jesus-centered, and has a goal.
The point is, God won't keep us where we are. And we should be ecstatic about that. So for those of you called to pursue marriage and who are in a position to do it, are you ready to get started? Because for most of us, we have to date first.
Lisa Anderson is director of young adults and Boundless.org at Focus on the Family, and she hosts The Boundless Show radio program and podcast. She is also the author of The Dating Manifesto, from which this adaptation is taken. © 2015 Lisa Anderson. The Dating Manifesto: A Drama-Free Plan for Pursuing Marriage with Purpose is published by David C. Cook. All rights reserved.
Read more articles that highlight writing by Christian women at ChristianityToday.com/Women
Are You Marriageable?
Read These Next
TCW Talks to ... Diane Paddison

Real-estate executive and author Diane Paddison on using our professional gifts, living our faith, and loving our families—all at the same time

Imago Gay

The key to truly loving your neighbors, whether they're gay, straight, or anything in between