Find Your Way Out of the Dark
Depression can feel like hell—literally. Here's how to journey through.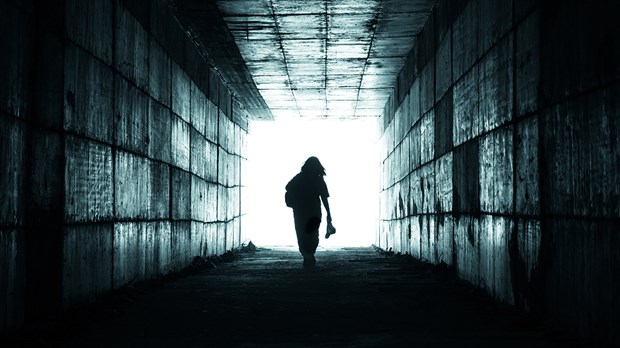 Image: ASAF ELIASON / SHUTTERSTOCK.COM
I was clinically depressed once.
The downward spiral began when lack of funds forced me to move off campus spring semester of my freshman year of college. Smoldering anger toward my parents and myself (because of the litany of bad decisions I made with a high school boyfriend) also contributed to my depression. Day after day I felt damned by God. For over a year, I was numb to every experience except the piercing pain within and the seemingly inescapable feeling of dead weight on my physical frame. It's a feeling with which those who are depressed are well acquainted.
Depression mercilessly tortures the soul it inhabits.
Theologians often speak of hell as separation from God and his grace. If hell is separation from God, then those who are severely depressed often feel like they are experiencing a living hell—separation from God—but also separation from others and separation from themselves. But depression need not be severe to wreak havoc on a life.
Glimpses of Grace
Since then, I haven't experienced depression to the same degree or duration. But like many, I've had a few very mild episodes of what has been called "situational" or "circumstantial depression." In the meantime, I've counseled and comforted many college students and parishioners who have suffered from depression.
Below, I offer some of the words of encouragement and spiritual practices that have provided hope and comfort to me and to others. These practices give us glimpses of God and grace in the darkness.
Know You're Not Alone
When you're depressed, you may feel like a pariah, a God-forsaken phantom human roaming the earth while you feed upon your shame and self-loathing. But you need to know this: being depressed doesn't mean you have a weak faith. Many faithful believers have suffered from depression (and other mental illnesses) or presently suffer from depression—people like King David, Elijah, Martin Luther, Charles Spurgeon, Mother Teresa, and Ann Voskamp.
Think About God's Delight in You
Depression cannot separate you from the love of God, even if you are numb to it (Romans 8:38–39). Being loved well is one way you are transformed into the likeness of Christ. Do you know deep down that God adores you and loves you? He is always excited to be in your presence, sort of like a screaming teen at a rock concert who swoons over a favorite singer—except this is God swooning over you. He is always beholding you with delight in the same way a mother delights in her newborn babe. Ponder on this truth.
Suffer in Community
Tell trustworthy people about your experience and ask them to journey with you. You need not suffer alone. Even God didn't suffer by himself. Remember what Jesus did in the Garden of Gethsemane, on the darkest night of his life (Luke 22:39–52)? He asked Peter, James, and John to be with him while he agonized over what he was about to experience. He wanted them close by. He desired their comforting presence.
Cling to Truth
In a depressed state it's far easier to swallow lies and embrace darkness than accept the truth. That's why it's of utmost importance for you to find ways to cling to it. Truth absorbed and applied transforms your innermost being. As you repeatedly rehearse the truth, your mind is renewed (Romans 12:1–2), and as a result, you can apply what you've absorbed. The main source of truth for life and godliness is Scripture.
God's Word is the two-edged sword you can use to combat and counteract lies that threaten to undo you (Hebrews 4:12). Pick a verse to sit with for a long time. The longer you meditate on that particular verse, the more nuances you will see and the more applications you may find. The Holy Spirit opens up God's Word at the surface and then you can continue toward transformation as you plumb scriptural depths. Or listen to an audio version of the Bible. Allow your mind to be refreshed and saturated by the spoken Word of God. I often listen to a recording of the Gospels or the Psalms at night. You could even contemplate a painting or icon.
And always listen to others who encourage you by speaking truth into your life. I remember battling lies from hell telling me that I'd never get better, that God hated me, that life was meaningless, and that no one except my family members would really care if I died. Thankfully, my brother and sister called me nearly every single night to combat those lies with truth. You need people constantly speaking truth into your life.
Continue Daily Rhythms and Hobbies
In depression, your tendency may be to pull back from life and others, but detachment is the opposite of what's good for you. Doing mundane household chores, showing up to school or work or church and engaging in once-beloved hobbies—especially when you don't feel like it—are essential for keeping you grounded in the present and reality.
Pray and Seek Prayer
Of course, depression may not be a result of your sins, but if you have knowingly sinned against God or others, it is crucial you confess your sins to God and trustworthy people so you can move toward healing (1 John 1:9, James 5:16).
Pray and give thanks for everything you can imagine, even if you're only thankful in your mind, not emotions. You'll reap the effects of focusing on goodness. Lean on the prayers of others when you're too tired or discouraged to pray. Sometimes it is the faith of our friends that buoys us up and leads to our healing (Mark 2:2–12).
Serve Others Often
Depression can make it hard to see others. It can sap the energy you have to serve. Without meaning to, or even wanting to, you can become self-centered or self-focused. Even if your depression doesn't lead to this, it'll do your soul a world of good to pour yourself out on behalf of others. It's important to continue the practice of serving others instead of completely withdrawing. Jesus' actions on the cross are an inspiration. When he was exhausted, suffering unimaginable physical and mental pain, being close to death, he served others. He served the thief on the nearby cross by assuring him that he'd be with him in paradise. He then turned to the apostle John and asked him to take care of his mother, Mary.
Play Regularly
Get outside. Fresh air and the natural world, no matter the season, penetrate numb senses. Enjoy the sunshine and the sounds of nature. Listen to beautiful music. Do whatever you consider to be fun. If you can't figure out what is fun anymore, join others in what they consider fun activities. The pulsating life of others and the beauty of creation will begin to pierce through your soul and bring you back to life.
Move
Exercise—walk, run, dance, or hobble. Move according to your physical ability. Find a buddy to join you and keep you accountable. Even choose to bundle up and take brief regular walks when it's cold outside. Our bodies become depressed too, and they need to be jarred back into life.
Seek Medical Attention
Taking necessary medication and admitting yourself into a hospital as needed are also spiritual disciplines. There are varying degrees of depression, and sometimes help from a physician is absolutely necessary. God has provided medicine and the medical community for our health, both physically and mentally.
Hope in the Journey
It's undeniable: depression is awful. It can be mild, dangerous, or even deadly. Being a Christian doesn't automatically shield you from depression, and there is no step-by-step magical formula for getting over it. The path to wholeness is different for everyone, and these practices can help.
Most importantly, know that you are not alone. There is hope. Many people in the church are willing to walk with you, to struggle alongside you in the name of Jesus. Please reach out for help.
I pray that even now, the peace of Christ would rest upon you.
Marlena Graves is a Minister of Pastoral Care at her church, having received an MDiv from Northeastern Seminary. She's the author of A Beautiful Disaster: Finding Hope in the Midst of Brokenness. She's also a regular contributor to Christianity Today's Her.meneutics and blogs at MarlenaGraves.com.
Read more articles that highlight writing by Christian women at ChristianityToday.com/Women
Find Your Way Out of the Dark
Read These Next