How to Improve Your Small Group
Best practices for a better Bible study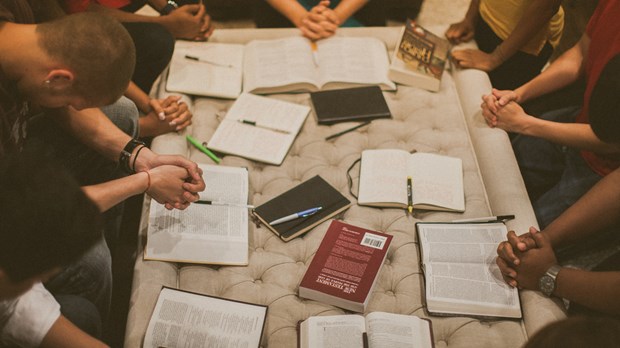 Image: PEARL / LIGHTSTOCK.COM
Nobody signs up for a Bible study because they want to be bored or lonely. We join up with others to study Scripture, first of all, because it is the life-changing Word of God. It's just what we need to keep our lives on track and to maintain an intimate relationship with our Savior. And we also engage in Bible study with others because we need real relationships: discussion that goes deep, friendships that reach beyond the surface, and support that buoys our soul during difficult times.
So what will make the difference between a boring small group made up of superficial relationships and an invigorating fellowship that inspires your faith?
You have a key role to play.
Here are our best tips for how to get the most out of your participation in a small group Bible study.
1. Invest in fun! Come to your group ready to socialize: to make friends, to chitchat, to laugh, to play, to snack . . . to have fun! Learn about each other's lives by catching up on your week, your work, your families, and your favorite hobbies. As you spend time getting to know the people in your group better by having fun together, you'll deepen and strengthen your relationships.
2. Be real. Nobody wants to be part of a group where you always have to seem perfect. That's just plain fake, and it certainly won't contribute to your spiritual growth. So kick the façade to the curb and come ready to be real and vulnerable.
3. Protect confidentiality. To help each other be real and vulnerable, commit as a group to strict confidentiality. Work to make your group a safe place where participants can share in the confidence that what they say won't be discussed outside the group.
4. Contribute. If you're an introvert, you may naturally process your thoughts internally. But guess what? The other members of your small group can't hear your private thoughts—and they're missing out on what God may want to say to them through your observations. Ask God to give you a willingness to actively participate by sharing and engaging in discussion.
5. Listen to others. If you're an extrovert, you may love to process your thoughts externally, by talking. That's great! But in your enthusiasm to talk through God's Word, be careful not to dominate group discussion. Ask God to help you sincerely and attentively listen to other group members.
6. Listen to the Holy Spirit. Your opinions, ideas, and questions make fantastic contributions to group discussion. But don't become so preoccupied with your own thoughts about a Scripture passage or a discussion topic that you forget to listen to God's Spirit. Try to keep your soul listening to ways the Spirit may be drawing your attention to truths or key ideas in his Word.
7. Be humble (instead of right). Remember: This isn't a quiz you have to ace. It's not a puzzle you have to solve. It's the living and active Word of God (Hebrews 4:12). So as you discuss Scripture, don't aim to quote perfect Sunday school "right answers." And don't try to "win" if you and a group member have different opinions on an issue. Just try to be real about where you're coming from, but also be humble and let Scripture itself be the ultimate authority.
8. Expect God to convict you. If you come to God's Word with an open heart, you can be pretty much guaranteed that God will convict you. As you listen to the Holy Spirit, you'll sense ways you need to change your heart or your habits. Conviction doesn't "feel good"—but it's actually a great thing! It means God is at work in your life.
9. Commit to take action. You sell yourself short—way short—if you walk away from Bible study without making a change in your life. Respond to God's Word and the Spirit's conviction by making a life-application commitment. Determine a specific action you can take to grow as a disciple of Jesus.
10. Commit to support each other. We need more than determination to change in response to God's Word: We need encouragement! Invest yourself in supporting fellow group members in their life-application commitments. Pray for each other. Check in using social media. Hold each other accountable. Commit to "encourage each other and build each other up" (1 Thessalonians 5:11).
Read more articles that highlight writing by Christian women at ChristianityToday.com/Women
How to Improve Your Small Group
Read These Next