Moses, a Burning Bush, and Your Calling
What is God inviting you to lay down?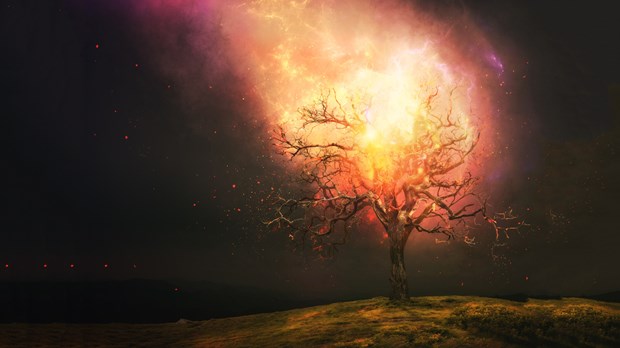 Image: KEVIN CARDEN / LIGHTSTOCK.COM
Walking along the dusty, desert road, a man named Moses was caught off-guard. He saw a bush that was enflamed but not burning. Ablaze and lit up, it flickered with flecks of fire, but the bush, leaves, and stems were not consumed. Slowly, cautiously, Moses approached the burning bush—and everything changed.
Perhaps you're like me and, to be honest, you're slightly jealous that Moses had a clear conversation with God about what to do with his life. That burning-bush moment was like God's telephone directly to Moses, revealing a clear mission of what he was supposed to do. How could we not be jealous of that?
Lay It Down
So many times I find myself walking in a proverbial desert, wanting desperately to hear from God. I find myself asking, What am I supposed to do with my life? Yet if we take a look at Moses' encounter with God, we can see that what God requested of him may also be what he requests of us.
We are told in Exodus 3 that God spoke to Moses and called him to go to Pharaoh in order to lead God's people out of Egypt. But then, after that, God asked Moses to do something specific: to lay down the staff in his hand (Exodus 4:1–3).
Laying down his staff. No big deal, right?
But we need to understand that God actually asked Moses to lay down a significant part of who he was. For Moses, that staff represented his identity, income, and influence. As a shepherd, his staff was his tool in caring for sheep, and it was a marker of identification. Today, it would be like seeing a guy wearing a stethoscope around his neck and safely assuming he's a doctor. In the same way, Moses was identified as a shepherd by his staff.
As a man with livestock, Moses also had an income. And as a man with income, he also had influence. He was an entrepreneur and a businessman taking care of his family. He was minding his own business (literally) when his life was interrupted through fire—and when he was invited to lay down the symbol of his influence, income, and identity as a step of faith.
I Want to Serve You, But . . .
I can relate to Moses' response to God's call. He didn't jump up with excitement and glee; his reaction to God's call to go to Egypt was reluctant, skeptical, and even scared. He made up excuses for why he wasn't the man for the job and even tried abdicating his job responsibilities.
Have you ever reacted like Moses? God calls you, but then you make up excuses? You don't think you're good enough, you think people will think you're crazy, or—out of sheer desperation—you try to think of someone else to live out that dream?
But the truth is, the purpose God has given you is for you.
My passion is to see a movement of God's people living extraordinary lives. I'm tired of seeing children of the Living God walking around like we're half dead! Instead of chasing the purpose created for us, many of us are afraid of what pursuing God means. Some of us may not like what our calling demands of us. We may pray,
God, I want to serve you, but don't let this happen!

God, I want to serve you, but please don't make me poor!

God, I want to serve you, but please don't allow anyone in my life get sick!

God, I want to serve you, but please don't make me let go of my boyfriend!
We each have lots of fears. When God asks us to pick up our cross and follow him, we may be reluctant because we want to run our own lives. Moses was just like that. Yet God interrupted his comfortable life—just like God wants to interrupt ours.
What's in Your Hand?
When God called Moses, Moses had many doubts and fears. He came up with tons of excuses. But to demonstrate his power, God asked Moses to lay down what was in his hand.
Moses did what God said and laid down his staff, and it became a snake. That dead thing became a living thing—and a dangerous thing at that. It was so dangerous that Moses ran from it! Then God asked Moses to pick it up, and it became a dead thing, a staff, once again.
Before we discover what God has created us for, we must be willing to lay down our income, lay down our status, lay down our perfection, lay down our finances, lay down our children, lay down our relationships, lay down our self-pursuits. Just like God told Moses, I believe God is telling his people today to lay it down.
Many of us are defined by our job, our education, our financial status, or our marital status. But Galatians 2:20 reminds us of this truth: "My old self has been crucified with Christ. It is no longer I who live, but Christ lives in me." Yes, it's no longer about me but rather Christ who lives in me. God is saying, Let me be the one to give you identity. Find your identity in me.
Trade in Your Dream
We can have great dreams for ourselves, as I'm sure Moses had great dreams for himself. But I wonder if he ever had dreams to one day change the world.
I wonder if in his wildest dream his shepherd's stick would one day humble and bring the greatest nation of that time to its knees. I wonder if he dreamed that one day he would raise his staff and the Red Sea would part. I wonder if he dreamed one day that he would hit a rock with this staff of God and water would spew out. Even in his wildest imaginations as a prince of Egypt, I don't think he knew what he was going to do through the power of God.
Our dreams for our own lives may be great. But God's dreams are far greater than anything we can dream up. God is whispering in the wind and speaking through the fire and shouting in silence the extraordinary dream he is birthing in you. His dream for you is far greater than the dream you have for yourself. It's not your identity or income or influence that will make this happen. Like Zechariah 4:6 says, it's "not by might nor by power, but by my Spirit,' says the LORD Almighty" (NIV).
God isn't waiting until you have more resources or a husband or a job so he can use you. He can use you now. It may not be the dream you had in mind; it may be God's own plan for you, far different than your expectations or dreams. So stop asking when you are going to get your gifts or talents or calling. Stop waiting for circumstances to be just perfect. Instead, like Moses, see what's already in your hand.
Read more articles that highlight writing by Christian women at ChristianityToday.com/Women
Moses, a Burning Bush, and Your Calling
Read These Next