The Top 10 Most Popular Articles of 2015
Our readers and writers pick the best of TCW.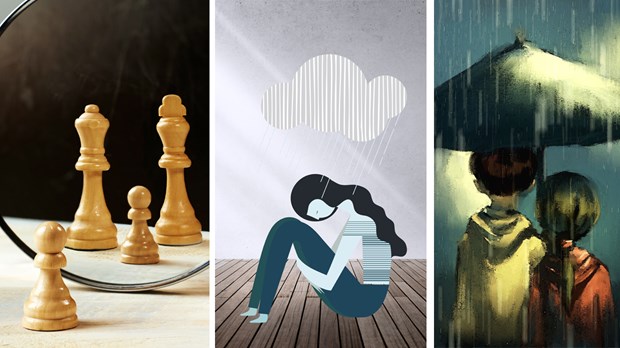 Today's Christian Woman is committed to publishing content that will help you grow in your knowledge and love for God and those around you. Our goal is also to equip and empower you to live the unique life our Lord and Savior is calling you to, through the power of the Holy Spirit. This year was no exception. Below you'll see the top 10 most popular posts from 2015, along with the top picks from our writers and staff. We hope you enjoy!
Our Most Popular Articles of 2015
1. "What Not to Say to Single Women in the Church" by Lisa Anderson
2. "Raising Jesus Kids" by Jen Hatmaker
3. "What Divorce Taught Me About True Love" by Lori Emery
4. "How Predators Groom Our Children" by Joy Beth Smith
5. "Your Husband Can't Make You Happy" by Sheila Wray Gregoire
6. "How to Prioritize Your Husband" by Hannah Nitz
7. "Why Are Women Leaving the Church?" by Roxanne Stone
8. "Depression: The Church's Best Kept Secret" by Corrie Cutrer
9. "4 Myths That Are Getting in the Way of Your Calling" by Diane Paddison
10. "Listening for God's Holy Whisper" by Sherry Surratt
Top 2015 Picks from Our Writers and Staff
"Are We Too Quick to Cry 'Bully'?" by Helen Coronato
"As a mother of three boys who have much experience with impromptu basketball and football games in the neighborhood, I agree wholeheartedly with this article. Helen says, 'If we continue to protect our children from learning how to navigate a minor playground skirmish, how in the world can we expect them to handle criticism in the classroom, and later, in the boardroom?' Being bullied and feeling uncomfortable are not the same thing, and it is to our kids' detriment if we intercede at the onset of every skirmish." —Kim Harms
"The Beautiful Truth about Being a Burden" by Joni Eareckson Tada
"Joni's pushback against the rugged individualism we value as Americans (and as the church) is convicting. Though her own life demands dependence, her emphasis on a love that bears one another's burdens acts as the perfect complement to the daily weight of her own disability." —Joy Beth Smith
"Boy Moms: 5 Tips for Communicating with Your Son" by Kim Harms
"I was raised with all sisters, so the idea of parenting boys someday has always felt a little overwhelming! Kim Harms highlights accessible ideas for moms who want to grow closer to their sons. Stepping outside of your own interests to do 'boy things' with your sons was such a refreshing, sweet way to think about it." —Ashley Grace Emmert
"Building Friendships Across the Racial Divide" by Austin Channing Brown
"It's as if Austin Channing Brown has read my journal and my Google calendar. As someone who is passionate about race and justice, I've always got my eyes open for the ways reconciliation is gaining real traction. Austin's insights in this article equip me for the journey." —Margot Starbuck
"Dating: Are We Doing it Wrong?" by Joy Beth Smith
"Joy Beth Smith's TCW cover story on whether people are doing dating all wrong got a huge 'Amen!' from me as I read it! The issues she raised come up a lot in my conversations with the young adults in my church and during my travels. I loved learning from her perspective." —Jo Saxton
"Depression: The Church's Best Kept Secret" by Corrie Cutrer
"This article challenges a widely held assumption that depression is just a spiritual problem, or at the very least a quick fix with medication. Counseling, antidepressants, talking with others, and spiritual disciplines like prayer and Bible study can help, but those struggling know the journey can be long and unpredictable. As the article asserts, 'We do the things the church does best through offering support but not feeling an obligation to fix the problem entirely.'" —Vaneetha Rendall
"Full-Color Faith" by Kelli B. Trujillo
"Has there ever been a more needed time to grow in our understanding that the gospel is not only true but also beautiful and good? 'Full-Color Faith' introduces readers to Christianity Today's mission of championing Beautiful Orthodoxy: the ministry's cause of discussing today's most important issues through a perspective that reflects Christ's love, redemption, and restoration. 'When we view life through the gospel-lens, our eyes are opened to its vibrant color—to beauty in the arts, in God's created world, and in every human person,' Kelli writes. This kind of faith strongly beckons each of us—not just because we know it's true and right, but because its loveliness calls to us like no other." —Corrie Cutrer
"How to Comfort a Grieving Friend" by Margot Starbuck
"As a counselor who works with hurting people day in and day out, my favorite TCW article this year was Margot Starbuck's 'How to Comfort a Grieving Friend.' Women, children, and entire families get missed when they need support the most. In our self-consciousness, we get tongue-tied and do nothing—even though our hearts long to do something. Margot has given us, in a humble and practical way, the freedom to show up and just be present. I'm grateful for her honesty, words, and direction that truly do bring hope to those who feel most hopeless and, too often, unnecessarily alone." —Sissy Goff
"How to Love an Atheist" by Alicia Britt Chole
"Communicating the truth with love is not just a matter of the words we choose but also the general posture we have toward those with whom we disagree. As a former atheist herself, Dr. Alecia Britt Chole encourages us to embody the gospel by treating atheists friends and loved ones with the same dignity and honor Jesus himself showed to the religious outsiders with whom he interacted." —Kelli B. Trujillo
"I Dare You to Rest" by Sherry Surratt
"Sherry Surratt's words reminded me that I'm not the only one who struggles with finding rest. I often feel like a failure in this area, but Sherry challenged me with questions that I can start praying about today: 'God, why am I staying so busy? Am I running from something you want me to notice? Am I filling my day with distraction because there's something I don't want to see?' I'm grateful to learn from others who have developed stronger leadership when they've found rest." —Nicole Unice
"Is It Okay to Be 'Fat'?" by Joy-Elizabeth Lawrence
"Joy-Elizabeth Lawrence confronts the pernicious belief that women above a size 4 are slothful gluttons. She also encourages those of us who battle this shaming message to not be burdened by 'the yoke of slavery to an ideal and unattainable body image.' This article should cause some of us to repent for our judgment and idolatry and some of us to breathe a sigh of relief." —Dorothy Littell Greco
"'It's Cheaper to Rape a Woman than Waste a Bullet'" by Lynne Hybels
"This article from Lynne Hybels is a clarion call to the West on the state of the majority of women worldwide who suffer unspeakable horrors. When the lives and bodies of women are seen as property to be bartered, entire communities suffer and, in turn, the core nucleus of society—the family unit—is torn asunder. She rightly points out that combatants deliberately use rape as weapon of war because they know it will destroy communities. Equally true is the opposite: When women are valued and honored, society flourishes and thrives. This article calls me to support organizations on the front lines helping these women and to continue to pray for their rescue and healing." —Maria Cowell
"My Double Life as a Secret Addict" by Helen Coronato
"I found Helen Coronato's 'My Double Life as a Secret Addict' refreshing and honest. It's so easy to put on a mask so that others don't find out about all of our 'junk'—yet what we really need is the courage to admit our weaknesses and failures and move forward in the midst of God's grace." —Natalie Lederhouse
"The New Face Infidelity" by Corrie Cutrer
"'The New Face of Infidelity,' published shortly after the Ashley Madison hack, explores the inner emptiness that leads to infidelity—an emptiness that we all possess apart from our identities in Christ." —Joy-Elizabeth Lawrence
"Redeeming the Race Discussion" interview of Brenda Salter McNeil by Patricia Raybon
"Brenda Salter McNeil is a woman who speaks from her experience. In this interview by Patricia Raybon, 'Dr. Brenda' gives a call for us to start with our families in teaching and modeling reconciliation because that will profoundly shape the people we become. Her invitation to us goes deeper and asks us to consider reconciliation more holistically by reflecting on systemic inequality in education, or housing, or access to affordable health care. All along the way, Dr. Brenda invites us to consider how we can live, speak, and pray toward reconciliation in ways that are sustainable. This deserves to be read with the phone off and cafecito in hand." —Sandra Maria Van Opstal
"Scaling Back Isn't Selfish" by Diane Paddison
"In a culture that values productivity above balance, it can be easy to guilt ourselves into constantly doing more—and to equate 'doing more' with 'being more.' Diane's words gently challenge me to consider where I could scale back and equip me with the tools and mindset I needed to recalibrate my commitments." —Brittany Bergman
"Stop Parenting According to Popular Opinion" by Juli Slattery
"I really like this article because it puts things in perspective for moms. Dr. Juli Slattery reminds us not to make parenting decisions based on what our friends think, cultural trends, or Twitter feeds. That is good advice!" —Arlene Pellicane
"Sustaining Passion for Your Day Job" by Maggie Johnson
"As I made the transition from bright-eyed college student to brand new office worker, I was disheartened by the monotony I felt so quickly after entering the working world. Maggie's article was such an encouragement to me. I realized I was not alone nor was I abnormal for experiencing these feelings. This article also strengthened me in my desire to live with intentionality and to serve God by being faithful in the small, daily tasks." —Kristen Cloyd
"There is No 'Safe' Jesus" by Margot Starbuck
"I love how Margaret reframes our too often natural inclination toward sanitizing Jesus. In this piece, Margot offers us a challenging but exciting view of Christ that propels us toward our neighbor in love." —Austin Channing Brown
"The Unhappiest Year of My Life" by Ann Swindell
"This article validated a lot of what I experienced after having my first child. Ann's words are important because they capture so well what a lot of women don't talk about in the first year after having a baby. Motherhood can be more then simply beautiful and rewarding; it can also be exhausting, confusing, and emotional. Ann's words remind us that 'we have a model who taught us about the surprising gift we can receive through exhaustion and self-loss: Jesus.'" —Jillian Hathaway
"What Not to Say to Someone Who's Suffering" by Vaneetha Rendall
"Vaneetha Rendall's article spells out how damaging our good intentions can be when we seek to 'fix' a loved one in distress. In our pull-yourself-up-by-the-bootstraps culture, where platitudes and Christianese end up alienating instead of comforting, Vaneetha offers solid, simple, and godly alternatives for loving others, like 'let's sit with our suffering friends.' What a wonderful reminder of Christ's love and an actual example of how we can really show up when the going gets tough." —Helen Coronato
"When Temptation Knocks on Your Hotel Door" by Elizabeth Knox
"Elizabeth Knox writes bravely and truthfully about issues that Christian women would like to pretend don't exist. This article is impactful because professional Christian women are not immune to temptation. Elizabeth offers realistic strategies that help us set ourselves up for success." —Diane Paddison and 4word
"You Can't Change Your Spouse" by Dorothy Littell Greco
"Dorothy Greco's honesty, candor, and insight offer hope about what most of us need to hear when it comes to changing our marriages." —Ann Swindell
Read more articles that highlight writing by Christian women at ChristianityToday.com/Women
The Top 10 Most Popular Articles of 2015
Read These Next