Do I Nag Too Much?
Lessons on how to be a better wife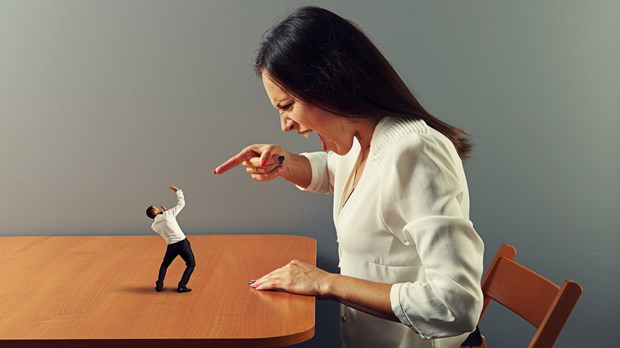 Dear Dr. Langberg,
Every year, I resolve to be a better wife to my husband of ten years—I tell myself I won't nag, won't complain, won't nitpick over his flaws. However, I never seem to be able to keep from doing the things that tear down my marriage. Are there any helpful hints for sticking to my New Year's resolutions?
Part of your problem lies in thinking that the new year gives you a "clean slate." Although the new year's a logical time for assessment and reflection, it doesn't really grant you a fresh start. The only place you can find that is at the Cross of Jesus. If you want to keep from doing things that tear down your marriage, that's where you must go to confess your sins against your husband. It's also there you'll find forgiveness. The only true clean slate in life comes when Jesus' blood washes us clean.
Ask God to help you discern the areas he wants you to deal with. Ask him to reveal what attitudes feed your behavior so you can confess them before him. And ask God to fill you with his love for your husband—and to teach you how to show him loving respect day by day. If you respond to your struggles in this manner, you'll see God's transforming power at work in your life.

I'm convinced my husband's a workaholic. He comes home late, spends lots of time on the computer, and brings work home to complete on the weekends. I feel as though I can't compete with his career! Why doesn't he understand I'd be happy with less possessions—and more of him?
Your husband does indeed sound like a workaholic. The question is, What's driving him? You seem to suspect that he works to provide possessions. While that may be true, it's also possible he's driven by a sense of inadequacy and somehow work makes him feel better about himself. Or he may be uncomfortable with intimacy so he works to avoid what he feels inadequate at and to accomplish what he feels competent at.
Find a time to sit down and talk to your husband, perhaps over a meal. Affirm how much his providing for you means to you. Then see if he'll open up about his job—how he feels about it, how he feels about himself in the job, what his goals are. Listen carefully, for his responses will give you clues.
After you've listened to and affirmed your husband, then let him know you'd like to reserve some space for the two of you to be together. Be careful that your request doesn't sound like you're adding a demand to an already pressured man. You want to communicate your desire to protect time together for both your sakes.
If you sense that intimacy is difficult for your husband, then structure your time together to include an activity you both enjoy; it'll take some pressure off him. Schedule times together regularly, but start slowly and build up—once or twice a week at first.
And remember, keep the long view in mind. Change doesn't usually happen overnight. But as you proceed carefully—and without demands—you'll build into your relationship those things that strengthen and nurture your marriage.
My husband recently went against my wishes and purchased a new rather than used car—and the payments are going to strap us! He frequently buys something on impulse—and I feel like a killjoy when I complain about the impact it has on our finances. He ignores my opinion and gets us deeper into debt. What can I do?
The first thing you have to deal with is your own response to the circumstances. You're experiencing fear—fear that debt will mount, fear that you'll have no say in such matters, fear that you won't be cared for. These fears easily could result in anger, attempts to control, and revenge. But if you carry anger and bitterness in your heart, then when you do try to speak to your husband about these issues, it will be destructive. Take your resentment and anger to God; ask for his help in responding to your husband. And start developing a deeper trust in God's care for you so your marriage isn't further damaged.
You have two issues you need to discuss with your husband (handle them one at a time). The first concerns his impulse buying. Let him know you think it's a problem, that it produces fear and anxiety in you. Tell him you assume he doesn't have any desire to frighten you, so you'd like to ask him to talk to someone such as a counselor to help him understand and better control the way he spends money.
When you do this, one of two things will happen: Either your husband will listen and seek help, or he'll disregard what you say. If he listens, let him know his response makes you feel valued and cared for by him. If your husband dis-regards what you say, again take your hurt and anger to God.
After some time has passed, you need to go to your husband about the second issue, his disregarding your input. Gently let him know you believe this is wrong before God and is damaging to you and your marriage. See if he's willing to get some marriage counseling with you. If your husband refuses to seek help, then go alone. A Christian counselor with expertise in marriage counseling will be able to help you build up your marriage, not work against it.
Also find some supportive women at church, or perhaps become involved in a couples small group with your husband. Sometimes hearing about other marriages helps people be more open to change. In any case, you'll need all the loving Christian support you can get as you deal with your own attitudes and your responses to your husband when these things happen.
Diane Mandt Langberg, Ph.D., is a licensed clinical psychologist in private practice and the author of Counseling Survivors of Sexual Abuse(Tyndale) and Counsel for Pastors' Wives (Zondervan).
Read more articles that highlight writing by Christian women at ChristianityToday.com/Women
Do I Nag Too Much?
Read These Next