Single Parenting: Listening from the Heart
Turn the war of words into a time of growth.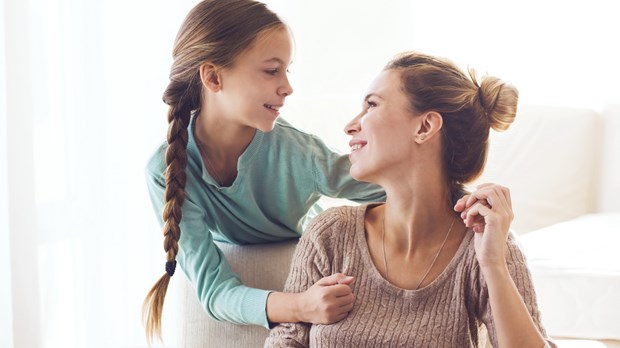 Image: ALENA OZEROVA / SHUTTERSTOCK
Wake up! Wake up!"
No I can't. I'm too tired.
"Come on, WAKE UP!"
I was exhausted, but I managed to open both eyes—barely. My daughter Serena stood by my bed vigorously shaking my arm. Wearily I peered at the clock. It was midnight.
"Mom, you're always gone." My eyes widened. Serena had pushed my react/retaliate button. I began to sit up but moved too slowly for my daughter. She slammed her hand hard on the bed, jumped up and ran down the hallway to the bathroom.
"See, Mom, you don't care. You don't listen!"
I heard the lid of the toilet bang. Her tirade, followed by a dash to the bathroom, was a clue that I was to follow her. I stumbled down the hall and stood in the doorway.
Serena let loose, shouting accusations about all the things I was failing to do for her. The accusations were mostly unfounded, but God's grace and my exhaustion kept me from reacting.
For 15 minutes I listened. I nodded my head. I interjected the timely words, "Oh, really ? mmmm."
Suddenly Serena became quiet. Calmer, she softly said, "Do you remember John, the guy in my English class? He doesn't even know I exist. Two popular girls in my gym class said I had toothpick legs. And a guy in my math class told me my clothes were weird."
Tears trickled down her cheeks and onto the bathroom tile. For the next half hour, my daughter opened her heart and poured out her real hurts. I held her in my arms, rocking her, as I quietly prayed, thanking God for this special moment together.
Later as I lay in bed, trying to get back to sleep, I pondered all the things she had told me.
I realized (again) that learning to listen is a process. It is also a skill.
Listening must come from the heart, especially when we disagree with our children and, even more so, when what they are saying causes us to react. Listening from the heart means not reacting defensively, and it means not taking everything a child says personally. When we allow the conversation to turn into a full-blown fight, we lose the opportunity to "enter" our child's heart.
I don't allow my children to be disrespectful to me. But when I'm able to detach from the situation, I'm better able to understand, accept and care more deeply for them.
Over the years we have laid a necessary ground rule. When we intend to say something "heavy," we state that up front and then ask the other person not to respond. This provides the freedom to ventilate, as long as it is done respectfully.
But it's a never-ending process. Recently Noel, calling from graduate school, reminded me: "Mom, please. I don't want your opinion. Just listen, okay?"
"Oops! Sorry, Dear. Go ahead, I'm listening."
I'm trying to learn from our Heavenly Father, who is always listening to us. In prayer I ramble, shout, cry and complain. He forever listens and never stops, even when the conversation is one-sided.
"Do you not know? Have you not heard? The Lord is the everlasting God, the Creator of the ends of the earth. He will not grow tired or weary, and his understanding no one can fathom" (Isaiah 40:28).
The Lord is our example. Through his ceaseless listening, he communicates to us his love, acceptance and understanding. Through his grace, we can do the same with our kids.
Barbara Schiller is the executive director of Single Parent Family Resources www.singleparentfamilyresources.com.
Read more articles that highlight writing by Christian women at ChristianityToday.com/Women
Single Parenting: Listening from the Heart
Read These Next